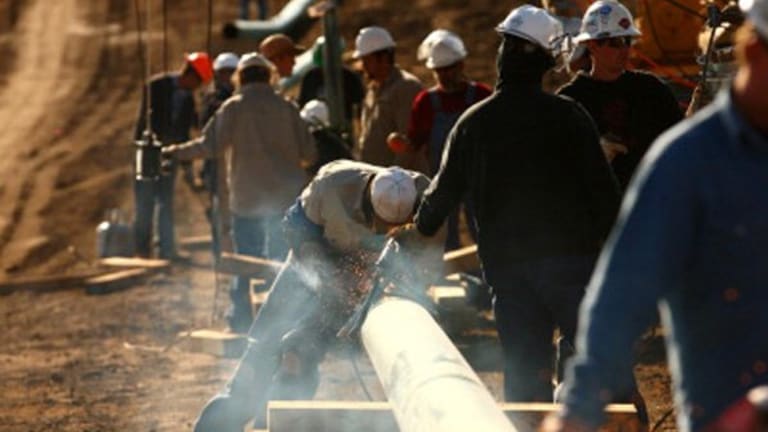 How Much Is Tainted Fracking Research Worth?
Walter Brasch: It makes little difference if the Community College of Philadelphia accepted "only" $15,000, Lackawanna College accepted $2.5 million, or the University of North Dakota accepted $14 million. We know what they have become—it's just a matter of deciding how much a tainted body of knowledge is worth.
The Fracking Prostitutes of American Colleges (Part 3)
[Part 1: Lackawanna College, a two-year college in Scranton, Pa., accepted a $2.5 million endowment from Cabot Oil & Gas Corp. to strengthen that college's programs and ties to the oil and gas industry. Part 2: Problems with academic integrity in other Pennsylvania colleges.]
Among the mission statements of the University of North Dakota Department of Geology and Geological Engineering is that it "strives to develop in its engineering graduates keen insight and abilities to design an environmentally sound and sustainable future for humanity."
Like most college mission statements, it's a broad and vague goal, one that may not reflect reality. The Department is one of the better ones in the country, especially in training students to work in areas of gas and oil exploration and processing. However, their training—and research by the faculty—may be tainted by an industry bias, fueled by a $14 million gift.
The Department is now the Harold Hamm School of Geology and Geological Science. Hamm, CEO of Continental Resources, the ninth largest oil producer in the United States, provided $5 million to the renamed School; his company provided an additional $5 million. The other $4 million came from the Industrial Commission/Oil and Gas Research Program, a merger of the state of North Dakota and several gas and oil corporations.
Continental Resources, which had revenue of $3.65 billion and a net profit of $764.2 million in 2013, had opened up the oil shale in North Dakota, site of the Bakken Shale, and is currently the top producer of oil production in the country. Continental, which uses the controversial practice of high volume hydraulic horizontal fracturing (known as fracking) to extract the oil, predicts to produce 62.5–65.5 million barrels of oil, an increase in production of 26-32 percent.
UND isn't the only college to benefit from the oil and gas industry.
In West Virginia, Bethany College and West Liberty University signed mineral rights leases, claiming the money from royalties would help improve programs and provide for new buildings. The University of Texas at Arlington, sitting above the Barnett Shale, has 22 wells on a single pad site at the edge of campus. At Indiana State University, president Dan Bradley, a petroleum engineer who touts fracking as "a freight train on steroids," has permitted wells and pipes on campus.
Against significant student and community opposition, the University of Tennessee opened its 8,000 acre Cumberland Research Forest to the natural gas industry. The 20-year lease includes a $300,000 a year payment plus at least 10 percent royalties. The university stated it was entering into the agreement in order to "conduct unbiased, scientifically sound research." However, because the research is funded by the natural gas industry, the ethical probability of a conflict of interest must be raised. If the university makes money from the industry, and a portion of that money is targeted for faculty research, how impartial can that research be?
Politicians who take substantial contributions from the oil and gas lobbyists tend to be the ones who vote against human services and education budget increases. By dangling possible income from mineral rights leases, they blur the distinction between professors and corporate shills.
Research conducted by Charles G. Groat and Thomas W. Grimshaw and a team from the Energy Institute at the University of Texas placed the primary problem of methane in well water with the construction problems in both natural gas wells and drinking water wells rather than the process itself. Dr. Groat's study supported the industry's claims that fracking doesn't cause health and pollution problems.
However, the Public Accountability Initiative revealed in July 2012 that Dr. Groat was a member of the board of Plains Exploration and Production Co., which conducts fracking operations. He received an annual fee for being a member of the Board. Since November 2007, when he became a member of the Board, Dr. Groat received about $1.6 million in stock from the company. The Initiative noted that the research by Dr. Groat and his team was distinguished by "bold, definitive, industry-friendly claims highlighted in the press release but not supported by the underlying report; evidence of poor scholarship and industry bias; and dubious and inaccurate claims of peer review" that had led the media to report there was no relationship between fracking and health and pollution problems. In response, Dr. Groat said his role "was to organize [the study], coordinate the activities and report their conclusions." He claimed he did not "alter their conclusions" and his presence on the Pioneer board had "no bearing on the results of the study."
An independent investigation initiated by the University of Texas found "failures and inadequacies in several procedural areas," and that the study "fell short of contemporary standards for scientific work."
A University of Texas study, published in the Proceedings of the National Academy of Sciences in September 2013, concluded there were minimal leaks of methane from fracked wells. However, Sharon Kelly, an attorney, journalist, and long-time environmentalist who analyzed the University of Texas study for DeSmogBlog, noted: "The vast majority of the wells studied used leak-control technology that has yet to be adopted at many, if not most, oil and gas wells, while others were wells that produced very little gas and consequently even serious leaks would produce relatively small emissions." Physicians Scientists & Engineers for Healthy Energy (PSE) determined the study was "fatally flawed."
Horizontal fracking to extract shale gas "is a wonderful gift that has arrived just in time," say Dr. Richard Muller, professor of physics at the University of California, and his daughter, Elizabeth Muller, executive director of Berkeley Earth. The Mullers argue, "Environmentalists should recognize the shale gas revolution as beneficial to society and lend their full support to helping it advance." The Mullers are principals of the China Shale Fund, which is trying to get China to develop shale gas drilling; they would get financial compensation if China moves from coal to shale gas technology.
The natural gas industry needs to "seek out academic studies and champion with universities—because that again provides tremendous credibility to the overall process," said S. Dennis Holbrook, an executive with Norse Energy and a member of the board of directors of the Independent Oil and Gas Association of New York (IOGA). One of the ways IOGA helped direct academic research is by its connection to SUNY's Shale Resources and Society Institute (SRSI), which sponsored lectures, workshops, and professional studies. Among those research studies was one paper where "[A]ll four co-authors had ties to the oil and gas industry, as did four of five of its peer reviewers," according to Steve Horn of DeSmogBlog.
An informal group of faculty, students, alumni and citizens stated that the Institute and the research emanating from it were not only "fatally compromised," but that it represented "not the independent search for knowledge proper to a university but a frantic and servile willingness to sell academic legitimacy to a public relations campaign for the gas industry." The Public Accountability Project analyzed the SUNY/ Buffalo study and "identified a number of problems that undermine its conclusion." In November 2012, six months after the Institute was created, SUNY/Buffalo closed it.
Several other research studies conducted at American universities and funded by either gas/oil companies or their front organizations allowed Barry Russell, president of the Independent Petroleum Association of America, to falsely claim, "no evidence directly connects injection of fracking fluid into shale with aquifer contamination."
It makes little difference if the Community College of Philadelphia accepted "only" $15,000, Lackawanna College accepted $2.5 million, or the University of North Dakota accepted $14 million. We know what they have become—it's just a matter of deciding how much a tainted body of knowledge is worth.
Walter Brasch
Wanderings