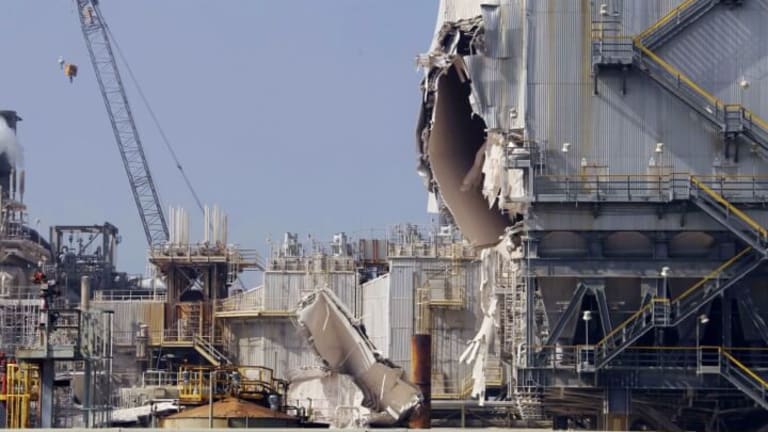 A Report From Torrance: Refinery Safety Campaign Frays Blue-Green Alliance
Steve Early: Despite the presence of rank-and-file teachers and nurses, and the Steelworker union background of TRAA rally chair Steve Goldsmith, the wing of refinery labor most committed to blue-green alliance building was MIA last Saturday.
Nothing ignites a local environmental justice campaign more quickly, in California, than a refinery fire or explosion affecting down-wind neighbors. Three years ago, an Exxon-Mobil facility was rocked by a huge explosion in Torrance, a city of 145,000 just south of Los Angeles.
According to a Justice Department lawsuit, the blast catapulted a 40-ton piece of equipment perilously close to a tank containing 50,000 pounds of hydrofluoric acid, a highly toxic and volatile chemical, used, with additives, in only two California refineries. If released in the air in large enough quantity, Modified Hydrofluoric Acid (MHF) can form a ground-hugging cloud, able to drift for miles. Anyone exposed to it would suffer choking, searing of the eyes and lungs, internal organ damage or possible death.
When the U.S. Chemical Safety Board tried to investigate this "serious near miss," Exxon-Mobil balked at supplying data on cost-cutting measures that may have contributed to the accident or the health impact of showering Torrance residents with so much chemical ash. Some citizens filed a private lawsuit citing "numerous fires, leaks, explosions, and other releases of dangerous pollutants" in "an outdated refinery" located "in a densely populated area." State regulators issued 19 citations against the company and assessed fines of $565,000 for its February 2015 explosion.
Meanwhile, the narrowly avoided release of a hazardous chemical led to formation of the Torrance Refinery Action Alliance. With growing local and regional support, the TRAA seeks to eliminate MHF use, in any form, at the Torrance refinery, now owned by PBF Energy, and a Valero refinery in nearby Wilmington, California.
Last Saturday, on the third anniversary of the Exxon-Mobil accident, TRAA supporters were out in force, rallying at a downtown Torrance park and then marching, 350 strong, to the front gates of PBF. The diverse crowd, ranging from small children to a 97-year old woman, chanted "Hey, Hey, Ho, Ho, MHF has got to go!" Many brandished homemade signs calling for "Community and Worker Safety First" or identifying themselves as "Teachers for a Ban on MHF." One protestor's timely placard argued that "An MHF accident will kill even more neighbors than an AR-15!"
In the park, beforehand, elected officials or their representatives gave rousing speeches in support of a ban. One of the most compelling was Nanette Diaz Barragan, a past foe of Big Oil in Hermosa Beach, when she served on the city council there. Elected to Congress in 2016, her 44th Congressional district includes Wilmington. Declaring herself "willing to stand with you and stand up to the oil refineries," Barragan urged Torrance residents to "organize, mobilize, and not stop until you win this fight." Under Trump, she noted, the Environmental Protection Agency (EPA) faces deep budget cuts, threatening its enforcement role and making local watchdog groups like the TRAA even more essential. (As the Los Angles Times reported last month, EPA inaction on improper storage of hazardous waste by PBF is already a problem in Torrance.)
At the conclusion of their rally, TRAA organizers proudly displayed a stack of petitions supporting the MHF ban. They contained the names of more than 11,000 people reached through door-to-door canvassing, community forums, and past TRAA participation in regional air quality board hearings on the MHF issue. More than twenty organizational endorsers ranged from the Sierra Club to a local post of the American Legion.
Despite the presence of rank-and-file teachers and nurses, and the Steelworker union background of rally chair Steve Goldsmith, the wing of refinery labor most committed to blue-green alliance building was missing in action last Saturday.
Unfortunately, only two out of seven Torrance city councilors backed a ban when the issue came to a recent vote. And Big Oil's clout in Sacramento has kept a bill banning MHF use from getting out of committee yet. TRAA's lobbying focus, at the moment, is the South Coast Air Quality Management District (SCAQMD), whose board will soon vote on a rule requiring replacement of MHF with "other alkylation chemicals already in use at other California refineries, including Chevron El Segundo," not far from Torrance.
Refinery Labor Concerns
Despite the presence of rank-and-file teachers and nurses, and the Steelworker union background of TRAA rally chair Steve Goldsmith, the wing of refinery labor most committed to blue-green alliance building was MIA last Saturday. Local 675 of the United Steel Workers (USW), which aided the TRAA initially, is no longer allied with the group because of PBF membership concern about the employment impact of a MHF ban.
At the February 17 protest, TRAA President Sally Hayati insisted that it's "highly unlikely that either refinery [affected by the proposed ban] will be shuttered or abandoned." Leaders of the USW, locally and nationally, strongly disagree. In an op-ed piece for the Torrance-based Daily Breeze published last fall, Local 675 secretary-treasurer Dave Campbell, USW national oil industry bargaining chair Kim Nibarger, and union safety director Mike Wright warned that a forced conversion of the Torrance refinery to using sulfuric acid, as an alkylation catalyst, would create new risks for the community. Plus, it would require a "shut down of a year or more, significantly raising the price of gasoline in California, as occurred when the plant closed for repairs after the explosion."
The union officials raised the "real possibility" of a permanent PBF closure in Torrance, with the result that "600 family-supporting direct jobs and 500 contractor jobs would disappear, the town and school district would lose millions of dollars in annual tax receipts, and gas prices would rise." The USW representatives praised BPF for being more safety-minded and a better employer than the previous owner (although Exxon-Mobil left a low bar there). They recommended waiting for further testing, by Chevron, of a refining method utilizing "ionic liquid," which they called "the best and safest way to go."
Unfortunately, it will "take a couple of years to determine whether this process is economically viable." Until then, the USW suggests, "the best path forward is to keep calm"—a recommendation not popular among the Torrance marchers I met last weekend. At least one protestor, marine biologist and former public school teacher Mark Friedman, believes that the USW stance reflects a management attempt "to co-opt labor" through paying "refinery workers higher wages…making them aristocrats within the labor movement." In Random Lengths News, a San Pedro-based alternative newspaper, Friedman has called for "no job loss, no layoffs; full pay for all workers at union wages during shutdown and conversion to the safest refining process."
But, unlike Friedman, Dave Campbell is tasked, by the USW members who elected him, with making "just transition" demands into more than just rally rhetoric. That's no easy job in an industry which has long under-mined worker solidarity through contracting out and labor-management partnering with always compliant building trades unions. As Campbell explained to me when I was researching the history of Chevron Richmond labor relations, Big Oil's strategy has always been divide and conquer—pit one wing of refinery labor against the other, and, where possible, both against the community.
Within locals that used to be part of the Oil Chemical and Atomic Workers, and are now affiliated with the USW, management has two ways to keep local leaders in line. One method is stirring up rank-and-file opposition to elected officers viewed as too enviro-friendly. And, since many oil refineries are open shops, local managers can also encourage members skeptical about blue-green alliance building to stop paying dues to the USW, when their contract language gives them periodic opportunities to do so. (The Supreme Court's pending decision in the Janus case may soon expose unions, representing public employees in non-"right-to-work" states, to this same membership drop-out threat on a much wider scale.)
Throughout the country, refinery neighbors had good reason to applaud the safety-related demands made by the USW three years, when thousands of its members were striking or otherwise campaigning for a new national oil industry contract. More recently, a USW led labor and environmental coalition got the state of California to adopt the nation's strongest refinery safety regulations.
Nevertheless, the threat of job blackmail—and fear of job less—remains a potent check on labor organization behavior involving workers engaged in the extraction, refining, transportation, or use of fossil fuel. Who was on the march in Torrance last weekend—and who was not—reveals much about the real-life difficulty of getting labor and community on the same page in refinery towns, near and far.
Steve Early