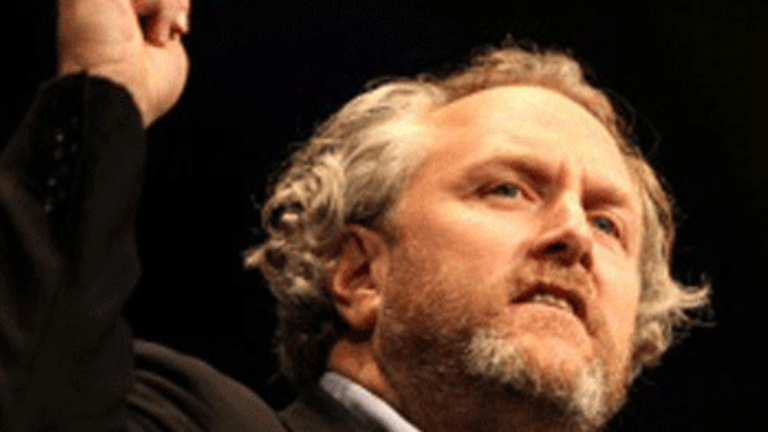 What Killed Andrew Breitbart?
Maer Roshan and Munter R. Slaton: Mainstream media outlets have jumped on rumors that the conservative icon was assassinated by the President. So why are they ignoring a much likelier scenario?
Republished with permission from The Fix.
The sudden death of a youngish media celebrity in the wee hours of the morning can usually be counted on to provoke a torrent of salacious speculation from LA's ravenous media gossip mill. The passing of Andrew Breitbart was no exception—but not in the way you might expect.
Breitbart, who died at age 43, was a conservative icon—the manic, sometimes maddening architect of some of the most explosive political scandals in recent years. He played an outsized role in some of the world's most influential news sites, working with Matt Drudge as an editor at the Drudge Report before helping Arianna Huffington launch the Huffington Post. More recently he started his own successful network of conservative news websites, including Breitbart.com, BigGovernment.com and BigHollywood.com, which draw millions of visitors every month and won him both a hefty salary and an increasingly public profile.
But he achieved a new level of notoriety in the past two years, after he helped orchestrate a series of crudely-edited video stings that led to the resignation of Shirley Sherrod, a U.S. Dept. of Agriculture executive, and the collapse of the social-advocacy association ACORN. These and other triumphs—including the Twitter-pic takedown of New York congressman Anthony Wiener—turned Breitbart into a right-wing hero, a sought-after speaker on the conservative lecture circuit and a regular opinionator on Fox News.
By Hollywood standards, his death was relatively undramatic—no bathtub overdose here. Walking back to his Westwood home shortly after midnight, after a glass or two of wine at a local bar, Breitbart suddenly collapsed on the sidewalk, a few feet away from his house. A passerby who saw him fall called 911, and paramedics transported him to Ronald Reagan UCLA Medical Center, where he was pronounced dead at 12:19 am.
The first report of Breitbart's demise was posted on one of his own websites, BigGovernment.com, just hours later. Saluting him as a "happy warrior," the site took pains to note that the blogger had died of "natural causes." While many reporters wondered privately what natural causes could claim a seemingly healthy 43-year-old man, thousands of mainstream outlets nonetheless parroted the phrase.
But LA County Chief Coroner Investigator Craig Harvey told The Fix that "natural causes" is merely "a non-forensic evaluation of a person's death," meaning that "[the body has] nothing externally visible that would lead them to believe that the death was caused by blunt-force trauma, a stab wound, or so on." As such, Harvey says, it is standard operating procedure for the coroner to perform a full toxicology report to determine whether "drugs, alcohol, poisons or other foreign substances" played a role in Breitbart's death.
While mainstream reporters have gamely picked up conspiracy theories about Breitbart's death, they have pointedly ignored a much more plausible explanation, which is that he was a high-strung man with a hard-drinking history, who frequently worked himself into fits of rage.
That exam was concluded on Friday. "The final cause of death has been 'Deferred' pending the receipt of toxicological and microscopic studies," Harvey told The Fix. "It is anticipated that these test results should be available in four to six weeks. Once the results have been received and evaluated, a final cause of death will be entered for Mr. Breitbart."
It is generally accepted that Breitbart suffered a heart attack. His father-in-law, the comic actor and conservative activist Orson Bean, was reportedly at Breitbart's home the night he died, and saw him collapse. He later told reporters that his son-in-law had a history of heart problems—a revelation that came as a surprise to many of his friends. Nonetheless, soon after his death was announced, blogosphere back channels—and numerous emails to The Fix—began buzzing with speculation that drugs or alcohol had played a role in his passing. But despite their private discussions of the topic, not a single mainstream media outlet or website dared to publicly raise the question of substances. Instead, the media began giving airtime to right-wing conspiracy theories.
The most prevalent rumor goes something like this: In reaction to Breitbart's pledge to release video of a college-age President Obama appearing alongside a pair of notable "Weather Underground terrorists," the President's associates had Breitbart killed. One person quoted in aDaily Mail story about the percolating conspiracy theory said, "There will be an autopsy and they will decide on natural causes, but there is a way to induce a heart attack in human beings." Another skeptic told the Mail, "One thing is for sure, 43-year-old people don't die from natural causes."
It's true. Most 43-year-olds don't die from natural causes. But while the mainstream media that Breitbart regularly blasted as a leftist "bully media cabal" has gamely picked up conspiracy theories about his death, they have pointedly ignored a much more plausible explanation, which is that Breitbart was a high-strung man with a hard-drinking history, who frequently worked himself into fits of rage as he did battle in a maximum-intensity industry.
"Andrew Breitbart is dead at 43 from 'natural causes,'" read a tweet that echoed hundreds of others posted after his death. "Yes I suppose wine is pretty natural." A commenter on an addiction site noted that Breitbart's enraged appearances reminded him of his own behavior after an extended cocaine binge. "You can't summon up that kind of insane rage naturally," he said. "No one can be so angry all the time."
Though he liked to maintain an angry outsider stance, Breitbart led a fairly privileged life. Adopted by a well-to-do Jewish couple in LA, he attended two of the city's most exclusive schools before decamping to Tulane University in New Orleans. According to a 2010 profile in Salon, it was in college that he honed his drinking and journalism skills—as well as his contempt for cultural liberalism. "His first piece for the Tulane Hullaballoo was a field analysis of Tulane's most notoriously debauched hookup bar, complete with annotated floor diagrams and submitted on 19 cocktail napkins," reported writer Chris Beam.
Breitbart recalled, "When I told my parents I was an American studies major, they were like, 'That's fantastic! Did you read Mark Twain?' 'No, I didn't.' 'What did you read?' 'Marcuse, Adorno, Horkheimer, Michel Foucault.' 'They don't sound American!' 'They're not.'" Luckily, said Breitbart, "I was too drunk to be completely indoctrinated by it."
Last May, during an appearance on C-SPAN to promote the publication of his memoir/manifesto Righteous Indignation, host Peter Slen asked Breitbart what he had learned at college. "I learned to drink," he quipped. Later, Slen asked Breitbart to describe his current relationship with alcohol. "Why do you ask?" said Breitbart. "You write in your book that you had an alcohol problem at Tulane," Slen replied. Breitbart brushed off the question: "I didn't have an alcohol problem."
But as C-SPAN noted, Righteous Indignation suggests otherwise. "I thought I could drink when I came to Tulane," Breitbart writes. "I had some hard-and-fast rules to prevent becoming an alcoholic, such as: don't drink during sunlight hours. By the end of my time at Tulane, I was going to bed so early in the morning and waking up so late in the afternoon that this rule was almost impossible to break. Thank God I wasn't developing a drinking problem." Breitbart also mentions growing into his fraternity brothers' Hollywood-native image of him as a "hard-living, cocaine-fueled man of a thousand lovers."
But there has been some public speculation that Breitbart's drug use didn't end in college. A source close to the blogger told The Fix that he used cocaine with Breitbart several months ago. On the day after his death, Anthony Cumia, of the radio show "Opie and Anthony," said of Breitbart, "I went out drinking with him, and boy, can he party." "He liked to stay awake," added Anthony. "That's all I'll say."
Other friends maintain that Breitbart regularly took increasingly high doses of Adderall and other stimulants to counteract his lifelong ADD. (Both cocaine and Adderall, an amphetamine, can increase the risk of a heart attack—the FDA even warns that Adderall can cause "sudden death in patients who have heart problems or heart defects.")
Asked about these allegations, many of Breitbart's associates firmly deny that he was using drugs in the time period leading up to his death. Mark Ebner, a longtime friend and colleague of Breitbart's—and a contributor to The Fix—insists that he stopped using drugs after college. "I knew him very well and I can say with certainty that he did not do illegal drugs. He had ADD and he was a manic guy, but he cultivated a kind of persona. He was a genius about media cycles and how to feed them. He was brilliant about building himself. Everything he did was really thought-out and in service of his public image."
But if reports of Breitbart's recent drug use are in dispute, the blogger's fondness for alcohol is not. He was a frequent patron of the bar at The Brentwood, a tony restaurant a few blocks from his home, and other local pubs. When in New York, he often turned up at Langan's, a Midtown Manhattan watering hole frequented by reporters from Fox News and the New York Post.
"The last few times we hung out he always seemed like he was running a million miles an hour," says a friend who has known Breitbart since the mid-Nineties. "His whole disposition had really changed. He was charged up and angry and relentless. He was missing his shoelaces, and his hair was a mess. He spent the night lecturing me and going off on these endless tangents. It was like he'd become another person."
In a eulogy posted by the conservative American Spectator, Robert Stacy McCain, author of Donkey Cons: Sex, Crime, and Corruption in the Democratic Party, paints a similar portrait. "The last time I saw him, at the [Americans for Prosperity] Michigan event Saturday, he arrived at the last minute, unshaven and with his hair uncombed, having stayed until the wee hours hanging out in the Marriott lobby."
Breitbart made no secret of his penchant for partying. He was well-liked in media circles and had friends on both sides of the political spectrum. He liked to hang out in bars and clubs with his friends. He liked to drink. He enjoyed having fun. But the issue of his drinking really went public—in the viral-video way Breitbart himself helped popularize—just three weeks ago, when he appeared as a headliner at the annual Conservative Political Action Conference (CPAC) in Washington, D.C. (It was at CPAC that Breitbart announced he had obtained the incriminating Obama tapes, promising to release them on March 1—which turned out to be the day he died.)
One video shows Breitbart taunting "Occupy CPAC" demonstrators from the balcony of a restaurant of a Marriott hotel that hosted the conference, shouting "Behave yourself, you freaks!" and other epithets at the crowd below. A fellow attendee tentatively called him out on his behavior. "Do you realize how bad it looks that … you guys have got a glass of wine in your hand?" "So what?" Breitbart shot back. "We're allowed to drink wine in America. I'm not living by their 1 percent/99 percent bullshit." Their exchange was punctuated by the sound of breaking glass.
An even more unsettling clip, captured not long after the aforementioned video, shows Breitbart engaged in a screaming match with a swarm of protesters. "Behave yourself! Behave yourself! Behave yourself!" the red-faced, disheveled provocateur kept screaming, as a cop and an unidentified civilian tried to hold him back. "Stop raping people! You filthy, fillthy, filthy, murdering freaks!"
The two videos, widely disseminated on the Internet, left many observers wondering whether the ranting Breitbart had been drunk or high—or perhaps bipolar. Writing about the incident on the political-news blog American Times, frequent Forbes contributor Erik Kain wondered, "Do we know if he has a drinking problem? Because I just cannot for the life of me fathom what he was thinking here." His point was echoed by hundreds of commenters across the web.
Typically, Breitbart took to Twitter to deny the allegations: "To those falsely accusing me of 'drug use', I'm willing to take a drug test," he declared on Feb. 13. (In the same missive he also directed his detractors to an expose published by a right-wing website concerning David Brock, alleging that Brock was a cocaine user who had spent time in a psych ward. Brock, a onetime conservative activist who wrote The Real Anita Hill, denounced his conservative past several years ago, and went on to start a liberal media-watchdog group, Media Matters, and write several books, including his latest, The Fox Effect: How Roger Ailes Turned a Network into a Propaganda Machine. The drug allegations against Brock were heavily promoted by Fox News, which dispatched a camera crew to his ex-boyfriend's home in rural Massachusetts to investigate.)
Not surprisingly, nobody took Breitbart up on his offer to undergo a drug test. Three weeks later, he was dead. According to The Hollywood Reporter, the blogger had his last drink at The Brentwood fifty minutes before he collapsed on the sidewalk, after talking politics with a man sitting next to him at the bar.
Despite some circumstantial evidence, we should be abundantly clear: No one—especially not The Fix—can conclusively claim that alcohol or drugs actually played any role in Breitbart's untimely demise. People die young for a wide range of reasons. But according to the National Institutes of Health, only 10 percent of heart attack victims in America—roughly 61,000 people—are under 45 years old. Many of them succumb for reasons completely unrelated to substances, like congenital defects, diet and smoking.
Even discounting Breitbart's alleged history with drugs and alcohol, it's safe to say that he was not a poster child for healthy living. Overweight and full of rage, he may have fallen prey to his own outsized passions. As Breitbart's fellow blogger and sometime antagonist Andrew Sullivan noted after his death, "There have been times writing and editing this blog . . . when I have wondered who this new frantic way of life would kill first. I do not doubt that Andrew tried to keep a balance, and stay healthy, but like the rest of us, he became consumed with and overwhelmed by this twittering, unending bloghorreic chatter. It takes a much bigger physical, emotional and spiritual toll than most realize, and I've spent some time over the years worrying it could destroy me."
If Breitbart was battling a heart condition, as his father-in-law recently said, his drinking certainly didn't help. According to the American College of Chest Physicians, "long-term heavy alcohol consumption ... is the leading cause of ... alcoholic cardiomyopathy," known more colloquially as alcoholic heart muscle disease—which can lead to heart failure in its later stages. Abuse of cocaine, amphetamines or other stimulants is also a major risk factor for heart disease. By some estimates drugs play a role in close to seven percent of heart-related fatalities each year.
The media's skewed coverage has broad implications beyond Breitbart. It encourages a public image of addiction as a scourge that afflicts addled celebrities, heartland meth-heads, urbane gays and inner-city teenagers. But the truth is, at last count, 22 million Americans were suffering from substance addiction. Drugs and alcohol are the country's most pressing health problem.
Given his recent erratic behavior, it's curious that the mainstream media Breitbart so derided has been more willing to report on charges that he was killed by the President than that he may have had a problem with alcohol or drugs. Consider the reaction to the death of Whitney Houston, whose body was not even in the ambulance before blogs and news outlets—including Breitbart's own BigHollywood—began speculating that her death was alcohol- or drug-related. Given the endless coverage of celebrity addictions, we've almost come to expect pop stars to be battling something or other. But politicians, businessmen and reporters generally get a pass. "Drugs," one editor noted, "didn't really go with the Breitbart brand."
What explains this apparent double standard? Fear certainly has something to do with it—in this instance, fear on the part of an embattled mainstream media of conforming to right-wing allegations of liberal bias. In our highly charged, hopped-up Internet era, simply raising standard questions about a political icon like Breitbart means stepping into the trenches of the culture war—which journalists do at their own peril.
After Rolling Stone's Matt Taibbi posted a lacerating eulogy, "Andrew Breitbart: Death of a Douche," he was forced to shut down his phone after Breitbart's friend, the agent Pat Dollard, tweeted Taibbi's personal phone number and address to thousands of his followers. And that was just from grade-school name-calling. Imagine what reaction Taibbi might have brought down upon himself had he titled his piece, "Andrew Breitbart: Death of a Drunk."
The media's skewed coverage has broad implications beyond Breitbart. It encourages a public image of addiction as a scourge that afflicts addled celebrities, heartland meth-heads, urbane gays and inner-city teenagers. But the truth is, at last count, 22 million Americans were suffering from some sort of substance addiction. Drugs and alcohol are by far the country's most pressing health problem. And as both Rush Limbaugh and Glenn Beck can attest, successful, patriotic middle-aged Americans are hardly immune. Limbaugh's 30-pill-a-day Oxycontin habit was exposed after he dispatched his maid to the parking lot of a Palm Beach pharmacy to score the prescription drug from a dealer. Beck has been open about his addiction to both cocaine and alcohol before his mid-life conversion to both Mormonism and conservatism.
Though he was far less famous than Whitney Houston, Andrew Breitbart ultimately had a much larger impact on America's political discourse than Houston ever did. His legacy, and his websites, will live on long after he does. According to Joel Pollak, the site's editor-in-chief and in-house counsel, the still-unreleased videos will be a marquee feature on Breitbart.com in the coming weeks. In the end, rather than illustrating the perils of substance abuse, which could benefit the health of left and right alike, Breitbart's passing is already being used to further stoke the culture wars that he so eagerly fomented.
Is it fair to speculate about the causes of Breitbart's death in the absence of an official coroner's report? No such concerns bothered the national media after Houston's death last month. It's now a given that she died of some combination of drugs and alcohol, even though the singer's official toxicology report won't be released until April. But while it's true that Houston's history with alcohol and drugs was thoroughly documented, Breitbart left a similar—albeit fainter—trail, visible to any journalist who bothered to look for it. In the end, the substance use of a man who has helped shape America's political conversation for the past five years seems to us as important and relevant as the addiction of a waning pop diva.
Perhaps the right-wing radio talk-show host Michael Savage put it best late last week, when he began raising questions about President Obama's possible involvement in Breitbart's death to his estimated 10 million daily listeners. "It's entirely plausible," Savage said, "that Andrew simply collapsed of a heart attack because of overwork and a reported history of health problems. I'm asking a crazy question but so what? We the people want an answer. This was not an ordinary man. If I don't ask this question, I would be remiss."
We agree. Andrew Breitbart built a career on asking uncomfortable questions that no one else dared to pose. The irony is that one of the few journalists fearless—or crazy—enough to pursue this story would have been Breitbart himself.
Maer Roshan and Hunter R. Slaton
Maer Roshan is Editor-in-Chief of The Fix. Hunter R. Slaton is the Rehab Review Editor of The Fix.
Republished from The Fix with permission.