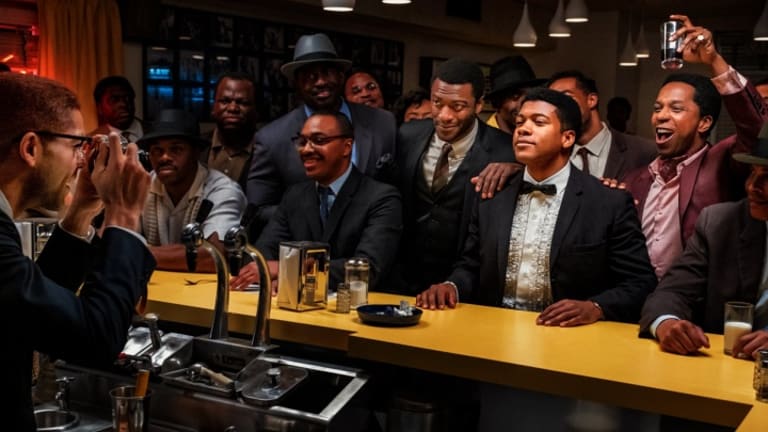 Black Content Needs: Black Capital & Control?
J. Christopher Hamilton: No Blacks own either the financial institutions that typically fund major films or the distribution companies that deliver that content
The big and small screens have always played a unique role in the dramatic retelling of historical events in marginalized communities, particularly the Black Community. On the one hand, popular films/tv shows that incorporate black history have been known to amplify ugly stereotypes and reinforce racist ideals, while on the other hand, they've also given voice to our pain and raised awareness about our oppression.
In more recent times, we've seen filmmakers like Jordan Peele (Get Out, Best Original Screenplay) and Ryan Coogler (Black Panther, $1.3B worldwide) break barriers with creative projects that feature black actors and storytellers leading genre-driven narratives (Whitten, 2021). But whether we want to celebrate a billion dollar box office success or the rise in diverse filmmakers helming major films and tv shows, there's no certainty on continuing that progress without ownership or control of our own pipeline and the capital that makes that all possible.
No Blacks own either the financial institutions that typically fund major films or the distribution companies that deliver that content
As successful as we appear to be in front of and behind the camera, the unspoken truth is that we don't source any of the major financing within our communities that's required to tell these epic stories, nor do we hold the keys as stakeholders greenlighting these studio pictures. Capital and control are the essential ingredients in the formula for Black filmmakers to accurately and successfully tell Black stories. Without the latter our "creative ideas" don't equate to much of a value proposition in Hollywood. Capital and control determines the creative and the distribution chain needed to build profitable franchises that will empower our community. There are ample illustrations of the battles to tell our stories without that formula (e.g., Malcolm X, Rosewood, andRed Tales).
Judas and the Black Messiah, and its journey to the screen, is yet another example of why we need ownership and control of a major distribution pipeline for our stories. The fact the director of one of the biggest box office hits in history (i.e., Ryan Coogler/Black Panther) is attached to a project with its own financing and it still had hurdles getting made is evidence enough. But that should be no surprise, since industry luminaries like Forest Whitaker (Godfather of Harlem) and Antoine Fuqua (Training Day) were never able to get their version of the story made.
But telling more of our stories would contradict the prevailing negative narrative about the Black community and the root of our systemic issues. Now, whether that's by design or just a consequence of economic and political policies, the result remains the same. Change in the paradigm won't come until there is real change in the power structure that undergirds the system creating the content or when we create our own financing and distribution pipeline. Until the former or latter takes place, we'll remain inconsequential participants as consumers or creators of our historical narratives in television and film. 
If we leave it up to Hollywood, the sentiment is clear, as Bill Mahr succinctly stated in his standup: 
"The dirty little secret," said Maher, "is most movies are made now with an eye to the foreign market, and Asians really are racist."
When challenged by his guests, he went on to elaborate. "I'm just honest. They don't want to see black people generally in their movies. The Hollywood executives are, like, 'We're not racist, we just have to pretend to be racists because we're capitalists. We want to sell our movies in China (and) they don't like Kevin Hart.'"
"Whether it's stated as plainly as "Chinese don't want to see black people in movies," or insinuated through the details of distribution negotiations, that is the message that executives believe they are hearing. And of course, it influences everything from production decisions to casting to which independent films studios decide to pick up. 
Regardless of whether Bill's statement is true, the numbers don't lie. If films with black leads are executed and marketed correctly, they work overseas : Coming to America (1988), made $160.6 million internationally. Three Bad Boys movies 1995, 2003, and 2020, which made about $75.6 million, $134.7 million, and $220 million respectively internationally. Blademade $61 million internationally. The Fast and Furiousfranchise (which stars multiple black actors: Vin Diesel and Dwayne "The Rock" Johnson and black actors Ludacris and Tyrese Gibson) each made more than $95 million internationally. However, waiting for Hollywood to stand behind us and our content is a waste of time if we have the resources, vision and talent to tackle the challenge.
The real question is which millionaires and billionaires in our community are willing to align their finances, brands, political clout and social capital to blaze a path toward an international distribution pipeline and major film slate that is 100% owned, financed and controlled by Blacks. 
J. Christopher Hamilton