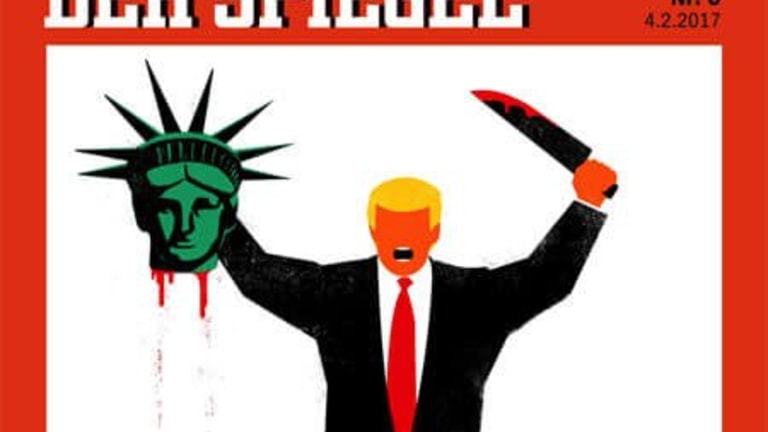 Is It "Tasteless" or Is It Art?
Doris Wolz-Cohen: So in light of what's going on in America, is the image "tasteless" or is it art? And, what is art?
Notice your gut level response to this cartoon on the cover of the German magazine "Der Spiegel." Then read on.
Three days after it was published, "German magazine … [had to defend the] cover showing Trump beheading Statue of Liberty." Apparently, the cartoon "cover set off a debate… in German and international media, with Alexander Graf Lambsdorff, a member of Germany's Free Democrats (FDP) and vice president of the European Parliament, describing it as "tasteless."
Edel Rodriguez, the Cuban artist who came to the United States in 1980 as a political refugee, told The Washington Post: "It's a beheading of democracy, a beheading of a sacred symbol."
So in light of what's going on in America, is the image "tasteless" or is it art? And, what is art?
Is art "pretty' or "ugly" or simply a ladle for an aspect of what's "pretty" and "ugly" in our inner and outer worlds? Can art give us missing pieces we need to achieve balance? Can it fill the gap created by the decline of organized faith and be used as propaganda for the good?Based on his inspiring lecture "Art as Therapy" Alain de Bottom would answer all these questions with a firm "Yes!" He believes using art for the good means using it to serve the needs of our Psyche such as justice and liberty.
The website "Propaganda As Art" suggests, 'One of the most adamant critics of political art, Clement Greenberg, believed true art "should attend to purely artistic concerns; to make, in effect, abstract art which would be immune to political exploitation." Is it even possible? Can artistic imagination be uncompromised by the ideological and political agenda of the artist? Or are contemporary art styles meant to provoke emotional reactions and instigate debate? The site explains, "Different individuals react uniquely to various art forms, no two people will find the exact same message in a painting, sculpture or drawing. After all, a picture is worth a thousand (different) words." If we allow art to act as a buffer between the horrors of reality and each individual's perception of the world, it will let us see social problems from many different perspectives and it will offer images that help us see something about us we needed to see.
One of the things I absorbed listening to Alain de Botton is that "art communicates that we are not alone in our suffering." Someone else sees what we see and is making it visible. Alexander Graf Lambsdorff called the cartoon "tasteless." I call it art, because it communicated to me that I am not alone in my suffering. Someone else sees what I see and made it visible for me. Liberty is at stake.
Doris Wolz Cohen