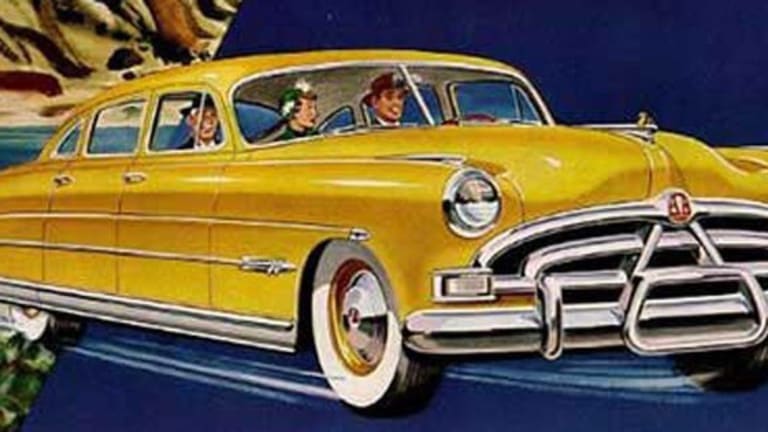 Even the Worst Holiday-Themed Commercial Has Value
Larry Wines: The elitist bastards are advertising ridiculously expensive gas-guzzling automobiles whose catalytic converters belch sulfur dioxide, carbon monoxide and CO2, and they're celebrating—but that's not quite it, either.
Growing up, there was that cringeworthy annual appearance of the "perfect gifts for billionaires" story that always made some network's news. A reporter would smugly conduct a stratospheric exercise, picking through the holiday catalog from Nieman-Marcus. If it was supposed to make us aspirational and acquisitive, it failed miserably in my case. Things like, "This is the yacht you leave docked in the Mediterranean. And here's the private jet you use to get to it" always made me hope they would find an old World War I sea mine the hard way.
Make a quick jump with me. Are you a devotee of traditional Christmas carols or Hanukah songs? Perhaps you transcend that as a year 'round Folk-Americana music fan and advocate, or as one who knows all the rock peace anthems of the '60s. If so, all that "Peace on Earth" music means you're still upset over the reference to the floating mine.
If you're now thinking of the music of peace, love and understanding, you may understand the observation that we're past the era when you could get support for going retro and grabbing an axe. Okay, that may be too esoteric a reference. It's an allusion to re-enacting PETE SEEGER's infamous backstage scramble for a fire axe to cut the amplifier cord on BOB DYLAN's electric guitar at the Newport Folk Festival. Because, dammit, folk music had always been acoustic.
Times change. Folkies-turned-rocker-turned-folkie win Nobel prizes.
But one thing is still sacrilege to many of us, none more so than folkies. That's the glorification of greed, in any form.
That's where the Nieman-Marcus catalog of toys for billionaires meets music. And the exploitation of music to sell stuff.
The primary shared value of performing folk music—and lots of the best-known anthems of rock, and of blues and gospel—still remains "To comfort the afflicted and afflict the comfortable."
You just cannot doubt that. A quick look around proves there's no shortage of benefit concerts—from the grandiose charity gala to the single artist gig in a little coffeehouse that's also chipping-in their share—to prove the primacy of that value held in common in our arts community.
Listen to the music's lyrical substance. Hit one of L.A.'s best acoustic or Americana music venues for the evening, like the more trad Coffee Gallery Backstage, the more hipster Hotel Cafe, or more honky-tonkish-Americana Cody's Viva Cantina any night, or spend a weekend night on the Westside at McCabe's Guitar Shop or Boulevard Music. Or head eastward to the Arcadia Blues Club, the Fret House, or the Folk Music Center.
So. Ethical anchor firmly rooted, let's move on to the exploitation. When a "holiday themed" TV commercial appears for a high-end luxury car, "decking the halls" with an excruciatingly roboticized voice chanting the fa-la-la-la-la's... and then, it repeatedly interjects a robot voice chanting "PAY! - PAY! - PAY!" and the dive for the remote control breaks the sound barrier.
The elitist bastards are advertising ridiculously expensive gas-guzzling automobiles whose catalytic converters belch sulfur dioxide, carbon monoxide and CO2, and they're celebrating—but that's not quite it, either.
Let's be clear. The ad's use of very traditional music, while electronically altered, isn't the essence of this. It isn't just about rejection of something new—Dylan's plugged-in guitar—something based on ethnicity or what's accepted by a specific age cohort, or about being acculturated in specific musical genres. The central aspect—and I can't believe I'm saying this—isn't the dehumanizing electronic alteration of people singing, creating art with the human voice. Though that annoyance is more than sufficient to get the damn commercial silenced in anybody's house, if they like people who are not being subjugated to being robots.
What's unforgivably obnoxious—immeasurably worse—is the sheer arrogance. The elitist bastards are advertising ridiculously expensive gas-guzzling automobiles whose catalytic converters belch sulfur dioxide, carbon monoxide and CO2, and they're celebrating—but that's not quite it, either. They are exploiting a holiday season that's supposed to be based on giving, on meaningfully expressing good will for our fellow humans—yes, but that's also contributory.
They're promoting a car for plutocrats in an ad being used for thumbing noses, stealing a carol that always used to be about the right things. And there it is. It's peonage of all the ordinary workin' people and underemployed college grads chained to student loan repayments. It is, in effect, ridiculing folks who expected to be part of the backbone of our society. Folks who could not aspire to affording a luxury car on two part-time jobs. Folks who, despite hard work, have little chance of improving their situation in the short run, much less building savings. And it's an supremely arrogant elitist ad couched in roboticized holiday joy. It's a thing of, by, and for the rich who live in perpetual celebration of their own wealth. Fa-la-la-la-electronically-altered-la. In a carol you used to recognize as one that shared hope.
Someone reading this may respond,
"Well, all that interjected 'PAY - PAY - PAY' crap is simply more honest than anybody else's advertising. After all, 'tis the season for hanging plastic holly and ivy to sell you something. Whether blood diamonds or gold jewelry whose mining despoils the environment and leaves cyanide behind, it propels the consumer economy.
"Buy, buy, buy. Pay - pay - pay. Americans' credit card debt is a record that leads the world. At least we lead the world at something. It's Christmas. Spend in the name of believing that people will 'like' you if you give them something. Oh, and you need to 'like' yourself by buying something you don't need. After all, you're not cool, not 'with it,' if you don't have it.
"It's just another Christmas before the kids are too old to know the magic. But it's really the same. It's always about feeding mindless consumerism instead of using your economic power to help a local youth arts program, or a strapped-for-cash museum that's preserving our shared heritage of the good and the bad. You can't be serious about helping some smallish music venue that needs to pay its ridiculously expensive entertainment license fee, or those crazy fees to ASCAP, BMI, and SESAC. Just focus on buying some blingy junk on a whim instead of deliberately helping some very needy family in your community, or a homeless person that lives under the overpass."
Okay, if that's your argument, you win. But it's still the worst, makes-ya-wanna-storm-the-Bastille, most maddeningly arrogant and elitist commercial of the season.
Fa-la-la-la - PAY!- la.
For those who want to see for themselves, the car is the Acura 2017 TLX. National airings to date of the ad being criticized: 1,914. Price of the car (MSRP) ranges from a bare-bones low of $31,695 for a stripped-down hulk to $44,800 with all amenities. It's in the range of $41,575 with the features most car owners would believe are necessary.
Tomorrow, we'll bring you our choice for the 2016 TV commercials that are the most appropriate to the season. Guaranteed to surprise. Because, believe it or not, some commercial enterprises do choose to present uplifting messages rather than browbeat about their doorbuster discounts.
Larry Wines