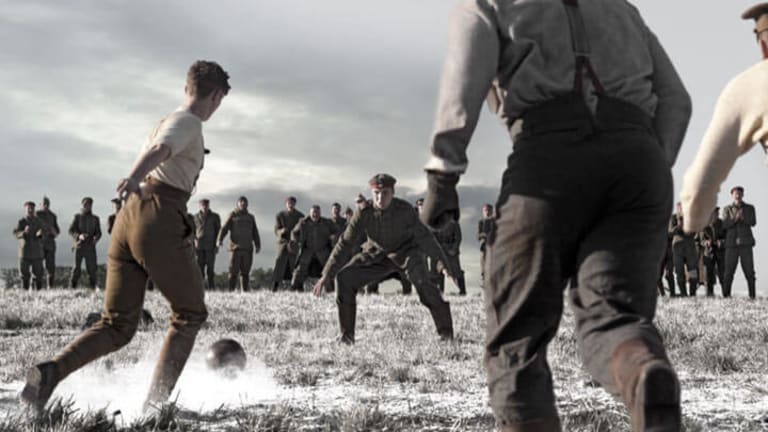 The TV Ads (and Inspiring History) That Will Put You in Holiday Spirit
Larry Wines: Fact is, nothing is more delightful in Britain than each year's eagerly anticipated annual short film / holiday "advert" from Sainsbury's. So there are more of them just ahead.
Having lambasted the most egregious humbug of holiday advertising last go 'round, it's time to accentuate the positive. Though it was a coin toss whether to go with yesterday's feature ahead of, or after this one. We decided that America today is about corporate emphasis on everything -- really, on everything, including the relentless commercialization of Christmas -- so we'll figure we picked the correct sequence.
In an effort to fight back, this sequel must run. Don't worry, it's more than a catharsis. We'll offer you multiple results from our findings of the enjoyable and worthwhile, and of course, recommend them all. For starters, there is the definite must-see, our pick as THE Christmas commercial -- the one worthy of what everyone expects the season to be.
Of course, you did not get to see it in the land of the pre-holiday savings, post-holiday lines for returns, sharp-elbowed doorbuster sale-obsessed US. This shining jewel was made in the UK in 2014 as an "advert" and aired on news broadcasts throughout Europe. It commemorated the 100th anniversary of an incredible bit of history that should be far better known: the very factual "Christmas truce miracle" amidst the carnage of World War I. (Though whether the soccer game occurred is disputed; that'll make sense when you see it.)
✔ Our number-one, must-watch, video is Sainsbury's official Christmas 2014 ad, titled "1914."
✔ After you've seen the ad -- and it's hard to believe it was made to be aired as an ad -- you'll want to see the accompanying three-and-half-minute history behind the actual historical event. This reveals the massive scope of what happened -- peace breaking out, up and down the entire front line, invoked by a hundred thousand sensitive young men, escaping their lot as fed-up soldiers tired of killing each other. Like the commercial, it's superbly done.
✔ Also, there's the behind-the-scenes "making of" the Christmas truce ad, an additional three and a half minutes that satisfyingly completes the trilogy.
✔ Apart from the ambitious project that produced the Sainsbury ad, there's one more stop on your 1914 tour. Singer-songwriter John McCutcheon has a classic song titled "Christmas in the Trenches," further humanizing that miraculous day in history. The song, including many versions covered by several other artists, predates the Sainsbury videos. We recommend this version (https://www.youtube.com/watch?v=QTXhZ4uR6rs) to watch McCutcheon performing it, illustrated with historic photos.
✔ I wrote a 2014 feature story in the L.A. Progressive that discussed the history on the 100th anniversary. It has numerous additional links to video resources.
_____
Back to the commercials. Which is a standalone phrase that could characterize TV.
Fact is, nothing is more delightful in Britain than each year's eagerly anticipated annual short film / holiday "advert" from Sainsbury's. So there are more of them just ahead.
______
By now you're wondering if we'll feature anything American. Like the wonderful Budweiser holiday commercials that have slipped into Super Bowl airings. Many of the brewery's ads have been memorable, indeed.
✔ We choose the "Clydesdale Horses Snowball Fight."
✔ Plus, being newsies, we like a 2013 ABC News "Nightline" story on the famous Clydesdales that star in the commercials and in parades across America.
✔ While we're with the beer brewer and the big horses, we'll throw-in one of the top spoofed commercials ever. It had millions believing it was a real Bud Light commercial. Fake or not, it's become a holiday classic. It's the infamous "farting horse."
______
Beyond that? Seriously, the Brits have everything else beat. The best American ads we saw just don't measure-up, usually due to the relentless obsession with heavy-handed commercialism or somebody's idea of music that avoided hiring any musicians. So we're taking you back to Jolly Ol' England. Call it our Christmas present to you. Go ahead, open the rest, and imagine the virtual ribbons and bows. All these charming offerings were made by the folks at Sainsbury's, the UK's second-largest supermarket chain, which has expanded into e-commerce and banking -- and wins the championship for making great holiday commercials.
✔ Sainsbury 2015: "Mog's Christmas Calamity." For all who know the beloved British cartoon-strip cat "Mog," or who are fans of "Wallace & Grommit," this is especially delightful.
✔ Plus, catch the wonderful behind-the-scenes short with the cat's creator and the CGI wizards.
✔ " target="_blank">Sainsbury 2016 ad here.
This year's project, like all their others, took months to create.
✔ Sainsbury 2012: "Christmas in a Day." This one is different. The three-and-a-half-minute commercial is one of two results of an enormous number of nationwide submissions.
✔ "Christmas in a Day," the full film ) , is the other product of what was supposed to have been "just an ad." It runs 48 minutes, and is better than anything on TV.
_____
Beyond our critical picks, this being L.A./Hollywood, we know there are some who actually enjoy American TV commercials.
✔ Those with that affliction can go to the "PC Advisor" special feature by Chris Martin, in which he claims to have found "Best Christmas ads 2016 and ever: Forget Buster The Boxer- it's all about Mrs. Claus and the M&S Christmas ad." He is correct to the extent that the "Christmas Truce" ad is among them. His complete list includes a links to each one.
✔ Also, "Silicone Republic" writer John Kennedy chose the 2016 holiday ads he thinks are "7 Christmas TV ads guaranteed to stir your emotions." You can subject yourself to that, too.
______
✔ We'll end with a return to the Budweiser stable for something special. If your Christmas morning activities last longer than the televised KTLA or KCAL gas fireplaces, there's a charming on-demand hour of a Yule log.
Sure, there are other fake and real online fireplaces out there. For once, we can assure you of an entire category of things online that give off light and not heat. One has a foreground pair of gangly doggies holding their waterworks for three hours. And there's one with a guy asleep in a chair for ten(!) hours. The one we recommend is complete with a Clydesdale munching hay and the Dalmatian that rides the famous red beer wagon. The kids will enjoy the dog looking nervous as the embers crackle and the huge horse browses for stray forage. Best of all, it's a video that's not standard American in-your-face commercialism. Nobody's rolling beer cans across the floor at the pensive pooch. Hopefully not at su casa, either.
Larry Wines