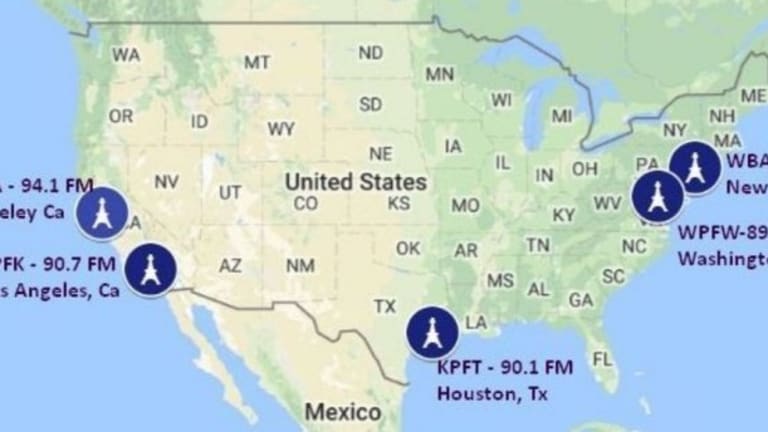 A Hostile Takeover of Pacifica Radio?
Grace Aaron: Pacifica's existence is being challenged by a proposed draconian bylaws redo that would make assets much easier to sell, eliminate local input almost entirely and forbid staff from serving on the board.
You may be familiar with Pacifica Radio because you listen to KPFK 90.7 FM in Los Angeles. Pacifica is the oldest and only truly progressive radio network in the U.S with five radio stations and over 240 affiliated stations.
Its existence is being challenged by a proposed draconian bylaws redo that would make assets much easier to sell, eliminate local input almost entirely and forbid staff from serving on the board. These bylaws would hand over control of this Foundation to six people chosen by a small group, some of whom have advocated the sale of one or more of our radio stations and the break-up of our network in the not too distant past.
Pacifica's existence is being challenged by a proposed draconian bylaws redo that would make assets much easier to sell, eliminate local input almost entirely and forbid staff from serving on the board.
These radical Bylaws are now being voted up or down by the entire Pacifica membership. Ballots were sent out on Tuesday, Feb. 18th.
All five Pacifica station local boards have voted 'No' on these new bylaws. A majority of the national board urges a 'No' vote. A 'No' vote is also being urged by Danny Glover, actor, Cindy Sheehan, Code Pink activist, Jackie Goldberg, Los Angeles School Board Member, Joan Sekler, independent film producer and director, Verna Avery Brown, WPFW Radio Host, etc.
Here are a couple of quotes on this type of shift from some famous Pacificans of the past:
February 24, 1999 - Professors Noam Chomsky, Ed Herman, and Howard Zinn send letter to Mary Francis Berry, Pacifica Board Chair, stating "apparent trends toward increased centralization of power and decision-making are bringing Pacifica closer to a corporate model" and "urge the board to make a firm commitment to democratic forms of governance and participation."
October 26, 1999 - 16 of Pacifica's 60-plus affiliate stations call a one-day boycott of the Pacifica Network News (PNN) to protest Pacifica's actions. In a press release they state: "The Pacifica debacle is the single best example of the cancer that has been eating at non-commercial media for more than a decade, disempowering communities in the name of professionalization, commercializing the airwaves in the guise of development, centralizing authority in the name of efficiency, and promoting high protection values at the expense of local color."
Is Pacifica facing challenges currently? Absolutely. But before we move to a different governance model, we should examine the rest of the media landscape. Guess what? Media in the U.S. is in a tailspin! In comparison, Pacifica actually looks good! It carries about $5 million in total debt but has roughly $100 to $150 million in assets. Our balance sheet looks a lot better than just about any other progressive media outlet.
The ongoing meltdown of U.S. media has been presided over by appointed boards of professionals who have hired professional managers and consultants. And they have failed.
Let's examine some facts. Air America is gone. Current TV is gone. Deadspin, Splinter, and ThinkProgress are all gone. They only lasted for a short time. The Progressive Press is facing mass extinction. In comparison Pacifica has been on the air since the 1940s. Democracy hasn't killed it yet!
All media is now going through a shift as far reaching and unparalleled as the invention of the printing press. According to Benjamin Goggin of the Business Insider, 7,800 people have lost their jobs in 2019 in a media landslide, almost double the number of jobs lost in the last 3 years combined!Layoffs and cuts have hit Verizon Media, Gannett, the CBC, and Highsnobiety, BuzzFeed, Vice Media and Disney.
Hedge funds are buying old newspapers, slashing jobs and stripping them for parts and selling off the newspapers' buildings for quick profit. Jeff Bezos, Amazon founder, bought the Washington Post in 2013. In 2018 the Los Angeles Times was sold to Patrick Soon-Shiong, a local biotech billionaire, for $500 million. As part of the deal, he also agreed to purchase the San Diego Union-Tribune. As Samantha Bee of 'Full Frontal' aptly stated, "We are forcing the lifeblood of democracy to rely on the whims of power-hungry billionaires!"
Radio is in deep trouble as well. iHeartRadio, owner of 848 radio stations, just eemerged last spring from bankruptcy caused by its $20 billion in debt. Cumulus, the second largest radio company in the United States behind IHeartMedia, filed for bankruptcy protection in November, 2017. The company owns 446 radio stations nationwide in 90 markets.
Contrary to the belief of many, terrestrial radio listenership has remained steady and high. Radio is having financial problems because of poor governance and management by its appointed boards of directors and, in the case of commercial radio, because quite a bit of advertising is now going to social media sites instead of to radio. In many major radio markets, in particular Los Angeles, terrestrial radio listenership has actually risen because of the increase in traffic congestion.
You don't fix the roof by burning the house down
Going back to the proposed bylaws rewrite being voted on by Pacifica members at all of its five stations, a majority of Pacifica National Board Members along with all five of its local boards have voted against the proposed bylaws rewrite for many reasons. These new bylaws would put in place a pre-selected Board of six people who are not familiar with Pacifica, are unknown to the current stakeholders and have not put forward a plan to improve this Foundation. These proposed bylaws would also eliminate local input almost entirely by getting rid of the local boards, would forbid staff membership on the National Board, make it much easier to sell a station broadcasting license or building and open the door to corporate influence. Sure, Pacifica has problems, but do you fix the roof by burning the house down?
Further, why would this new hand-picked board be better than what we have? These proposed bylaws list 6 people as At-Large Directors with 3 alternates. Two of the six and one alternate have already bowed out, showing poor judgement on the part of those choosing these board members. A third bowed out and then reconsidered and may bow out again. This indicates that this new board would be very unstable. The qualifications of those named do not contrast favorably with members of our current National Board. If anything, they are less qualified. They are certainly less committed. Except for Heidi Bogosian, who removed herself from consideration, none of them have any known relationship to any Pacifica station. Do you put a $100 million foundation in the hands of unknown and possibly unqualified people?
The proponents of these new bylaws criticize Pacifica governance but have not put together a coherent plan as to what they would do to repair the Foundation, although in the past their plan was to stabilize the Foundation by selling our most valuable asset – the WBAI, New York, radio license. Does it make sense to lose a station in the most important media mecca of the country, if not the world? As mentioned earlier, the proposed board members haven't put forward a plan, either. Are we supposed to vote in favor of this change on faith alone?
What has the current governance structure done to improve the Foundation?
Contrary to the opinion of some, the local boards and the Pacifica National Board have been very functional. NOT dysfunctional.
Let's list some of the things the National Board has done in the last 3 years:
1) Avoided bankruptcy.
2) Resolved a debt of over $5 million with the Empire State Building Realty Trust by carefully negotiating a $3.7 million settlement. This settlement saved Pacifica at least $1.9 million according to the negotiator.
3) Secured a loan to pay off the settlement at an interest rate of under 8% which was less than the interest of 9% being charged by Empire State.
4) Straightened out problems with our Pension Plans mainly due to poor record keeping dating back to the 1990s. This was a monumental undertaking that has been concluded successfully.
5) Adopted resolutions limiting corporate underwriting.
6) Wrote and approved a comprehensive Employee Handbook.
7) Adopted policy for the evaluation of programming at all of our stations.
8) Adopted policy forwarding the production and distribution of voter education and empowerment programming that will be shared by all our stations and affiliates in English and in Spanish.
9) Weathered the shutdown of WBAI, our New York station, illegally perpetrated by an iED and a few rogue Board Members without a majority of the Board being informed or giving consent.
10) Resolved to earmark at least 50% of any windfall income to the Pacifica Foundation to pay off the principal of the settlement loan. As Pacifica was the recipient of over $1.5 million in bequests in 2019 it is very possible that the debt can be reduced significantly.
11) Been working to resolve problems delaying our annual Audits which are very close to completion, etc., etc.
What should Pacifica Governance do to improve the Foundation?
To quote Jeff McHugh of RadioInk, "Great AM/FM radio with memorable personalities will survive. Like other entertainment industries, the CEOs and VPs who oversee mediocre content will face the chopping block as their ratings and revenue underperform. Evolution will bring new leaders who put product first."
Here's a plan to improve KPFK and our other Pacifica stations:
1) Improve programming as the first priority so that it sounds better and is more compelling and interesting.
2) Ensure that all of our stations become multi-media outlets utilizing the internet and social media to expand our reach, improve our visibility and increase our income.
3) Partner with other media outlets such as online news sites like the LA Progressive and the Orange County Weekly to share resources, add more local news and enhance our programming.
4) Invest in market research and ensure that our managers are accountable to our communities and that our programming addresses the needs and interests of its current and potential listeners.
5) Institute best practices so that all staff and programs are evaluated on a regular basis.
6) Trim expenses carefully so that we have realistic, balanced budgets.
7) Begin immediately to refinance the $3.1 million remaining on the settlement loan, while doing all possible to reduce the principal.
8) Investigate and eliminate any impediments to timely financial reports and ensure that our annual Audits are up to date so that we are eligible for Corporation for Public Broadcast funding and other grants.
9) Prioritize grant and major donor funding efforts.
Etc., etc.
There is no deus ex machina, no magic bullet – just simple, efficient management and governance. This is the path we have been following for the last 3 years!
Pacifica has been at least partially democratic since it's inception. This has been a plus, not a minus. It is doubtful that Pacifica would still exist had it not included community members in its decision making. Just about every other radio station in this country has bowed to the pressure of the powers that be and has diminished coverage of controversial issues. It's mostly bland and homogenized.
For example, every General Manager I've spoken with has been enthusiastic about accepting corporate underwriting. Time and time again it's been our pesky boards that have prevented corporate funding. The idea of a sale or swap of one or more of our stations has come up again and again. But listeners and members have prevented the looting of this precious legacy. Democracy has benefited Pacifica, not harmed it. The longevity of Pacifica alone proves that point.
For more info see: https://pacificafightback.org/
In peace,
Grace Aaron
Grace Aaron, current Pacifica National Board Director from KPFK, Board Secretary Pro Tem, National Board Director in 2008 and 2009, interim Executive Director in 2009 and for 1 month in 2019.
Disclaimer: The views opinions and plans expressed here are my own and do not necessarily reflect the views of other Board Members, Pacifica management or the management or staff of any Pacifica station.