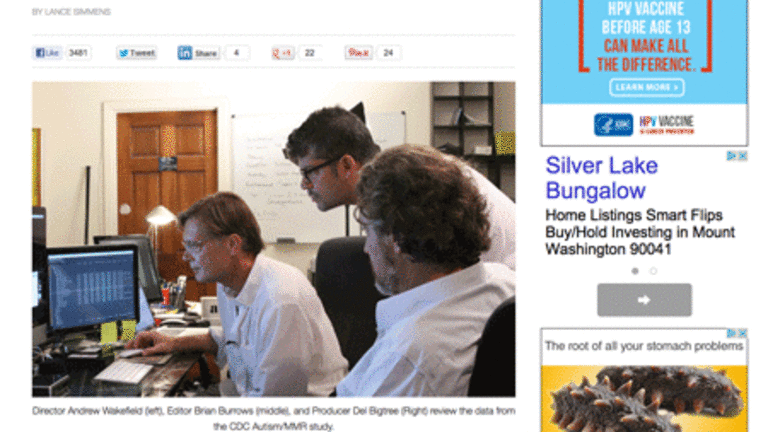 Huffington Post Censorship of Veteran Blogger Raises Freedom of Press Concerns
Lance Simmens: Attention needs to be drawn to what can only be described as editorial prosecution that defies American exceptionalism as a beacon of free press.
Will Huffington Post revisit its decision to pull a positive review of Vaxxed, the documentary now selling out theaters that raises serious allegations of corruption with respect to government approval of vaccines? The answer to the question is a resounding NO! Luckily the LA Progressive had enough foresight or maybe just a lack of corporate pressure to run my original article under the title "Why Our Children Should Hate Us" on April 17.
Not only did Huffington Post refuse to reverse its original decision to pull the article after it had been published but then proceeded to block access to my account. After several weeks it appears as though I have access to my account but under far more editorial scrutiny than the access I had enjoyed for years.
This is just plain wrong and smacks of a dangerous exercise of censorship. Attention needs to be drawn to what can only be described as editorial prosecution that defies American exceptionalism as a beacon of free press. But someone needs to make the fight and I am willing to do so.
Award-winning investigative journalist Sharyl Attkisson published an article this past weekend entitled "Is HuffPo Under Big Pharma's Tent?" No stronger protection against tyranny exists than the execution of a free and open media and hopes are that journalists rise up to protect this essential freedom.
Attention needs to be drawn to what can only be described as editorial prosecution that defies American exceptionalism as a beacon of free press.
Under no circumstances should this article be interpreted as anything other than constructive criticism, so Huff Po get ready. I have been writing in this blog space for nearly eight years and penned somewhere close to 180 articles over that period of time. I even showcased 86 articles in a public policy book, The Evolution of a Revolution: An Attack upon Reason, Compromise and the Constitution. I applaud the forum it presents for writers to thoughtfully offer comments and suggestions on weighty matters of the moment, and I am most appreciative of the opportunity to avail myself of the chance to contribute to the common good.
I scrupulously follow the blogger guidelines and attempt to present thought-provoking pieces that I hope shed some wisdom upon issues that affect large numbers of people. After a career in politics, government and public policy spanning nearly four decades writing, here is a logical extension of my passion and creativity to comment on social issues. I plan to continue with my contributions as long as my brain and body allow.
So enough of the preamble of platitudes, now for the critical content of this piece. I wrote an article Friday, April 15, entitled "Why Our Kids Should Hate Us" that was an outgrowth of the controversial documentary Vaxxed. The article took no position on the major theme of the movie: namely, corruption in the Centers for Disease Control with respect to manipulation of data linking certain vaccines (mumps, measles and rubella) to the exponential growth in autism in children.
Rather, the article called for serious consideration of a national dialogue on the allegations contained in the documentary. If in fact there is even a scintilla of evidence suggesting that the influence of Big Pharma on public policy decisions affecting our children may have created known adverse consequences, then it needs to be fully vetted. Nothing more and nothing less.
I also noted that public skepticism and cynicism with regard to our public institutions and elected officials is particularly heightened by high-profile events such as lead in public water systems (not only in Flint, Michigan, but across the country), contaminated water and air along with adverse public health consequences and earthquakes directly attributed to fracking, PCB's in public schools, the release of nearly 100,000 metric tons of methane due to natural gas leakage in Porter Ranch, California, which was the landlocked equivalent of the BP Deepwater Horizon disaster in the Gulf of Mexico, just to name a few. Given the rather precarious nature of our loss of confidence in regulatory institutions of government that are ostensibly designed to protect our citizens from private sector greed and callousness, careful examination of credible allegations is not only warranted but should be demanded.
The Fourth Estate—the media which includes organs such as Huffington Post—has a solemn duty and responsibility to present balanced perspectives on important issues and let the reader decide what to do with the information. In this particular instance, however, I take exception to the decision by HuffPo to first publish the above-mentioned article and then retract it within the space of about 20 minutes.
But to add insult to injury they also subsequently blocked out access to my account so that I was unable to submit any articles for the next three days. And despite repeated email requests asking whether the disappearance was due to a technical malfunction or an actual decision to kill the story, not until the morning of April 19 did I receive an email from Arianna Huffington essentially reinstating my ability to access my account.
Make no mistake, this was welcomed and I think shows a dedication to the spirit of the publication to provide an open forum for discussion of ideas and freedom of expression. But the issue of republishing the original article was left unaddressed. I wrote back urging her to personally review the article and reconsider the decision to kill it. As of this writing I have not received a reply to this request.
I did receive an email on April 18 from someone named Stuart at HuffPo informing me that they decided to pass on my post "because it violates a long-standing policy we have against disseminating conspiracy theories and inaccurate medical information. In the case of your post specifically, it presents as credible a widely known and debunked hoax that vaccines cause autism."
I fully respect and accept the decision to reject articles but the reasons for rejection must be well-founded. I have grown used to editors and rejection but this was both perplexing and troubling at the same time. First off, I was not disseminating a conspiracy theory. To the contrary, I was asking for a national dialogue surrounding an assertion made by a senior scientist at CDC that data was manipulated. I firmly believe that whistleblowers are essential bulwarks against collusion and corruption in governmental agencies and ought to be taken seriously. Thus a transparent and full public discussion seems to be a prudent course of action in order to protect our kids.
Secondly, I most assuredly was not disseminating inaccurate medical information, I was not disseminating any medical information at all. Rather, I was requesting that the assertions made in the documentary be given a fair and intensive examination to determine whether they were of merit. Once again a prudent course of action in order to protect our kids.
Thirdly, I was not promoting a widely known and debunked hoax that there is a causal relationship between vaccines and autism. Those allegations are certainly contained in the film and there is an obligation to our children that they be fully vetted in public so the parents of potentially affected children can adequately assess whether they are willing to run the risk of hurting their children. Are editors at Huffington Post sufficiently trained in science and medicine to make a determination as to what constitutes a widely known hoax?
Thus, the major objections used to kill my piece are neither sufficiently grounded nor meritorious enough to suppress freedom of expression. I would gladly welcome a forum on HuffPo to debate the merits of differing positions with respect to the impact of vaccines on the growth of autism. It should be anchored by medical doctors and experts grounded in statistical analysis that allows for a full and free discussion of the data available, including that of the senior scientist turned whistleblower, Dr. William Thompson.
Let me state for the record I am not anti-vaccine, but neither am I for unchecked promotion of vaccines unless there is a high degree of certainty that there will not be widespread adverse consequences for a large subset of children. As a father of two, I was presented with the decisions surrounding vaccination when my children were small and must admit I was grossly uninformed about potentially lethal or dangerous side effects.
But the important issue here is the transparency associated with such devilishly difficult decisions. Censorship is a dangerous and slippery slope in any society. We here in the U.S. witnessed blacklisting in the McCarthy Era of the 1950's that destroyed many lives and careers and spawned a level of public hysteria that turned neighbor against neighbor, friend against friend, and colleague against colleague.
Censorship has no place in a civilized democratic society dedicated to the principles of free speech and a viable and vibrant press. Unfortunately, we see all too many examples in the contemporary environment of a media that is complicit in promoting sensationalism instead of news, fantasy instead of facts, theater instead of truth.
The purpose of this article is to plead my case to the editors of Huffington Post and to Arianna Huffington herself to reverse their decision not to run my original piece which has garnered significant interest over the internet after it was published in the Los Angeles Progressive Magazine. Stand up to those who would stifle full and free expression of controversial issues.
Controversy often gives birth to creativity that can be either positive or negative. Show the intestinal fortitude to tackle this difficult and critically important issue if not for the sake of your integrity then for our kids. Arianna, you will sleep better at night by doing so.
Lance Simmens