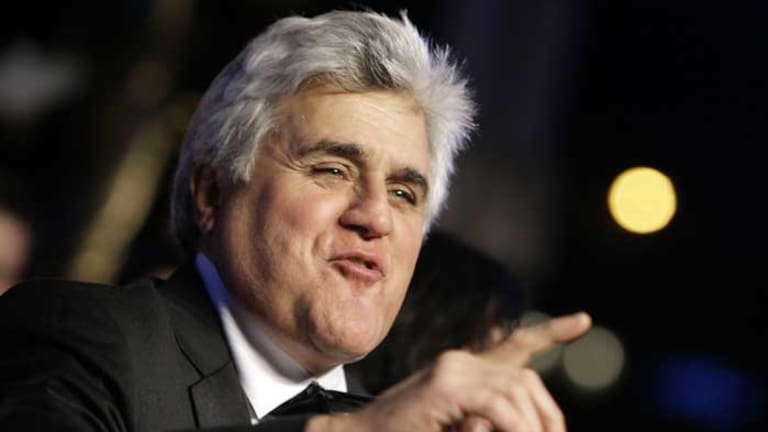 Why Jay Leno Snubbed the Gun Lobby
Peter Dreier: Gun control groups celebrated their success at getting Leno to cancel his gig, noting that it will reverberate beyond this one event.
America's gun lobby discovered that the nation's epidemic of gun violence is no laughing matter. On Thursday, comedian Jay Leno cancelled his speaking gig at a gun industry event less than 24 hours after three reform groups launched a petition asking the former "Tonight Show" host to disassociate himself from the gun group.
Leno was scheduled to appear at the 2015 Shooting, Hunting, Outdoor Trade (SHOT) Show on behalf of the National Shooting Sports Foundation (NSSF), the trade association for the gun industry. On Wednesday, the group's website claimed that tickets were "going fast" for the NSSF's "State of the Industry" dinner on January 20, 2015 at the Venetian Hotel in Las Vegas. It said that Leno's appearance was "the highlight" of the event.
Ironically, NSSF is headquartered in Newtown, Conn., only three miles from Sandy Hook Elementary School, where six adults and 20 first-grade children were killed in a mass shooting in December 2012.
On Wednesday, after learning of Leno's scheduled gig, the Newtown Action Alliance, the Coalition to Stop Gun Violence, and the Campaign to Unload sprung into action, circulating an online petition asking Leno to cancel his SHOT Show appearance. Another group, Moms Demand Action for Gun Sense in America, which urges corporate restaurants and retailers to ban guns in their stores, also launched a social media campaign to persuade Leno to reconsider his NSSF appearance. "Dear @JayLeno: There's no comedy in over 31k Americans dying per year from gun violence," the group twitted. "Sincerely, @MomsDemand #JokesOnLeno."
"I was shocked," said Po Murray, chair of the Newtown Action Alliance, an all-volunteer group formed after the Sandy Hook shooting. "I figured [Leno] didn't know what they stand for." Murray, whose four children previously attended the Sandy Hook school and who lives in the same Newtown neighborhood where Adam Lanza, the Sandy Hook shooter, once lived, said, "We hope our petition will convince Mr. Leno to be reasonable and cancel his speech."
Within hours, more than 6,500 people had signed the petition. Several media outlets, including Mother Jones and The Nation, reported on the groups' protest. By the end of the day, Leno had backed out of the SHOT Show. He called Newtown Action Alliance's Murray to tell her about his cancellation, explaining that he wasn't aware that the group was part of the gun lobby. Leno told Mother Jones, "I understand it's Newtown, and of course I get it. It's just, sometimes, mistakes get made."
"When it came to his attention that this was actually a pro-gun lobby show, he immediately cancelled his appearance," Bruce Bobbins, spokesman for Leno, told MSNBC. Leno was told that he would be speaking at a sportsman show, which he assumed focused on hunting, according to Bobbins. "He found out that it was not what he was originally told it was, and he decided to cancel," he said.
Leno, who hosted "The Tonight Show" for 22 seasons, had never previously voiced public support for the NSSF or the gun lobby. In fact, during a November 2013 "Tonight Show" interview with conservative Sen. Ted Cruz, Leno asked the Texas politician why he opposed stricter gun control policies. In that interview, Leno asked Cruz, "Why is increased background checks not a good thing? ... No one is saying you can't have guns...You just have to pass a background check. Why is that bad?" He told Cruz that without stronger laws "a complete psychopath can go to a gun show and buy half a dozen guns."
Gun control groups celebrated their success at getting Leno to cancel his gig, noting that it will reverberate beyond this one event.
Gun control groups celebrated their success at getting Leno to cancel his gig, noting that it will reverberate beyond this one event.
"The writing is now on the wall for celebrities who would consider getting in bed with the gun lobby," said Josh Horwitz, executive director of the Coalition to Stop Gun Violence. "Don't do it. Because if you do, your reputation and brand will be damaged forever, without repair."
The NSSF issued a statement after Leno turned his back on the organization.
"He unilaterally cancelled his promised appearance due to pressure from the anti-gun lobby, which included false statements about our industry and its commitment to genuine firearms safety, which we attempted to personally correct with him, but to no avail," the NSSF posted on its website. "We are not deterred by their publicity seeking nor are we unfamiliar with the bullying political tactics of the gun control groups that seem to have as little respect for the First Amendment as they continually demonstrate with regard to the Second Amendment."
Other gun lobby groups and conservative media echoed NSSF's talking points. Cam Edwards, host of National Rifle Association-sponsored radio and TV shows, issued several tweats, one of which said "You Are A Coward, Jay Leno." In an article for the right-wing website Townhall.Com, Fox News' Katie Pavlich wrote: "It's a shame Leno let dishonest and elitist liberal stooges bully him into bailing out on a great event with some of America's best people." The reactionary magazine Human Events called Leno "a coward who caves to liberal activists."
The NSSF has opposed all attempts to strengthen U.S. gun laws to prevent future tragedies. The association has accused gun violence prevention advocates of "seeking to destroy the Second Amendment" and lobbied against even the most modest proposals, such as universal background checks for all gun sales, a reform which issupported by 92% of gun owners nationally.
NSSF president Steve Sanetti even accused Newtown survivors who have advocated for tougher gun laws of reacting irrationally because they are "angry" and "fearful."
Formed in 1961, NSSF's members include gun manufacturers, distributors, retailers, shooting ranges, gun owners' clubs, and gun magazines. The NSSF lobbies against limits on high capacity magazines and supports legislation allowing gun owners to carry concealed weapons. It has sought to prohibit the Environmental Protection Agency from regulating chemicals in ammunition. NSSF has been the leader in working to rebrand assault rifles in general, and the AR-15 assault rifle like the one used in the Newtown tragedy in particular, as "modern sporting rifles," according to the Violence Policy Center. NSSF has three blogs, named "Pull the Trigger." "First Shot News," and "Bullet Points."
NSSF's annual SHOT show, where gun enthusiasts mingle with gun and ammo manufacturers selling their wares, is the group's major fundraising event. The group claims that last year's show drew 1,600 exhibitors and 70,000 participants.
According to a 2012 report by the Sunlight Foundation, NSSF has given more than $700,000 in campaign contributions. According to the Center for Responsive Politics, NSSF spent $2.39 million in lobbying in 2014 so far. The group works closely with the National Rifle Association. Like the NRA, NSSF's board includes many representatives of the gun industry. Steve Sanetti, NSSF's president since 2008, is former president of Sturm, Ruger & Co, one of the nation's largest gun manufacturers. The chairman of NSSF's board is Robert L. Scott, the vice chairman of Smith & Wesson, another major gun maker.
Gun violence prevention advocates have long viewed the NSSF, along with the NRA, as major obstacles to gun reform. Last April about 100 victims and survivors of gun violence and other advocates protested the corporate gun lobby's obstruction of sensible gun laws, such as expanded background checks, outside NSSF's annual Congressional Fly-In fundraising dinner in Washington, D.C.
During his 22 years as "The Tonight Show" host, Leno rarely voiced his political views on the air. His confrontation with Ted Cruz over gun control was an exception.
But off-camera, Leno occasionally revealed his social conscience.
In 2000, Leno was scheduled to appear at the Society of Human Resource Management's (SHRM) annual convention in Las Vegas when he learned that one of the most notorious union-busting law firms in the country -- Jackson, Lewis -- was getting paid to make two "How to Stay Union Free" presentations at the conference. Leno courageously announced that he'd refuse to appear at the SHRM unless it booted Jackson, Lewis off its agenda. Rather than lose Leno, SHRM cancelled the conference's union-busting seminar. This was quite a coup, considering that SHRM's chairman, Michael J. Lotito, was a partner at Jackson, Lewis. At the time, Leno's union, the American Federation of Television and Radio Artists (AFTRA) noted that Leno had always been a "stand-up guy" on union issues.
In May, Leno participated in a protest rally outside the Beverly Hills Hotel, one of two hotels owned by the Sultan of Brunei. The demonstrators called for a boycott of two hotels after the country adopted a strict sharia law permitting death by stoning for "crimes" including gay sex.
Some of Leno's fans criticized the comedian when, in October 2003, he introduced former California Gov. Arnold Schwarzenegger at his campaign victory party. Leno's spokesman denied that his appearance was an endorsement.
"I'm not conservative," Leno told the LA Weekly in 2004. "I've never voted that way in my life."
Peter Dreier
Republished from Huffington Post with the author's permission.