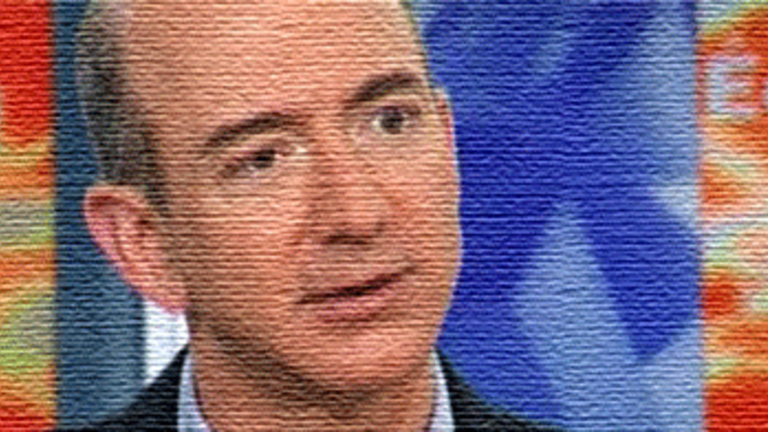 Citizen Bezos
Brent Budowsky: If Citizen Bezos remembers Citizen Jefferson and invests in a journalism and discourse that respects and inspires the minds of his readers, he will make a profit for his newspaper and perform a service for our democracy.
It is an irony that The Washington Post, which decimated its book section presumably for purposes of cost-cutting, has now been bought by Jeffrey Bezos, the pioneer entrepreneur who might have sold more books than any person in history through the company he founded, Amazon.com.
Obviously, the Bezos ownership of the Post will be a transforming event in the history of the newspaper business. Potentially, Bezos could trigger a chain reaction that would be an epochal event throughout the landscape of media businesses.
For today, the Post should bring back the book section as one of its a premier product. It should expand the intellectual frontier of the paper beyond the "inside baseball" echo chamber that dominates today and offer far more diverse voices — political, cultural, sports, entertainment and literary — that would appeal to huge blocks of new customers. The Post should reopen foreign bureaus, globalize a new super-charged book section as a hubcap for globally interesting ideas, synergizing it with publishing and entertainment vehicles that promote interesting ideas, kill the paywall — an eyeball destroyer with little payoff — and substitute a model that combines content that excites vastly larger audiences with advertising revenue that pays for it.
As a newspaper columnist published in print and online who is almost finished writing a historical fiction novel and screenplay, I am not without interests in these matters. Here's the problem Bezos faces: Newspapers, magazines, television networks, cable news and motion picture studios are increasingly like the besieged lords of olden days surrounded by hordes waving pitchforks. The hordes are their customers, and the pitchforks they are waving represent the customers taking their business elsewhere, which results in declining subscribers, ratings and advertising revenue tied to "eyeballs."
Every time I visit YouTube to find content thrilling to me about the Liberation of Paris, or Bruce Springsteen, or the Green Bay Packers, or Ernest Hemingway, or Humphrey Bogart, or Edward R. Murrow, or John F. Kennedy, or Frank Sinatra, or Édith Piaf, my eyeballs and interests are taken away from The Washington Post, cable news and "The Today Show."
Multiply YouTube and all the other places a person can visit to find the things he or she is interested in, and then multiply that by the billions of men and women across the nation and around the world, and you can better imagine the hordes of pitchfork holders surrounding the lords of the media they are abandoning.
Gallup reports that favorable ratings of Congress are 10 points higher than favorables for venereal disease — and that trust for newspapers and television is not much better.
Should anyone be surprised that when newspapers and cable television shows with low approval ratings become revolving-door vehicles that recycle name-calling and spin from politicians and other newspapers and cable television shows with even lower approval ratings that pitchfork-wielding customers take their business elsewhere? Especially when the "elsewhere" offers content they are far more interested in, which is cheaper to buy or free to enjoy?
Regarding political coverage, if you ask supporters of Ron Paul, Occupy Wall Street and the young men and women of the Arab Spring, they widely share the view that much media coverage either ignores their views or treats them with shallowness or disrespect.
I recently predicted that the television station being created by Paul will be a smash hit by standards of cable ratings. The same would be true of an Occupy Wall Street station (the kind of coverage I privately suggested to both MSNBC and Al Gore, which they ignored). Globally, a panoramic voice from American media for the Arab Spring would similarly achieve artistic and commercial success.
I am NOT suggesting bias. I am suggesting these voices be given a fair platform to offer their views — with fair space for rebuttal — and fair coverage in the news.
The Washington Post, if it moved exponentially beyond the echo chamber of insiders, would inspire exponentially more subscribers and readers, in print and online, locally and globally, than a provincially limited brand of insider politics that has limited appeal to local, national and global readers.
Once upon a time great literary voices joined a broader public discourse with novels, essays and journalism: Ernest Hemingway and John Dos Passos, Carlos Fuentes and Gabriel García Márquez, Norman Mailer and Gore Vidal, Victor Hugo and the muckraking journalists, Albert Camus and Jean Paul Sartre, joined by Bob Woodward and Carl Bernstein and Katharine Graham, who gave them indispensable support for a journalistic greatness that would still be widely applauded and commercially powerful, but is rare today.
Thomas Jefferson wrote that if he had to choose between a government without newspapers or newspapers without government, he would choose the newspapers. If Citizen Bezos remembers Citizen Jefferson and invests in a journalism and discourse that respects and inspires the minds of his readers, he will make a profit for his newspaper and perform a service for our democracy.
Brent Budowsky
The Hill
Thursday, 8 August 2013