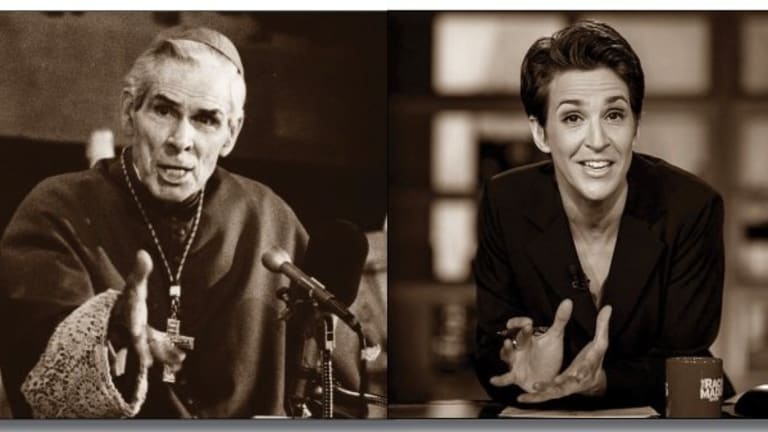 Maddow's 'Sheen' Is Reminiscent of a Bygone Day
Frank Fear: Maddow doesn't spout religious gospel, of course, but she's terrific at promulgating the doctrine of center-left Democrats.
In the 1950s—8 p.m. sharp every Tuesday night—my grandparents sat fixed to their chairs watching a primetime network TV program called, Life is Worth Living. The program starred (of all people) a Catholic priest who held court in princely style week after week, year after year.
His Excellency, the Rev. Fulton J. Sheen stood in front of the camera resplendent in garb and talked and talked and talked, sometimes using a chalkboard to illustrate his thoughts. There weren't any guests; it was all Sheen, all the time. (You can see what I mean by watching an episode of the show here.)
Sheen was more than a priest and (later) a bishop. He was a media star. Presentable, articulate, and with the ability to communicate simply, smoothly, and directly, Sheen had flair. As he put it one night, "I feel that it is time that I pay tribute to my writers …. Matthew, Mark, Luke, and John."
Sheen's biggest contribution was innovation: he took the Sunday sermon to the masses. And it worked! Sheen competed commercially with the very popular Milton Berle, a comedian who had a weekly program on another channel at the very same time. At its peak, Life Is Worth Living (1952-1957) reached 30 million viewers a week. Later (from 1961-1968), Sheen was back on TV with an eponymously titled show. Sheen had staying power.
Watching Sheen each week was only part of the story. The rest came the next day. Sheen's program was the topic of conversation. Many viewers digested and internalized what he said. It was almost as though there was a 'Gospel According to Sheen." And for many people there was.
Sheen wasn't anything like many of the 'TV preachers' who followed in the '70s and '80s. He was sincere, thoughtful, gentle, and respectful. Many people believe he should be canonized as a Catholic saint, and he still might be.
Maddow doesn't spout religious gospel, of course, but she's terrific at promulgating the doctrine of center-left Democrats.
For years, I thought Sheen and his program were anachronisms, expressions of times past—possible only because America was what it was in the '50s and '60s. But I also know that the more things change, the more (with a twist) they can stay the same.
Five decades later, we don't have a priest holding court nationally using scriptures and religious doctrine to speak to a faithful and adoring audience. But today we have a television personality who is following the same script. Her name is Rachel Maddow.
How many times have you encountered a faithful viewer of The Rachel Maddow Show who begins a conversation with these words? "Did you see Rachel last night?" "I didn't know that until I saw it on Rachel." "I understand (a topic) now that Rachel has explained it." I can't count the times personally because I've lost count.
Maddow doesn't spout religious gospel, of course, but she's terrific at promulgating the doctrine of center-left Democrats. And the fact that she does so on a niche, cable network makes you admire Sheen's commercial success even more. He competed for mainstream network viewers long before there was a network-for-this and a network-for-that.
And just like Sheen, Maddow draws a good share of her thoughts from a primary source—in her case, it is America's newspaper giants, including the NY Times, the Washington Post, and publications of similar ilk. While there's no chalkboard for Maddow (as there was for Sheen), she uses visuals in the form of screenshots showing quotes from newspaper articles with follow-up interviews with the reporters who authored them.
In taking that approach, Maddow magnifies the coverage of major newspaper reporting at a time when newspaper readership is generally in decline. As one of my colleagues once said, "With Rachel, you don't need to read The New York Times. She brings the day's edition to you on TV."
And just like Sheen, her audience is large and sustaining. By 2018, 'TRMS' rose to be the #1 non-sports program on cable television. She also has nearly 10 million Twitter followers. Rachel Maddow, just like Fulton Sheen, has become an important information source for millions of Americans.
Decades ago, my grandparents listened intently to what Sheen had to say mainly because his program was Catholic-infused commentary—a platform they valued and found credible. Sheen was a trusted and believable promulgator, too. They paid attention when he talked about the Soviet Union and Communism, and when he railed against capitalism, contending that it needed to be reformed to meet the needs of everyday people.
Maddow's formula is identical: Liberal Democrats respect the way she frames and focuses issues—explaining, dissecting, critiquing, and elaborating issues and circumstances, just as an exemplary professor would. She's imminently believable and likable, too. Try countering something that Maddow said with one of her admirers and see how far you get.
But there is a big difference between Sheen and Maddow. Back then, nobody I knew referred to Sheen's program as 'news.' They had Edward R. Murrow and, later, Walter Cronkite, for that. But the 24-hour news networks—and the various personalities it presents, including Maddow—are less about news and more about commentary.
It has gotten to the point these days that 'news presented with a twist' has displaced news presented in the classic Murrow-Cronkite style. It's an epic metamorphosis in the American experience that came about without a drumroll.
There are good reasons why millions watched Fulton J. Sheen a half-century ago, just as they are good reasons why millions watch Rachel Maddow today. That said, I muse over one of Sheen's quotes because I believe it speaks to the implications of news commentary—including the imperceptible power that commentary has to shape the American mind, especially when millions of Americans are drawn to the voice of a single commentator.
As the late Paul Harvey used to say, there is 'the rest of the story." And in this case, it's a story we've barely scratched.
"Our country is not nearly so overrun with the bigoted as it is overrun with the broadminded." ~ Fulton J. Sheen
Frank Fear