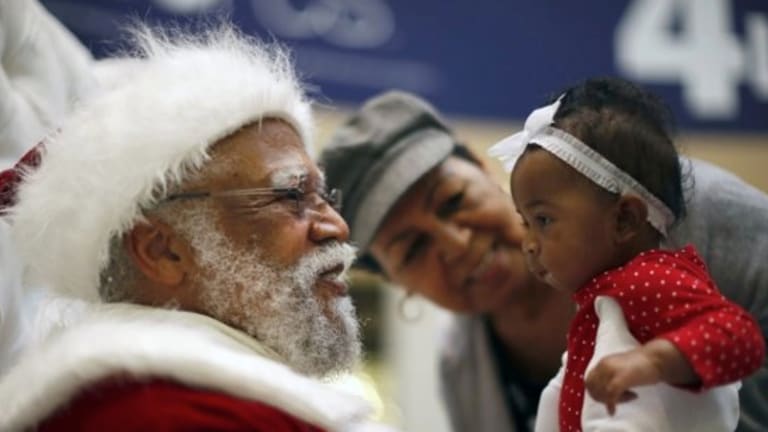 The Many Faces of Santa Claus
Megyn Kelly Santa -- Kelly's a twit, but her assertion of the whiteness of a fantasy figure does reflect white privilege at its best
Okay folks, let's reconnect with reality. I've been reading some odd comments on Facebook regarding Fox News reporter Megyn Kelly's assertion that Santa Claus and Jesus are white and everybody knows it.
For all you kids watching at home, Santa just is white. But this person is maybe just arguing that we should also have a black Santa. But, you know, Santa is what he is, and just so you know, we're just debating this because someone wrote about it, kids.--Megyn Kelly
Kelly was responding to an article by Aisha Harris, a black writer, who proposes that in an America that is culturally, ethnically, and racially diverse, perhaps it is time that Santa's image as an old white guy gets a makeover.
Most of you appear to think Megyn Kelly is a flake, but I've read these lengthy discussions in which people dismiss Kelly as a nitwit but engage in serious debate that Santa is white or that there's no reason to mess with Santa's traditional appearance (white, fat, bearded guy).
Kelly is a twit, but her assertion of the whiteness of a fantasy figure does reflect white privilege at its overblown best, as do some of the comments that I've read on Facebook. As Santa is not real, he can be any color that we like, including purple with green polka dots and red stripes. So why should a little black child have to imagine that Santa Claus is white? I have more than one black Santa in my house. My favorite does a sassy dance to "Jingle Bell Rock." Declaring that Santa is white is just as nonsensical as declaring that the Easter Bunny is a white rabbit and everyone knows it.
We can adapt folklore and legend to reflect our own cultural identity. One of the biggest misunderstandings that I frequently encounter when it comes to white people interacting with black people is a failure by so many whites to step into the shoes of being black in a culture which has consistently and traditionally devalued blackness.
Imagine living in a country in which you see nothing that reflects your image. When I was a child, I remember very clearly the first time I saw a black doll in a store, a pretty black doll with brown skin and brown eyes and curly hair. I also remember having to reach adulthood before black dolls with kinky hair like mine became available. Our mother bought black dolls for me and my sister after we first spotted them in the store and I was in love with that bundle of plastic parts because she looked like me.
Megyn Kelly's assertion was thoughtless and arrogant. However, I would never waste my time trying to explain that to her because she wouldn't get it and I would only end up frustrating myself. I am sharing this with you dear readers because I believe that some of you, a lot of you, will listen to what I am saying and truly hear me. That's all that I ask. Step out of your comfort zone and try to understand why I've taken the time to write about a fantasy man who exists only in the imaginations of children.
I also noticed that quite a few people seemed a bit confused as to the origins of Santa so I've provided a bit of clarity on that topic.
Santa Claus is not real (if you're under the age of 10, I'm sorry.)
Santa is a fantasy figure cobbled together out of Nordic, Scandinavian, Turkish, Greek, and Germanic (includes English and Old English) cultures. The Catholic church does not recognize Santa Claus as a saint. There was a 4th century Christian Bishop, St. Nicholas of Myra who contributed to the concept of Santa Claus, but he is not Santa Claus.
In addition to St. Nicholas, Santa Claus is a mixture of the Norse God Odin, Father Christmas, Sinterklaas, and Christian beliefs in the Christ Child. The essential quality of the benevolent figure was as a gift-giver to children.
The image of Santa as the jolly guy in red with reindeer and a house at the North Pole emerged in the 19th century based on the poem, A Visit from Saint Nicholas (aka The Night before Christmas) by Clement C. Moore. Cartoonist Thomas Nast solidified Moore's description of Santa in an illustration for Harper's Weekly in 1863. Note, this image of a large white man with a beard and a bunch of elves is an American concept fabricated from old legends by Clement in his poem and Nast in his drawings.
I repeat, Santa is not real. The fantasy figure reflects American and European cultural norms, he is therefore depicted as white. The growth of media has made the image available worldwide but do not arrogantly presume that Santa Claus is eagerly awaited by children all around the world. Different cultures have different images of the gift giver. American traditions are not the traditions of the world. Santa does not fly around the world on Christmas Eve.
Sheria Reid
The Examined Life