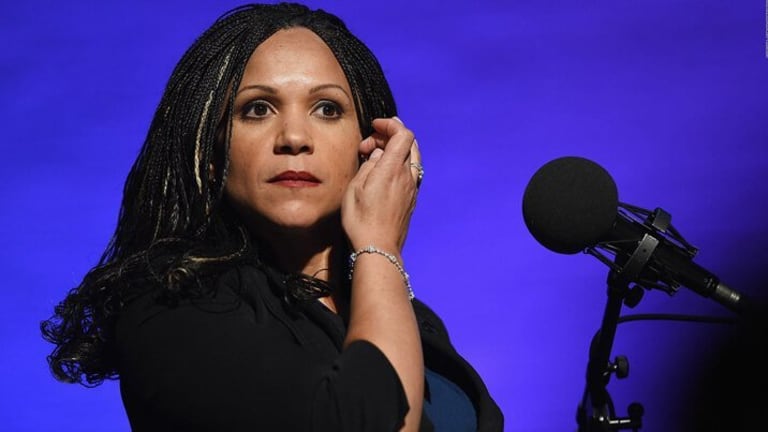 Melissa Harris-Perry Burning
Arica Coleman: She felt "worthless" and "betrayed".
We younger Negro artists who create now intend to express our individual dark-skinned selves without fear or shame. If white people are pleased, we are glad. If they are not, it doesn't matter. We know we are beautiful. And ugly too. . . If colored people are pleased we are glad. If they are not, their displeasure doesn't matter either. We build our temples for tomorrow, strong as we know how, and we stand on top of the mountain, free within ourselves.—Langston Hughes
On Wednesday, March 2, 2016, Melissa Harris Perry's relationship with MSNBC came to a climatic end with one anonymous executive characterizing the former weekend anchor as "a complicated, unpredictable personality." Harris-Perry wasn't having none of it as she took to Twitter in an "I'll show you a complicated unpredictable personality" sistah girl style take down which earned her the headline "Melissa Harris-Perry Leaves MSNBC in a Blaze of Glory!"
On Friday, February 26, 2016, Harris-Perry walked out of the MSNBC studio after sending an email to her staff which lambasted the network of preempting her show to provide additional coverage of the presidential primary; but Harris-Perry saw something more sinister at work:
Here is the reality: our show was taken — without comment or discussion or notice — in the midst of an election season. After four years of building an audience, developing a brand, and developing trust with our viewers, we were effectively and utterly silenced. Now, MSNBC would like me to appear for four inconsequential hours to read news that they deem relevant without returning to our team any of the editorial control and authority that makes MHP Show distinctive.
Harris-Perry did not mince words in expressing her frustration at the network's preemption of the show that bears her name stating, "I will not be used as a tool for their purposes. I am not a token, mammy or little brown bobble head. I am not owned by Lack, Griffin or MSNBC. I love our show. I want it back."
Of course, that is not going to happen now; and despite the fact that the show bore her name, one wonders if it was ever really Her show.
I had the pleasure of meeting Dr. Harris-Perry a little over a year ago when she was the keynote speaker at a 2015 Black History Month event in Delaware. As we chatted for a few moments prior to her talk, she seemed a bit frustrated that she wasn't able to steer the show the way she wanted. I had asked her if she would consider doing a segment about women of color in the academy.
She responded, "I get this request all the time." She stated that she had approached the producers on several occasions about a segment on the topic with a focus on tenure and how it tied in with the growing tendency to hire adjuncts instead of tenure-track faculty. "But they," she stated "don't think it's important."
For the past four years, Harris-Perry gave voice to those victimized by the contingent, intolerable conditions that exist in our society, only to have her show snatched from under her without notice. She felt "worthless" and "betrayed".
It seems to me that the struggle between Harris-Perry and the network began long before last Friday's showdown. Certainly in the last few weeks as the focus of her show shifted from social justice issues to the presidential primary, she felt she was being pushed out; so in a fierce effort to reclaim her voice she pushed back.
A similar scenario played out this past December when Tony Award winning actress Tonya Pinkins abruptly departed the off-Broadway production Mother Courage and Her Children because of creative differences with director Brian Kulick. Pinkins also articulated her frustration in unambiguous racialized language stating that her role had been " 'neutered,' 'subordinate' and created through 'the filter of the white gaze' . . . My Mother Courage was left speechless, powerless, history-less and even cart-less . . . Why, in 2015, in the arts, is there a need to control the creative expression of a black woman? . . . Am I a dog or a slave to be misled so as to be controlled in my artistic expression?"
Harris-Perry and Pinkins are not the only ones staging their own personal riots to bring attention to the continued systematic oppression of black people. With the hopes of a post-racial America dashed, much of black activism has taken on the persona of fighting fire with fire and it seems that black women are leading this effort. Baltimore prosecutor Marilyn Mosby, the Founding Mothers of Black Lives Matter, Confederate flag destroyer Bree Newsome, anti-"super predator" Ashley Williams, and yes, Michelle "don't even think about heckling me" Obama, are only a few examples of black women who have refused to be defined or controlled by "the politics of respectability".
Consequently, Harris-Perry has been criticized in some circles for her "undignified" and "riotous" departure from MSNBC. Meanwhile, the network has played the innocent as if the former anchor's disgruntlement was merely a figment of her imagination. Yet, as Dr. King stated regarding riots:
But it is not enough for me to stand before you tonight and condemn riots. It would be morally irresponsible for me to do that without, at the same time, condemning the contingent, intolerable conditions that exist in our society. These conditions are the things that cause individuals to feel that they have no other alternative than to engage in violent rebellions to get attention. And I must say tonight that a riot is the language of the unheard. And what is it America has failed to hear? . . . It has failed to hear that the promises of freedom and justice have not been met. And it has failed to hear that large segments of white society are more concerned about tranquility and the status quo than about justice and humanity.
For the past four years, Harris-Perry gave voice to those victimized by the contingent, intolerable conditions that exist in our society, only to have her show snatched from under her without notice. She felt "worthless" and "betrayed". So what's a black woman to do when faced with such devaluation? I know what she was expected to do. She was to remain silent and assume the role of the long-suffering black woman willing to submit to the white male executive agenda so as to maintain the myth of black progress and the hope for better opportunities for herself and those of her community which her presence afforded.
But, Harris-Perry refused to allow the network to continue to indulge this illusion at her own expense. Rather than do the expected, she took the complicated, unpredictable route. With a series of tweets, concluding with a photo of the iconic scene from Waiting to Exhale of Bernandine Harris (Angela Bassett) nonchalantly strolling away from the risen flames after setting her cheating husband's luxury car on fire, Harris-Perry told MSNBC what to kiss and where to go, freeing herself in that moment from the perils of preemption.
Arica L. Coleman