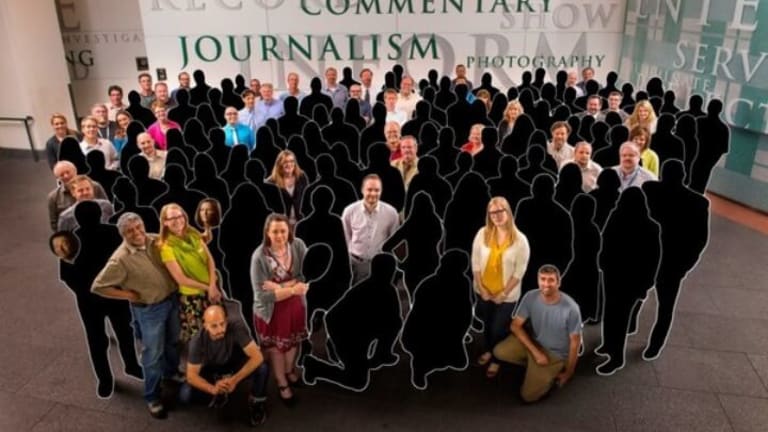 Newspapers Hit Hard
Frank Fear and Terry Link: We encourage Progressives to analyze the Commentary section of their local newspapers. Express concern/offer congratulations based on what you find.
Corporatization of the print media has consequences. Consider the case of The Denver Post, a newspaper that was bought by hedge fund, Alden Global Capital. In a picture that spoke a thousand words, Post staff showed the public the onerous impact of staff layoffs.
The Post's story illustrates the sorry state of the newspaper industry nationally. The Pew Research Center reports that newspaper circulation dropped by 10% in just one year—2016 to 2017—with print editions hit especially hard. The Center also reported an astounding fact: newspaper circulation nationally in 2017 is significantly less than it was in 1940. Weekday circulation was 31 million in 2017. It was 41 million in 1940.
The Center also found that newspapers in smaller markets are being hit differential hard. One reason is that industry revenues, particularly on the advertising side, have fallen nationally.
We encourage Progressives to analyze the Commentary section of their local newspapers. Express concern/offer congratulations based on what you find.
What does it all mean? That's exactly what we began discussing a few weeks ago. We wondered especially about how industry changes might be affecting the Editorial and Op-Ed pages of local newspapers. We're especially interested in "Commentary pages," as we call them, because of the connection to democracy. Through Editorials, newspaper boards speak out on issues of public concern. By way of Letters to the Editor (LTEs) and Op-Eds, citizens and organizational/institutional leaders comment on matters of public interest.
Our interest in those pages was matched by a shared concern. With newspapers keen on monetizing content, expanding obituary coverage (a fee-based option) might be more attractive than enhancing the Commentary section (a public service).
To gain insight, we conducted a 30-day study of the Commentary section in the print editions of two local newspapers. Both papers, owned by the same corporation, are located in similarly-sized metro areas.
In one newspaper, LTEs weren't published daily, and fewer than ten LTEs were published during the study period. Commentaries of all kinds—LTEs, Editorials, and Op-Eds—were absent (on average) about 3 of every 4 days. When they did appear in print, an Editorial was clustered with two-to-four Op-Eds.
Thinking that we might have a biased sample (having picked a 30-day period arbitrarily), we conducted a follow-up study, six days in length. We found the same pattern. No commentaries of any kind were published on four of those days. An editorial was bundled with op-eds on two days. No LTEs were published on any day.
The second newspaper, on the other hand, published over 150 LTEs during the study period—at least four a day, and often 10+ on Sunday. No day was skipped. An Editorial position was taken, on average, every other day. Some positions were authored locally by newspaper staff, while others were adopted from statewide and national sources. Nearly thirty Op-Eds were written by local authors—some by organizational/institutional representatives and others by unaffiliated local citizens.
While we were impressed by the second paper, we also noted an issue. Op-Eds written by organizational /institutional were published about twice as often as Op-Eds written by citizens. Op-Eds have public relations value for organizational/institutional representatives. They are free advertising, too. And the intent is always the same—to influence public opinion in an organization's favor.
The underlying problem, we concluded, is how the Commentary function has evolved over time—with citizens specializing in LTEs and organizational/institutional representatives focusing on Op-Eds. To counter that trend, we believe that newspapers should assist citizens in writing long-form opinions. That's one way to keep the Op-Ed mission from being displaced, which may have happened already—from citizens speaking out (initial purpose) to representatives spinning claims (evolved reality).
For this and other reasons, we encourage Progressives to analyze the Commentary section of their local newspapers. Express concern/offer congratulations based on what you find (we did both).
Don't take editorial policies as being cast in stone! Speak up and out. Many Americans may not know that the Op-Ed function is a relatively new feature of daily newspapers. It wasn't available extensively in U.S. until the 1970s.
What America can't afford is slippage, especially at the local level. That would happen if local newspapers (under financial pressure and corporate management) thin content or cede the Commentary function to alternative media and/or national papers.
America can't afford diminished democracy, especially today.
Frank Fear
Terry Link contributed to this article.