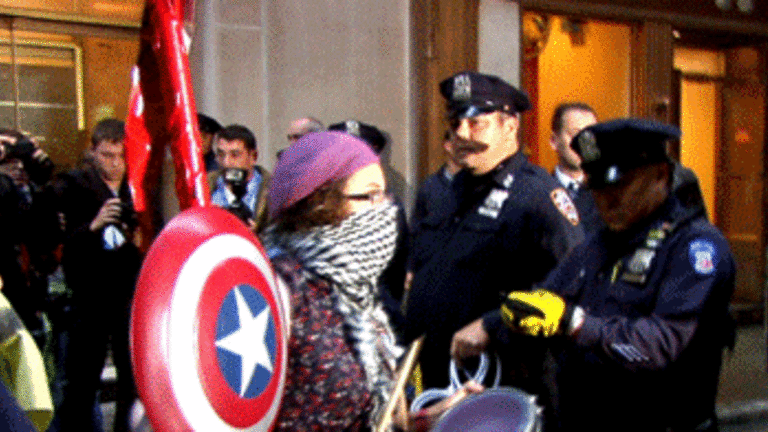 Documentaries Present Opposing Views on Occupy
Lauren Windsow: American Autumn: an Occudoc, will screen on a double with Andrew Breitbart Presents: Occupy Unmasked with a moderated debate to follow.
I have been trying over the past several months to organize a debate between Occupy and the Tea Party, and came very close to succeeding with a joint project between Cenk Uygur's The Young Turks and Christine O'Donnell's Troublemaker Media for the RNC convention in Tampa. Unfortunately, negotiations fell through and the event did not occur. I immediately thought of partnering with Citizens United Productions instead, as it was hosting a film festival screening of Occupy Unmasked on the very same date and time of the original debate.
One of the panelists for the Occupy side and the filmmaker behind American Autumn, Dennis Trainor, Jr., accompanied me to the screening, and together we broached the proposal directly to the president of Citizens United, Dave Bossie. Please watch the video and read the press release below for further details…
Opposing Occupy Documentaries To Appear On Double Bill; Moderated Debate To Follow
For Immediate Release: September 12, 2012
American Autumn: an Occudoc, will screen on a double with Andrew Breitbart Presents: Occupy Unmasked with a moderated debate to follow. David Bossie, president of Citizens United and producer of Occupy Unmasked came to a general agreement in principle with Dennis Trainor, Jr., director of American Autumn, when the two met recently at the Republican National Convention.
The general terms of the agreement call for each film to select one moderator and 3-4 panelists to represent each "side" in a public debate following the double bill.
Exact date and location for the double bill to be announced shortly.
About Occupy Unmasked
While the Liberal establishment and mainstream media portray the Occupy Wall Street movement as organic and nonviolent, Occupy Unmasked reveals the sinister, organized, and highly orchestrated nature of its leaders and their number one goal: Not just to change government, but to destroy it.
Led by hugely influential conservative visionary, the late Andrew Breitbart, Occupy Unmasked delves deep beneath the surface of the Occupy movement to show its dark anarchist roots. Behind the largely naïve students and legitimately concerned citizens looking for answers stand those who advocate the use of violence, black bloc operations, and intimidation as protest tactics – the same tactics they used during the anti-war protests of the 1960′s, anti-nuclear weapons protests of the 80′s, WTO protests of the 90′s, and the IMF protests of recent years.
Former leftists turned patriotic citizen journalists Brandon Darby, David Horowitz, Pam Keys, Anita MonCrief, Mandy Nagy, Lee Stranahan, and others take viewers into the Occupy camps around the country to see first-hand the truth of what is happening and who is at the heart of the movement. Exclusive footage and eyewitness accounts tell the story of the criminal activity and raw brutality in the camps – much of which has not been reported by the mainstream media.
Directed by Stephen K. Bannon (The Undefeated, Generation Zero) and produced by David N. Bossie (Generation Zero, Perfect Valor), Occupy Unmasked is an eye-opening look at a startling movement that could have a dangerous impact on the future of America.
About American Autumn
American Autumn: an Occudoc (released in June 2012) is among first feature-length documentaries on the Occupy movement. This fast-paced, fact-filled production was filmed in New York, Boston, and Washington D.C., beginning in the earliest days of the movement. The film recounts recent history in a manner quite different from what many viewers may recall of it.
American Autumn features footage of numerous actions and comments from many of those involved, including interviews and insight from key organizers and thinkers such as Medea Benjamin, David Degraw, Dr. Margaret Flowers, Lee Camp, Naomi Klein, Nathan Schneider, Ashley Sanders, Vlad Teichberg, Sgt. Shamar Thomas, Dr. Cornel West, Kevin Zeese, and others.
Kit O'Connel, writing at Fire Dog Lake, raves, "Dennis Trainor, Jr., is no outsider, but a gonzo journalist at these events. . . . He's intimately involved." And David Swanson, reviewing the film on MichaelMoore.com, writes: "We now have a film of our own. This is not amateur hour. This is a movie as well made, in technical terms, as any Hollywood blockbuster."
Written, produced and directed by Dennis Trainor, Jr., American Autumn: an occudoc not only offers answers for those who continue to ask: "what does the occupy movement stand for? What are our demands?" – it offers a challenge and an invitation to engage with the movement.
Lauren Windsor
Lady Libertine
Posted: Thursday, 13 September 2012