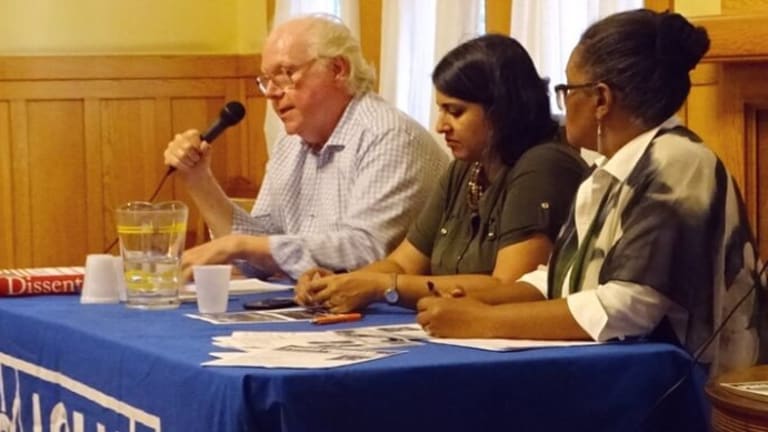 Pasadena Panel Fires Back at Presidential Attacks on Press
Edward Rivera: Panelist: multiple modern U.S. Presidents have attacked journalists, but freedom of the press remains an indispensable ingredient of American democracy
While the current administration's constant withering attacks on the press are remarkable in their vehemence, they're far from the first in America's history, according to Steve Rohde, an activist attorney who spoke as part of the ACLU's Wednesday evening panel discussion "Press Freedom Attacked: Will First Amendment Rights Survive Today's 'War on the Media'"?
The discussion at the Friends Meeting House also featured Pacifica Radio's Sonali Kolhatkar, host of the "Rising up With Sonali" program, and law professor Sharon Kyle, publisher of LA Progressive, a daily online newsletter.
The evening was moderated by Dick Price, editor of LA Progressive (Kyle and Price are married).
All of the panelists pulled no punches in describing the president's treatment of the press.
Panelist: multiple modern U.S. Presidents have attacked journalists, but freedom of the press remains an indispensable ingredient of American democracy
On his first day in office," noted Rohde, "the president called the press 'the most dishonest people on Earth,' so he has laid down the gauntlet on this."
Rohde explained that journalism is the only industry noted in the United States Constitution—as the "fourth estate." It has been described as "a segment of society that wields an indirect but significant influence on society, even though it is not a formally recognized part of the political system."
In framing the discussion historically, Rhode said that Virginia Representative and Founding Father George Mason, who helped write the Virginia Declaration, written before the Declaration of Independence, called freedom of the press "a bulwark of liberty (which) can never be restrained, but by despotic governments."
In fact, Mason refused to sign the 1776 document without insisting there be a Bill of Rights which included freedom of the press, said Rohde.
Added Rohde, "Freedom of the press is not the icing on the cake in America's constitutional democracy. It's just a very important ingredient in that cake, an indispensable ingredient."
Another Founding Father, Charles Pinckney, also noted that "people could be prompted through fear and prejudice and hatred to elect a monarch, and elect tyranny," said Rohde, drawing the comparison to the current U.S. leadership.
In fact, said Rohde, James Madison, who would eventually become president, called freedom of the press "One of the great choices of the great rights of mankind."
Continuing on that theme, Rohde explained that constitutional scholar Leonard Levy once wrote that "Freedom of the press should be used to criticize harshly the government and its officers and its policies, as well as comment on matters of public concern."
"It should be rousting, corrosive and offensive," said Levy. "Foul-tempered and mean-spirited."
Rohde said other modern administrations have attacked the press, from President Nixon's "Enemies List" to the Bush administration's jailing of New York Times reporter Judith Miller, and the Obama administration's jailing of Edward Snowden and Chelsea Manning.
"It happens with every administration," said Rohde.
As Kolhatkar, who grew up in the United Arab Emirates, said, in beginning her remarks, "Nothing is normal anymore," adding, "President Trump said, 'Journalists are America's worst enemy.' Well, if we are, it's because he is America's worst president."
"[Americans] can't even agree what news is anymore," said Kolhatkar.
"But," she continued, "whatever it is, don't call it 'fake news,' call it 'propaganda.'"
Added Kolhatkar, "People need to understand how to recognize real news. When you pass on fake news, you are passing on propaganda. You hurt journalists."
Added Kolhatkar, "There are now propaganda machines … masquerading as real news. It's brainwashing."
Kolhatkar also lamented the current state of journalism, noting that fewer and fewer journalists have full-time jobs or job security.
"So many of them are working as freelancers, or part-time now," she said. "A stable union job with full benefits is unheard of."
Speaking to the issue of the First Amendment protecting journalists, Kolhatkar said, sadly, "The first amendment is now being used to defend hate groups."
Kyle agreed that media rights have always been attacked.
"We need to be arming, protecting and defending the rights of journalists," said Kyle. Rohde agreed, saying, "The next big national march in this country may be for freedom of the press."
Illustrating what he thought the role of the American press not should be, Rohde recalled former CBS news anchor Dan Rather appearing on "Late Night with David Letterman" following the September 11, 2001 terrorist attacks.
[dc]"H[/dc]e looked right into the camera,' said Rohde, and said, "Reporting for service, Mr. President."
"That," said Rohde, forcefully, "was shameful."
Edward Rivera
Pasadena Now