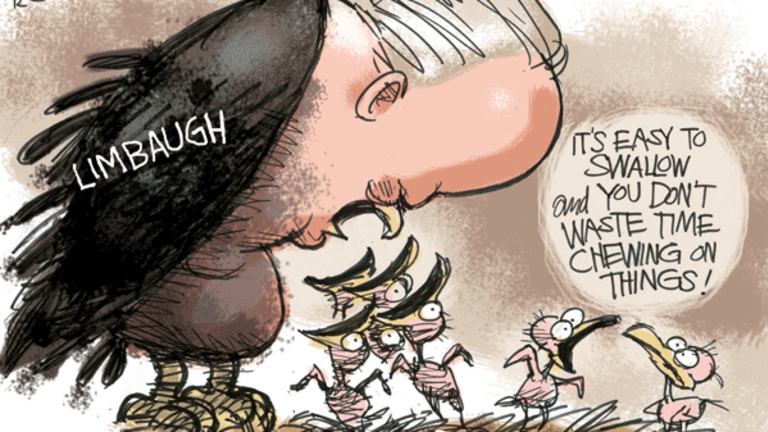 Bye-Bye Progressive Radio in Los Angeles
Forrest Woolman:Progressive Radio --and focusing solely on conservative radio because that's where the listeners are. Right? Wrong.
Clear Channel to Rebrand L.A.'s Only Liberal AM Radio Station, Will Become a Hard Right Station, Known as "The Patriot"
On January 2, 2014, Los Angeles' only liberal AM radio station – KTLK AM 1150 – will be rebranded as a "hard right conservative" station, according to station content director, David Perez. Clear Channel Communications, which owns over 9,000 US radio stations, is making a move that further homogenizes local talk radio in Southern California: the Los Angeles-Orange County area already has four other conservative talk radio stations.
"Basically, this is all about ratings and branding," Perez said. He explained that the current KTLK station never really established its branding, which explains why listener ratings are lower compared to conservative talk radio, he said. He was not able to provide specific ratings figures by press time, only to say that he or someone else from the station would supply these figures later. That call back never came.
According to Arbitron.com, one of the main groups that monitors and reports radio listenership, KTLK's average ratings in 2013 have been significantly lower than the dominant conservative talk radio station in L.A. – AM 640 KFI. KTLK's rating has averaged 0.4, compared to KFI's 3.3.
So it seems to make sense that Clear Channel is dumping progressive radio, and focusing solely on conservative radio because that's where the listeners – and advertising profits – are. Right? Wrong.
When reviewing the ratings for the other conservative talk radio stations in Los Angeles* you will find that all of the other stations (AM 790 KABC, AM 870 KRLA, and AM 980 KFWB) have ratings that are very close to KTLK's numbers. It should be noted here that KFWB bills itself as a "news" station, which ought to attract even more listeners. But KFWB's numbers barely surpass KTLK's. Also, anyone who listens – and who has access to a wide variety of information sources – can easily identify KFWB's conservative position.
One could argue that Clear Channel is trying to steer listeners away from KABC AM 790 (which is owned by Cumulus Media) from KRLA AM 870 (which is owned by Salem Communications) and from KFWB AM 980 (which is controlled by a trust that is owned by CBS). Considering those stations already have their own base of loyal listeners, with their own lineup of hosts, and the fact that Clear Channel is moving one of its current shows (Rush Limbaugh) from KFI to the re-branded KTLK, it would appear that the most this move will do is reduce the number of listeners at KFI and increase the number of listeners at KTLK.
Most certainly, the current progressive group of KTLK listeners are not going to stay with the re-branded KTLK. Most likely they will abandon AM radio and move to FM 90.7 KPFK, FM 89.3 KPCC or FM 89.9 KCRW. That means the ratings numbers aren't really going to benefit Clear Channel, nor its advertising revenue. That means Clear Channel's comment, about KTLK rebranding being tied to ratings, is either misguided or misleading.
A staff person at KTLK, who asked to remain anonymous, said the staff there have known since August that the change was coming. That was when Clear Channel decided to move the Rush Limbaugh Show from KFI 640 AM – another LA station they own – to KTLK. The source also stated that some at KTLK suspected Clear Channel wanted to hold off announcing the change until a big news day, in order to minimize possible backlash from critics.
Clear Channel officially announced the Limbaugh move the same day worldwide news was flooded with reports about Nelson Mandela's death. It can be argued that the attention of many progressives was diverted to the Mandela story, and thereby missed hearing Clear Channel's re-branding announcement. If the announcement was made on a slow news day, there would be a more concentrated focus by critics – meaning more people would've heard about it at the same time, and more people would've jointly questioned the reasoning behind the move.
It is no coincidence that Clear Channel is also rebranding the only progressive AM station left in San Francisco. And Clear Channel's ratings claim is as weak there as it is in Los Angeles. When asked about the rebranding coming 11 months before a mid-term election where progressive are running very strong, Clear Channel's Perez said they do not make operating decision based on politics.
That's no way to run a radio station!
Imagine Clear Channel deciding to cancel Los Angeles Kings broadcasts, during their 2012 championship run, saying they don't make radio decisions based on sports.
When you consider the fact that the Tea Party had substantially decreased in popularity, and conservatives are scrambling to hold their seat in Congress, anyone running a progressive radio station can see that they ratings over the next 11 months are going to benefit them continuing their progressive talk shows. That is, or course, unless the progressive agenda conflicts with your corporate agenda.
It will be interesting to see how the Arbitron ratings show for the rebranded KTLK in 2014, as well as the other conservative AM stations. Will we see an increase in the ratings for FM progressive stations?
*(Note: Arbitron ratings might require membership login, the ratings can be found at https://tlr.arbitron.com/tlr/public/ratingsDisplay.do?method=loadRatingsForMarket )
Forrest Woolman