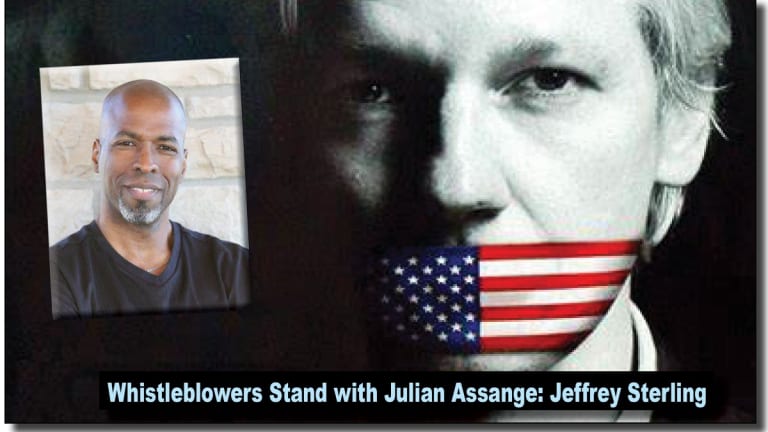 Whistleblowers Stand with Assange: Jeffrey Sterling
"The government does not like its dirty little secrets to be out there in the public, especially if the government hasn't leaked that information itself," he says. "Going after me was an act of retaliation."
">Click for full interview. Click links for snippets.
The case against Julian Assange—the Wikileaks founder, publisher, and journalist currently sitting in London's Balmarsh Prison—faces a critical turning point this week. On October 27 and 28, the U.K. High Court may decide whether to affirm a lower court's ruling denying the Biden administration's demands for extradition to the United States, where he's facing 175 years in prison.
As part of a nationwide effort, the Los Angeles Assange Defense team released "From Gangsta Rap to Julian Assange: The Criminalization of Art & Journalism," featuring the works of a half dozen young rappers and spoken word artists who bring the Assange-related freedom of speech battle to a younger more diverse audience.
To strengthen the connection between the U.S. governmental attacks on whistleblowers—who bring critical information forward about governmental misdeeds—with similar repression of socially conscious statements by rap artists over the years, the LA Assange Defense group also interviewed whistleblowers John Kiriakou, Jeffrey Sterling, and Nick Schou, Gary Webb's biographer.
This is Jeffrey Sterling's contribution.
Julian Assange, Meet Jeffrey Sterling
Sterling is a lawyer and former CIA employee who was convicted of violating the Espionage Act for revealing details about a covert operation to supply Iran with flawed nuclear warhead blueprints to journalist James Risen. In 2015, he was sentenced to 3½ years in prison. Sterling has consistently denied those charges.
But his battle against the government had begun more than 15 years earlier, when he was still at the CIA. After he lodged a racial discrimination complaint, he was fired by the agency and filed two federal lawsuits against it, one for retaliation and discrimination, another for obstructing the publication of his autobiography. Following approved guidelines, he also briefed Congressional staff members with his concerns.
Those experiences left him almost homeless, until he could return to his hometown near St. Louis and rebuild his life, meeting his wife and landing a good job, only to be arrested and imprisoned years later.
" target="_blank" rel="noreferrer noopener">Sterling sees remarkable similarities between his treatment and Assange's.
"The government does not like its dirty little secrets to be out there in the public, especially if the government hasn't leaked that information itself," he says. "Going after me was an act of retaliation."
Sterling sees the same pattern with Assange.
"He voiced issues that the US government would rather not be out in the public eye," says Sterling. "He has to be a target; he has to be quieted—and he also has to be made an example of."
Sterling finds it curious—and disturbing—that it was the Obama administration that ultimately sent him to prison, in what seemed more of a persecution than a prosecution. He recalls he and his wife having tears in their eyes the night Barack Obama was first elected president.
"I never thought I'd see an African American president," he says.
" target="_blank" rel="noreferrer noopener">Sterling believes his race played a role in him going to prison.
"The Obama administration—especially Eric Holder—[was] trying to show that they're not going to show any favoritism to African-Americans," Sterling says, "They were not going to be lenient on me. And they certainly proved that out."
Why Is the Media So Silent?
Considering that the hounding of Assange, Sterling, and other whistleblowers jeopardizes journalists' ability to report stories involving governmental misdeeds, many progressives find the relative silence on these issues by mainstream news outlets curious.
Sterling says " target="_blank" rel="noreferrer noopener">potential loss of access might be one explanation.
"The mainstream media doesn't want to get on the wrong side of any presidential Administration because then they're going to lose access," says Sterling, who was shocked at the lack of interest on the part of journalists whose livelihood could be at stake.
News reports that were filed focused more on New York Times reporter James Risen, who Sterling allegedly had leaked information to—allegations that Sterling continues to deny.
"" target="_blank" rel="noreferrer noopener">It was no longer the U.S.A. versus Sterling. It was the Risen case." Sterling says. "He was in no danger of going to prison."
Sterling's case should have drawn more attention, he feels, because of the Administration's use of the Espionage Act to go after reporters, instead of spies as originally intended.
"" target="_blank" rel="noreferrer noopener">My case actually established the groundwork for them to be able to do so," Sterling says. "And the result of that has been the attack on Julian Assange."
Assassinate Assange: Say What?
Recent revelations by Zach Dorfman, Sean Naylor and Michael Isikoff in Yahoo News about high-level CIA discussions—including with then-director Michael Pompeo—about possibly kidnapping or even assassinating Assange has shed an even sharper light on the depths of our intelligence agency's grotesque malfeasance. These revelations might even buttress arguments in the British court's upcoming extradition hearings.
Sterling was hardly surprised at the news.
"That was a grand example of the machine that goes into action at the CIA and administrations when there is something out there they want to hush, they want to quiet," he says. "It's more concerned with protecting its own image, keeping its own secrets hidden, as opposed to protecting this country."
S">terling worries deeply—and with some regret—about Assange's plight.
"If I had been victorious in my trial fighting the Espionage Act, then maybe the government wouldn't have been so eager to use that very act to go after Assange," Sterling says. "If he is extradited, I've been down that road where he would be heading—and he doesn't have a chance."
Dick Price and Sharon Kyle
LA Progressive