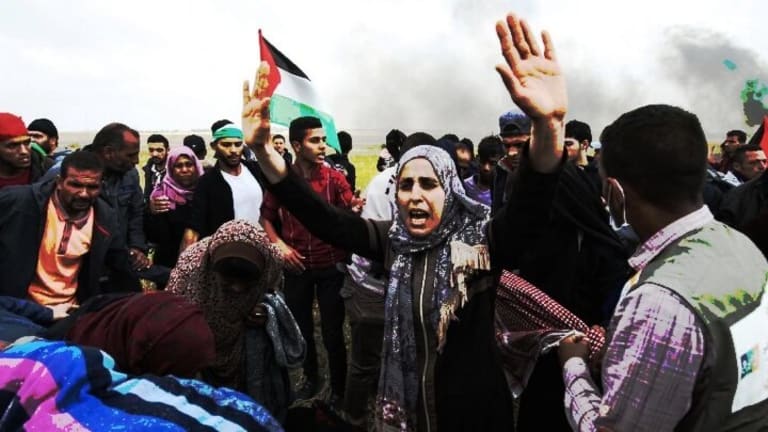 While Gaza Bleeds, California Lawmakers Praise Israel
Marcy Winograd: The California legislature's patronage of the Israel lobby comes at a time when Israel is losing support among Democrats.

With much of the world expressing outrage at Israel's slaughter of Palestinian men, women and children participating in Gaza's Great March of Return, the California legislature – in a tone deaf move, an arguably grotesque gesture – passed a resolution this past Monday commemorating Israel's 70th birthday, with lawmakers taking to the floor to praise Israel – ignoring its illegal occupation and its enshrinement of ethnic and religious superiority – to applaud the occupier as "the most successful and politically stable democracy" in the Middle East.
In introducing the resolution, California Senator Ben Allen (D-Santa Monica), an otherwise progressive lawmaker who supports single-payer health care and strong environmental protections, dared not denounce Trump's decision to move the US embassy to Jerusalem – a move coinciding with the slaughter in Gaza that elicited demonstrations by the thousands across the Middle East. Allen's resolution commended and congratulated the people of Israel for their remarkable achievements, with one of the "whereas" clauses asserting the people of Israel "strive for peace with security and dignity for themselves and their neighbors."
Of course, there was no mention of Israel running the largest open-air prison in the world: Gaza, "a cauldron of deficit, despair and desperation" according to the Los Angeles Times, which reports almost half the population of 1.8 million is unemployed, trapped in a 141 square mile area, with Israel and Egypt controlling its borders. Meanwhile, the Israeli press reports 97% of Gaza's drinking water is contaminated by sewage and salt.
Is it any wonder that on the day our California legislators, all but the brave abstaining Senator Bob Wieckowski from Fremont, celebrated the establishment of the state of Israel, ignoring the expulsion of nearly a million Palestinians in what some refer to as "The Nakba" or catastrophe, the imprisoned people of Gaza yearned for their freedom, to exercise their right of return to their homeland, to the land of olive trees, to the Palestine they and their ancestors knew before 1948, before Israel claimed a biblical right to the land, to their homes.
As members of California's Legislative Jewish Caucus – the same caucus that once flew an Israeli flag on their state web portal – took to the floor of the state senate to speak lovingly of Israel as a homeland for the Jews, a safe harbor from persecution, Students for Justice in Palestine (SJP), Jewish Voice for Peace (JVP) and other human rights activists in Los Angeles protested in front of the Israeli consulate on Wilshire Boulevard in West LA, where Palestinian youth spoke over a mock Palestinian grave stationed in front of huge scrolls with the names of those mowed down in the latest Israeli slaughter.
The California legislature's patronage of the Israel lobby comes at a time when Israel is losing support among Democrats.
The California legislature's patronage of the Israel lobby comes at a time when Israel is losing support among Democrats. According to the latest Pew Research Center poll, 27% of Democrats said they sympathized with the Israelis; 25% sympathized with the Palestinians. The rest weren't sure. These statistics contrast with those of two years ago, when the Center reported that 43% of Democrats said their sympathies were with Israel, 29% with the Palestinians. Progressive Democrats and Independents, particularly those under the age of 30, however, told pollsters they sympathize more (39% to 31%) with the Palestinians than the Israelis.
This latest chasm in the Democratic Party was apparent at its California statewide convention in San Diego last May when delegates, like this blogger and others – David Mandel of the National Lawyers Guild, Estee Chandler, LA Chapter Chair of Jewish Voice for Peace, Cliff Tasner, Chair of the Southern California chapter of Americans for Democratic Action, SEIU member Gilbert Feliciano – successfully pushed to delete platform language that would have denounced the global campaign to boycott, divest and sanction (BDS) Israel and all efforts to de-legitimize Israel.
In the end the party's Israel/Palestine plank – with its support for Jerusalem as the capital of Israel, but also its acknowledgement that East Jerusalem could be the capital of Palestine – read like a document written by delegates at odds – which was the truth, though before the close of the convention, floor delegates had thrown their support behind federal legislation to end Israel's detention of Palestinian children and taken a stand opposing federal anti-BDS legislation co-sponsored in the House by Congressman Ted Lieu (D-Los Angeles) and Congressman Adam Schiff (D-Pasadena) and other Southern California anti-Trump crusading Democrats.
Even so, lawmakers at the state and federal level continue to provide cover for the most militaristic forces in Israeli politics. Some, like the resolution's co-sponsors (Allen, Glazer, Hertzberg, Newman, Stern, Weiner) are overt in their support of the status quo, while others like Senator Kamala Harris give their consent through silence and refusal to join Senator Sanders in his denunciation of Israel killing "100" and wounding "10,000" in Gaza.
Ultimately, however, those who brazenly champion Israel's ethnic supremacy can only do so because of collective intellectual assent, because too many of us are afraid to speak out, to advocate for what in any other context would make perfect sense: equality and justice for all in Palestine/Israel.
It is time to break the silence.
Marcy Winograd