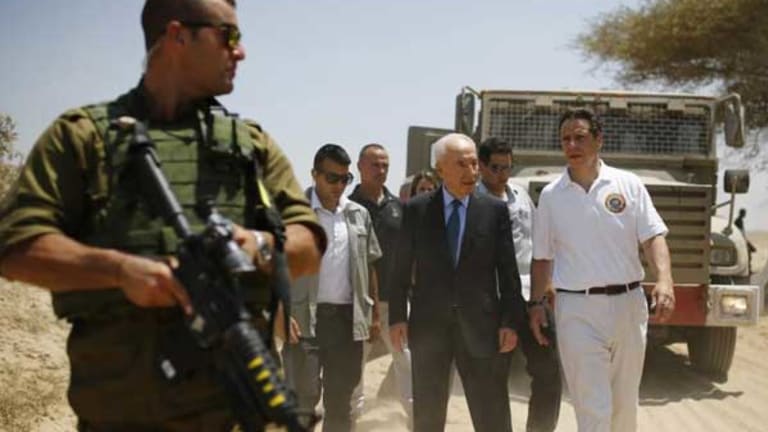 Cuomo Does Israel -- And Buffalo, Too!
Murray Polner: It was hardly surprising that Gov. Andrew Cuomo would suddenly decide to depart Albany for Jerusalem just as the gory war in Gaza was coming to an end.
When he was running for the governorship of New York in the Fifties and Sixties, Nelson Rockefeller was often shepherded by his Republican Jewish Attorney General Louis Lefkowitz through the streets of the city's famous Lower East Side wearing a yarmulke and eating knishes. The multi-millionaire heir of a mega-mega multi-millionaire fortune was out hunting for Jewish votes and no one even raised a cynical eye because that's what politicians did.
Until Fiorello LaGuardia came along, the city, after all, had Tammany Hall trading gifts and goodies for votes and access to the municipal treasury. It's what politicians have always done, a guiding principle of election campaigns. Visits to Italy and Ireland were normal. Skeptics may call it pandering but it's always been smart politics and pretty mild compared to today's vicious attack ads and constant flow of money.
So it was hardly surprising that Gov. Andrew Cuomo would suddenly decide to depart Albany for Jerusalem just as the gory war in Gaza was coming to an end. Some 1900 Palestinian civilians and 64 Israelis were killed and more grievously wounded. But up for re-election in November when he will probably win big, he may have been mindful how diverting it would be, and of course helpful with Jewish voters to escape a squalid state legislature with its aura of endemic corruption.
And while he has been generally regarded as a competent governor, there is, however, a U.S. Attorney wondering why he abruptly abandoned a crime commission with subpoena power he had once organized and then suddenly locked down. The Wall Street Journal reported that investigators "are examining whether New York Gov. Andrew Cuomo or his staff directed an anticorruption commission to not refer cases to district attorneys for prosecution." The newspaper added that the commission had "turned up evidence of "potential criminal wrongdoing of six to 12 lawmakers," more than likely from his own Democratic party. And maybe, just maybe, during his whirlwind 29-hour meeting and greeting Israeli leaders (while ignoring Palestinians who invited him to come and visit them too) he allowed himself to dream how presidential this all might look one day, especially should Hillary stumble.
In Israel, he and his gaggle of fellow politicians, all up for re-election, visited the Gaza tunnels, hosting a dinner for notables surrounded -- as the New York Times reported -- by "enough security officials on hand to field a softball team." Safe and sound, the Governor presented cufflinks to an IDF officer and a cigar-box to the venerable Shimon Peres with a note saying "Friends stand together in times of crisis." Cuomo offered his instant analysis of the war: "They're [Hamas] against Israel because Israel is a democracy."
My congressman, Stephen Israel, arrived separately with nine members of the House on a tour formed by a group said to be affiliated with AIPAC, the Israel Lobby. Later, he said that several other members of Congress sent him messages "asking how they can get over here."
Not every Israeli agrees. "The trouble with war is that it has two sides," wrote Uri Avnery, the respected (at least among Israeli peaceniks) 90-year-old journalist, publisher, wounded war veteran and onetime member of the Knesset. "Everything would be so much easier if war had only one side. Ours, of course."
Of course it may be that Cuomo was not really pandering but expressing a deeply felt personal support for Israel, the most powerful nation in the Middle East. But what his trip also does is illuminate what the prescient late Zionist scholar Rabbi Arthur Hertzberg wrote in 1990, when he detected a growing trend among American Jews which is still true today and was re-emphasized most recently by the Gaza war: "There is an organized and aging half moving right and a younger, more liberal group increasingly abandoning Jewish organizations."
To this, M.J. Rosenberg, considered an apostate by ardently pro-Israel "true believers"—he once worked for AIPAC-- for his dissenting views. "Israel is no longer a central concern of young [American] Jews," he has written. "Today politicians think the easy way to a Jew's heart and pocketbook is through Israel. Soon enough they will understand that the way is through social justice issues here in America."
And Peter Beinart, a City University of New York professor and columnist for Ha'aretz who wrote the much-debated The Crisis of Zionism, has rightly accused the "American Jewish Establishment" of "living in a closed intellectual space" since it is now all about Israel, all the time, while discarding its historic defense of working people, minority rights and civil liberties here at home.
But Albany still beckons. Back in January 2014 Cuomo announced that the state would grant the owners of the NFL Buffalo Bills $60 million to pay for stadium renovations, which led one New York citizen and Cuomo critic to send a letter to the Great Neck News asking readers to decide if Cuomo "is attempting to buy votes in an election year with taxpayer's dollars."
But that's the perennial name of the game regarding Israel as well as Buffalo and everywhere else. Come November, Cuomo will certainly win over Jewish voters and Buffalo fans. It's not pandering. It's just shameless everyday politics.

Murray Polner