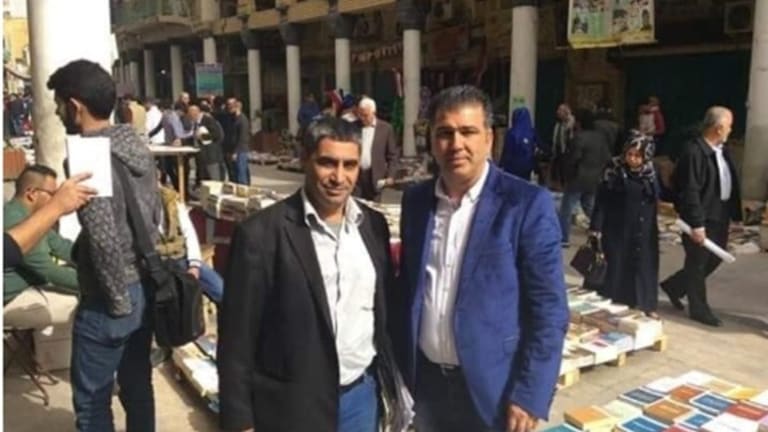 Demonstrators Dying for Clean Water in Iraq
Emma Leman: Activists, physicians as well as journalists have been attacked for giving aid to the demonstrators.
Iraqi authorities continue to mercilessly crackdown on demonstrators of a massive uprising against government corruption - but you may not be hearing about it in the mainstream media. This is because journalists reporting on the violence are themselves threatened, kidnapped or killed. One journalist has been kidnapped in broad daylight, in sight of his colleagues.
Protests erupted on Oct. 1st, 2019, as hundreds began to take to the streets of Baghdad in demand of substantial government reform that would constitute more jobs and basic services such as clean water and electricity.
Security forces reacted violently, firing tear gas, sound bombs, and live bullets at the demonstrators. Violence during the first nine days of the protests resulted in 157 deaths and 5,494 injured people, according to a report by United Nations Assistance Mission for Iraq (UNAMI). This only accelerated the protests as more Iraqis joined to express their opposition to government violence.
Activists, physicians as well as journalists have been attacked for giving aid to the demonstrators.
Activists, physicians as well as journalists have been attacked for giving aid to the demonstrators. Because of the threats, media reports presenting evidence of the human rights violations carried by Iraqi forces is limited.
Since October, the number of deaths and injuries has grown to over 600 according to recent reports. However, activists and medical staff on the ground claim the numbers are higher.
Raise the Voices interviewed Iraqi wanting to share her experience. Two of her colleagues, journalists from Baghdad, have been kidnapped after attending the protests. Mazin Lateef went missing January 1, 2020 and Tawfiq Altimimy March 9, 2020. Neither of the men have been returned. Our subject, who spoke to doctors from al Tahreer Square, tells us about the difficulty collecting evidence to hold the Iraq government accountable for the murders and kidnappings by its officials. We have kept their identity hidden.
Emma: Can you tell me a little about what you do? where you are based?
JD: I'm based in Baghdad. We are trying to share the information about the killing incidents and injury against protestors since October 1,2019.
I'm in daily contact with one of the doctors who is based in Altahreer Square and trying to help with coordinating with the hospitals to provide medical treatment. I don't feel safe to share my video because we may be under the threat of militias.
A number of activists had been kidnapped or arrested because they supported the protests
Emma: Right. Can you elaborate on that? Has anyone returned from being kidnapped that has been able to tell their story? Do you have an estimate on how many protesters have been kidnapped or arrested?
JD: Yes I interviewed one of the activists who was released. Some others are afraid and refuse to speak about it. The ones whom we heard about through the media [are] approximately 30.
While the missing protesters are about 100 or more, and hundreds of arrested.
We have also worked on collecting the names and the data of the killed protestors. The total number is [approximately] 700.
Till today two journalists who work in the Iraqi media network are still missing and they had been kidnapped by militias.
One of them was taken from the bus which transported him to his office in the morning in front of his colleagues.
I released their photos again on my page and said that what we are looking for in the new [Prime Minister] is that he has the ability to release our colleagues.
700 deaths and more than 25 thousands injuries 4000 disabled and no one was punished, not even a policeman. The doctors in Al Tahreer are facing challenges regarding the medical treatment and surgery because the Governmental hospitals are refusing to treat the protesters.
Emma: What would you say to Americans who would like to help?
JD: The influence of Iran should be stopped and the Iraqis cannot stop it without the International support. The people are afraid to present their celebration after the killing of Sulaimani. We avoid even saying something on social media.
Martin Luther King once said, 'injustice anywhere is a threat to justice everywhere'. People in all countries should be concerned if journalists and human rights activists can be summarily kidnapped or killed with no repercussions, no matter where it happens.
Emma Lehan
Sources:
UNAMI Special Report on Demonstrations in Iraq
Demonstrators Dying for Clean Water and Electricity in Iraq