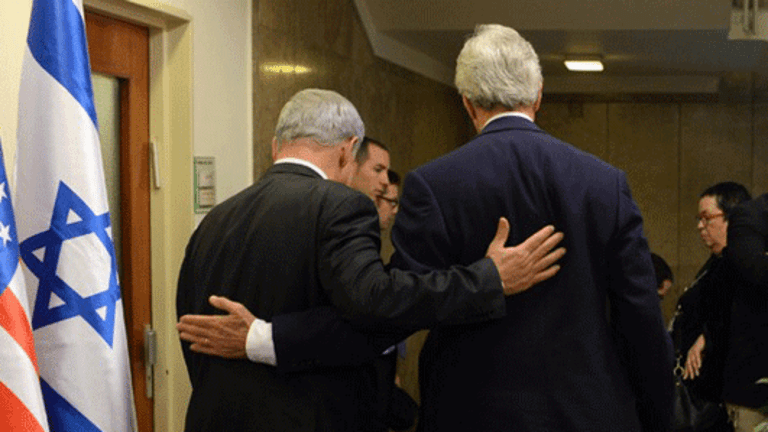 Kerry and the Mideast
Brent Budowksy: To those who oppose the diplomacy of Obama and Kerry, I ask: What is your alternative? What happens if your policies are followed?
Secretary of State John Kerry is a man on a mission — to achieve President Obama's goal, which has been the goal of American presidents of both political parties, to begin a new era of peace and security for the Middle East.
If Israeli Prime Minister Benjamin Netanyahu can walk in the footsteps of previous Israeli prime ministers from the left and right, who seized opportunities when progress for peace became possible, and if Palestinian leaders reciprocate with flexibility and skill to advance the self-interest of their people, and if leaders of Iran are willing to forsake nuclear weapons in agreements that would immeasurably lift the lives of their people, great things are possible.
I am not optimistic. There are hard and brutal forces at work against the agreements being discussed. Netanyahu will have to show a vision and flexibility that he has never demonstrated. Iranian leaders will have to prove by actions as well as words that their motives — which are far from clear — are to put prosperity for their people ahead of developing nuclear weapons of death.
Netanyahu in the past has suggested the possibility of creating a broad national unity government in Israel. At such a momentous time in the Middle East, it would be profoundly helpful for Israel to establish a true national unity government that would include the full spectrum of liberal, centrist and conservative parties.
Kerry has advanced significant new economic aid to Palestinians. This is an excellent move. It could be expanded to a Mideast Marshall Plan that would create a substantial multiyear peace dividend for nations that ratify political solutions, like Israel, Palestine, Egypt, Jordan, Lebanon and a democratic post-Assad Syria.
To provide incentives for agreements, a donors conference could bring together the U.S., Europe and regional states, such as Saudi Arabia, Qatar, the United Arab Emirates and other nations.
Kerry provides the X-factor that makes many things possible. He has skillfully brought retired Marine Corps Gen. James Allen into the center of negotiations to devise security guarantees for Israel and Palestinians.
Kerry has shown heroism in war, toughness in diplomacy and perseverance in negotiations. His personal contacts around the world are vast and extensive. He has turned his admiration for John Kennedy and Nelson Mandela into game plans for action.
To those who oppose the diplomacy of Obama and Kerry, I ask: What is your alternative? What happens if your policies are followed?
The alternative to a negotiated solution between the Israelis and the Palestinians is endless occupation by Israel that one former director of the Israeli security agency Shin Bet warned could become a kind of apartheid. This would explode a demographic time bomb and lead to another generation of Palestinian impoverishment and anguish that would bring mutually assured destruction to Israelis and Palestinians alike.
The alternative to a nuclear agreement with Iran is war. Do Israelis, Americans or Iranians want more war in the Mideast? Iranian President Hassan Rouhani was elected on a campaign pledge to Iranians to improve relations with the world, in order to improve their economic lives.
Iran should be tested, not trusted, as former President Reagan did with the Soviets. Increasing sanctions now would be a self-destructive mistake. If Iran does not negotiate in good faith, Obama and Kerry will lead the charge for stronger options.
In the movie "The Gatekeepers," six former directors of Shin Bet make a powerful case for political solutions with the Palestinians. They warn against permanent occupation. They are not naive peaceniks. They are aggressive protectors of Israel's security. Like many former Israeli military and intelligence leaders, they fervently advocate political solutions.
Kerry is a statesman who understands the commonality of aspirations and interests of countless young people, women, workers and people of diverse faiths across the Mideast. He is waging a single-minded battle to avert disaster with appeals to common interests and common sense.
Brent Budowsky
The Hill