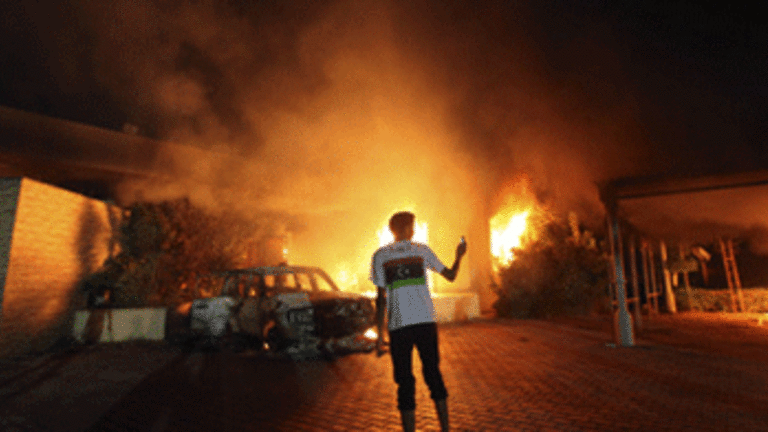 In the Libyan Aftermath: Who Should Make Our Foreign Policy?
Steve Hochstadt: Mitt Romney defends foreign Christians who pretend to be Jews as they condemn all Muslims, and he condemns American diplomats in danger who try to explain that "Innocence of Muslims" does not represent US policy.
Just as the presidential campaign settled into repetitive boredom comes a September surprise, an upheaval across the Muslim nations. The target of violent mobs in Egypt, Libya, and Yemen is the United States, symbolized by our diplomatic buildings.
A foreign crisis becomes a foreign policy crisis. American policymakers had to act quickly to protect American lives and property and help governments restore order. We must also speak to our friends in these countries, who look to America for support and sometimes guidance, and who are even more distressed about the violence than we are, because it threatens to throw their own lives into chaos. Let's watch our foreign policymaking rivals, the Obama administration and Mitt Romney's campaign, at work.
A small group of Egyptian Coptic Christians, disavowed by their church in Egypt, are using American freedom to promote hatred of all Muslims. Nakoula Basseley Nakoula, who spent a year in jail in the 1990s for meth production, lives in Los Angeles, released from prison on probation for forging checks using stolen identities. His probation order warned against using false identities. During 2012, Nakoula made the film "Innocence of Muslims" with the help of Media for Christ, a Los Angeles group founded and led by Joseph Nasralla Abdelmasih, who has been part of extreme anti-Muslim agitation in the US.
The filmmakers told the cast and crew they were creating a fictional story, but later dubbed into the actors' mouths a portrayal of the Prophet Mohammed as a sadistic womanizer and child molester. Nakoula promoted the film by posing for radio interviews as the non-existent "Sam Bacile", an Israeli Jew, who called Islam a "cancer" and lied about the support of "a hundred Jewish donors." Terry Jones, the Florida minister who burned a Koran in April, is promoting the film.
The film was shown once in a theater, but then two trailers were dubbed into Arabic and put onto the Internet by a third Coptic Christian critic of Islam, Morris Sadek, whose Egyptian citizenship was revoked, because he called for war against his homeland. On September 6, Sadek sent YouTube links to Egyptian journalists.
Here things spiraled out of control in precisely the way that the anti-Islam creators wished. On September 8, a two-minute excerpt was broadcast on Egyptian television. Protests developed in Egypt, Lebanon, Yemen and Tunisia. A crowd gathered outside the American Embassy in Cairo on September 11, although the Ambassador was not in residence.
Someone in the Embassy posted a message on Twitter: "Respect for religious beliefs is a cornerstone of American democracy." A couple of hours later, a longer statement was posted: "The Embassy of the United States in Cairo condemns the continuing efforts by misguided individuals to hurt the religious feelings of Muslims – as we condemn efforts to offend believers of all religions. ... Respect for religious beliefs is a cornerstone of American democracy. We firmly reject the actions by those who abuse the universal right of free speech to hurt the religious beliefs of others."
Later that day, protesters stormed the Embassy, pulled down the American flag and burned it.
A more violent mob then attacked the US consulate in Benghazi with rocket-propelled grenades, killing the American Ambassador to Libya, three other Americans and ten Libyan police.
Now the foreign crisis became a campaign issue. About 10:00 pm on September 11, the Obama administration made its formal response in a statement by Secretary of State Hillary Clinton, which began, "I condemn in the strongest terms the attack on our mission in Benghazi today." She added, "Some have sought to justify this vicious behavior as a response to inflammatory material posted on the Internet. The United States deplores any intentional effort to denigrate the religious beliefs of others. Our commitment to religious tolerance goes back to the very beginning of our nation. But let me be clear: There is never any justification for violent acts of this kind."
About fifteen minutes later, Mitt Romney released a message, which had been prepared earlier: "I'm outraged by the attacks on American diplomatic missions in Libya and Egypt and by the death of an American consulate worker in Benghazi. It's disgraceful that the Obama Administration's first response was not to condemn attacks on our diplomatic missions, but to sympathize with those who waged the attacks."
Although it was already clear that the Embassy message had been posted before the attacks in Cairo, and that it was not the work of the Obama administration but a low-level Embassy staffer, Romney put his statement on his website, where it still stands. The next morning, Romney gave a news conference in which he repeated that "the administration" was "sympathizing with those who had breached our embassy in Egypt, instead of condemning their actions." He repeated variations of "apology" five more times, saying the Cairo embassy was "effectively apologizing for the right of free speech."
At about the same time, President Obama released a statement: "I strongly condemn the outrageous attack on our diplomatic facility in Benghazi, which took the lives of four Americans, including Ambassador Chris Stevens. . . . While the United States rejects efforts to denigrate the religious beliefs of others, we must all unequivocally oppose the kind of senseless violence that took the lives of these public servants."
It is useful to see who condemned whom. Obama, Clinton, and Romney all condemned the attacks. The US Embassy in Cairo, and Obama and Clinton later, condemned the makers of the provocative and fraudulent film, as well as those Muslims in the Middle East who used this as a pretext to attack Americans. Before he knew what had actually happened, Romney condemned as "disgraceful" the American diplomats in Cairo who were under siege, as well as Obama, for making an apology they did not make. After it became clear that he had made a number of incorrect statements on the night of September 11, Romney repeated them the next day, and defended the fraudulent filmmakers as representing American "values".
Mitt Romney defends foreign Christians who pretend to be Jews as they condemn all Muslims, and he condemns American diplomats in danger who try to explain that "Innocence of Muslims" does not represent US policy. When anyone rejects the film and its intent, Romney calls that sympathizing with the anti-US mob.
We do have friends in these nations. The Libyan Prime Minister condemned the attack, and the President of the Libyan General National Congress said, "We owe an apology to the U.S. government, its people and in fact to the whole world." How long we would have any friends in the Muslim world under a Romney presidency is questionable.
Steve Hochstadt
History News Network 
Published: Tuesday, 18 September 2012