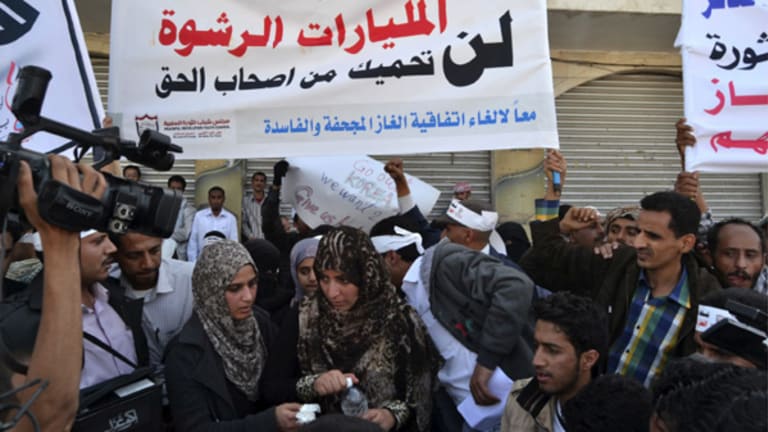 Yemen's Friday of Dignity: Post-Revolution Questions
Rebecca Martin: In Sanaa, you can still see the occasional photo of Saleh, his chin lifted, eyes squinting in focused determination. Over the years, he and his cronies have looted the country of an estimated $60 billion.
It took seven months for Yemen's repressive ruler, Ali Abdullah Saleh, to be forced from his palace. It took three years for the star performers in that action, some of whom didn't live to watch his deposal, to reach this month's Oscars.
Nominated as best short documentary, Karama Has No Walls is set in the capitol Sanaa's Change Square, when on March 18, 2011, student activists peacefully gathered to demand the fall of Saleh and the end of his 33-year grip over the country. As more students joined the protest after Friday prayers, pro-government snipers climbed onto rooftops and opened fire. Fifty-three people were killed, a thousand more injured.
One of the bloodiest events in Yemen's recent history, the day came to be known as Juma'at Al-Karama, or the Friday of Dignity.
Instead of the killings stopping the protest, more people joined the students. Military officials defected and members of parliament resigned. Rival tribesmen set down their weapons and pitched tents in the square—all in solidarity to liberate Yemen from the shackles of a barbaric regime.
That day of dignity led to the ouster of Saleh, and 11 months later, the election of interim president Abd-Rabbu Mansour Hadi.
Yet Saleh himself remains free. Crucially, in an effort to remove him, the Gulf Cooperation Council agreement that scripted a process for a new government also granted him, his family and aides, immunity from prosecution. To this day, although they cannot be brought to trial, as many as 600 players including Saleh, a son and three nephews, remain accused of political crimes and murders, some in the last two years.
On a recent trip to Yemen, I personally didn't see any violence. But I did learn more about an assault occurring the month before I arrived, and how Saleh's legacy is still killing ordinary people.
On December 5, gunmen wearing army uniforms attacked a defense ministry complex in the heart of the capitol, near Sanaa's Old City. After a suicide bomber immolated himself, the gunmen entered the ministry's hospital, killing 52 staff and patients, including a relative of current President Hadi. The men separated out foreign doctors and nurses, shooting them in their heads and chests.
The attack led many Yemenis to conclude that Al Qaeda has penetrated the army. Information may have been leaked about a meeting of top commanders, unexpectedly delayed on the day of the attack. Earlier, two army vehicles had also gone missing. And in a BBC report, one government minister blamed people linked to former President Saleh.
I decided to travel to Yemen anyway, and at a language school, I met a Yemeni teacher who had been one of the student activists in Change Square three years ago. Tarek, now 24 (I've changed his name to protect him), later told me that five of his friends were killed that day, one in front of him. "We got used to writing our names on our chests, in case we didn't make it out."
Now I asked Tarek if since the revolution, any strong leaders have emerged. "They've all been executed," he said. "People in government, professors, writers. Anyone who dares to think, question, express their opinion."
More violence was to come. My arrival coincided with a mid-January meeting of this year's National Dialogue Conference. With 565 regional representatives and other "groups" in the city, I was warned not to leave the school. Then, five days into talks, a Houthi delegate was shot and killed as he drove to the meeting. With the other delegates under threat, President Hadi demanded they sign off on the latest round of talks, and leave. They did so, departing the next day, on January 21. The immunity language remained.
Over the next few weeks, I sought clarification from Tarek about what had happened in the Saleh regime, and how people are now suffering from it.
Who are the different tribal and regional groups represented at the NDC, and why is their coalition so fragile? "Saleh had the police and the army, but he kept the divisions separate. He kept all power dispersed. The power bases of Al Qaeda and of the tribes. And everyone has weapons."
In fact, the relationship between Saleh and the Houthis, a northern Shia group said to consist of 100,000 fighters, has flip-flopped over the last two decades. At any rate, in a late 90s border dispute with Saudi Arabia, Saleh needed them to fight against Sunni Muslim Saudi aggressions, so he did not ask the Houthis to stop their militarization.
In 2000, Saleh signed a border agreement with the Kingdom. He demanded the Houthis lay down their guns. They refused. That's when a series of wars broke out in northern Yemen. At one time, the Houthis lived in peace with their Sunni neighbors, but they began seeing themselves as a marginalized Shia group, accepting arms from Iran. (Under Obama's watch, the U.S. shipped state-of-the-art weaponry to Saudi, to aid their attacks on Houthi incursions, a charge flatly denied by State Department spokesmen.)
Who is all this Yemeni government and Houthi weaponry used against? Hundreds of thousands of northern non-Shia people have fled Houthi attacks over the last decade, some as recently as last October. They flood into overcrowded refugee camps. They die when the Yemeni air force bombs the camps. Shia mothers watch their children being snatched by Houthis. In November 2009, over 400 children walked to Sanaa to protest against their abuse. As many as half the Houthi fighters in some areas are under the age of 18.
And the killings continue: perhaps 9000 civilian deaths in the north as of this writing.
There is still another source of regional violence. After the north and once independent south Yemen were unified in 1990, privately owned southern land was distributed among Saleh's circle. Southern civil employees were put on pensions below the sustenance level; other pensioners weren't paid for years. Taxation rates soared, and in election fraud, Saleh's men took over local governance.
When a short north-south civil war broke out in 1994, President Saleh recruited tens of thousands of Yemeni veterans, men who had fought in Afghanistan against the Soviets, to put down southern resistance fighters. Many blame Saleh for the presence of Al Qaeda in Yemen altogether. In the 2011 revolution, these same Yemeni veterans, morphed into Al Qaeda, overran towns and cities in south Yemen, forcing people to flee. Southerners say Saleh's son and nephew stood by, wanting the presence of Al Qaeda to raise tension in the country.
Denied equal rights, southerners are now demanding secession. The Southern Movement says their aims must be achieved by peaceful means, but that line has been blurred as the coalition expands. In rallies, now held on an almost daily basis, hundreds of soldiers have been killed and over a thousand civilians. In most cases, security forces initiate the violence by opening fire on unarmed protestors. One of these rallies and a killing occurred in Aden on February 21, a mile from the airport and hours after my plane out of the country lifted off the runway.
What can be done about the immunity clause in the GCC agreement? Tarek's non-answer was an answer of sorts. "Nine thousand killed in the revolution, and Saleh wants his power back?" The least the Hadi government could do is compensate revolutionaries, he said.
Three youth have died while waiting for help from the negligent Fund for Injured Revolutionaries. Jabal al Namer, shot in the stomach, died before he could travel abroad for promised medical care. Twenty-four youth from the uprising are in detention and 17 remain missing.
As for the investigation, none of the key suspects in the Change Square deaths, people who hold high positions in government or the military, have been brought in for questioning. Instead, activists advocating for the survivors have been beaten or kidnapped. An assailant broke into the home of a cousin of Sara Ishaq, the filmmaker who directed Karama Has No Walls. The cousin, a human rights lawyer investigating the murders, was assassinated in his bed.
More recently, during my stay in Yemen, three imprisoned Al Qaeda men were brought to trial. The next Sunday, February 2, three bomb blasts shook the capitol: near the defense ministry, the central bank, and the French embassy (also near Saleh's home).
Later in February, other explosions killed an Yemeni intelligence officer and two Yemeni soldiers, and three foreign nationals were kidnapped. Most of the bombings and all of the kidnappings occurred in districts with a governmental or foreign presence. By this time, wearing a veil that covered most of my face, I had walked in these areas. When my attempts at Arabic emerged, people were warm though surprised. I saw not a single Westerner on the street.
Tarek says district police aware of people's schedules are accepting payoffs or selling them off to Al Qaeda. (One of the British men was taken from a car in front of his home, and the other, a teacher, perhaps when he left his school.) Tarek spoke of a tourist kidnapped from a shop near a hotel a year ago. "The shopkeeper told me the police had come in for him. Their car was right outside."
Tribesmen eventually claimed responsibility for the third man, a German national. No "group" has stepped forward to implicate themselves in the other two kidnappings, or the bombings.
But an estimated 70% of the people serving as ministers or officials in Saleh's regime remain in the current government.
What of Yemen's current economic situation? Tarek: "The regions are not poor. There is oil, gas, our Red Sea port. Saleh knew about these resources but sold rights to them secretly."
Yemen's oil fields may be larger than its natural gas, but not enough to bring any benefit to ordinary people, especially after the elite—yet another son of Saleh and tribal sheiks—took bribes to auction off the oil at less than market value. His government did the same with the gas, signing 20-year contracts with foreign companies to sell it at 3 dollars per million BTU, 11 dollars less than the international market price, robbing Yemen of an income of a billion dollars a year.
As for Aden, officials in Saleh's regime signed a 2008 lease agreement with Dubai Ports World, giving DPW the right to manage the port for the next 100 years. Two thousand people lost their jobs in a single day. Saleh's government had already neglected the port, but it has now fallen into disrepair. A ghost. A symbol of corruption.
In Sanaa, I also saw children sorting through stinking garbage for cardboard that might be sold. Women holding babies crowd the steps to pedestrian bridges over Sixtieth Street, begging for coins. In the Old City, I watched a man submit himself to a hot-iron ankle burning, a traditional cure. What some people do rather than risk their lives in Yemen's hospitals; Tarek's sister was handed off from one doctor to the next until she died from a botched Caesarean.
Tellingly, when Saleh was wounded in a 2011 assassination attempt, as much as he hated risking a coup to fly to Riyadh for treatment, his robbing of half of what little was allocated to Yemen's healthcare system forced him to do so.
During his regime and since, food prices have soared. Yemen should not be forced to import food, but unexploded ordnance now fills some northern fields. The rising cost of fuel and cut supplies of electricity mean people can't replace dry wells. Along the Red Sea coast, I watched the dust blow over huge swatches of fallow land. Miles after miles of large fields that could be used for banana, papaya, tomatoes.
Ten million people of Yemen's 25 million now do not have enough food. Child malnutrition rates are among the highest in the world with 1 million children under 5 years old acutely malnourished. Yet in 2010, when the Saleh government was asked to issue an appeal to help alleviate hunger, they refused to cooperate. That year, the World Food Program met less than 1/3 of its funding goal, forcing them to cut rations of flour to barely above the starvation level—and to drop its girls-in-school project. Without the food incentive, girls were kept home to care for their families. Girls who wanted to become doctors and teachers.
For 2014 and 2015, the UN and its partners are now asking for a total of $592 million for humanitarian funding in Yemen. Wary of the instability created by the regime and the aura of incompetence cast over the current government by certain "players," donors have so far contributed only 2% towards that goal.
In Sanaa, you can still see the occasional photo of Saleh, his chin lifted, eyes squinting in focused determination. Over the years, he and his cronies have looted the country of an estimated $60 billion.
On February 26, the UN Security Council created a sanctions committee to impose asset freezes and travel bans on anyone in Yemen committing human rights violations. No one has yet been named.
But it's a small step towards hope, as are the young women I met in the Old City—keen, astoundingly bright—working for the National Democratic Institute, an organization advocating for citizen rights and government accountability.
And on February 11, in a tens of thousands-strong demonstration held to honor those lost in the 2011 youth revolution, I mixed with young women on the cordoned-off female side of Sixtieth Street. The women—and girls—held photos. A brother, a cousin. A father.
As Tarek puts it, "My generation is sick of standing by."
Rebecca Martin
Subscribe to LA Progressive's daily newsletter
* indicates required
Email Address *


First Name

Last Name

Email Format
Powered by MailChimp