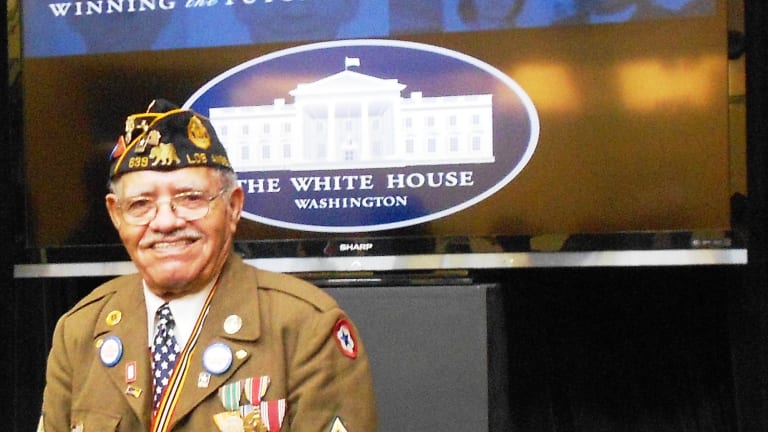 Obama Names Local WWII Vet Stephen Sherman a Champion of Change
Marie Lemelle: Sherman is one of the few surviving African American veterans of World War II, having served with honor in both the European and Pacific theatres of war.
President Obama Names WWII Vet Stephen E. Sherman as a Champion of Change
Fifty years after the beginning of one of the most fateful missions of war – the Vietnam War - President Obama marked March 29, 2012 as Vietnam Veterans Day. To further commemorate the 50-year anniversary, President Obama's White House Office of Public Engagement honored 91-year-old WWII Veteran Stephen E. Sherman (U.S. Army) as one of eleven individuals within the veterans' community, especially those who served in Vietnam, as Champions of Change.
"Our veterans answered our country's call and served with honor, and on March 29, 1973, the last of our troops left Vietnam," proclaimed President Obama. "Today, we reaffirm one of our most fundamental obligations: to show all who have worn the uniform of the United States the respect and dignity they deserve, and to honor their sacrifice by serving them as well as they served us."
These Champions of Change: Sherman, Hernan Luis y Prado, Joey Strickland, T.J. Breeden, Gail Belmont, Samuel Luna, Cassaundra St. John, Richard Kornegay, Jeff Hanson, John Reynolds, and Bob Curry were honored for their continued support for efforts to end veterans' homelessness, boost veterans' employment, treat problems with substance abuse, and develop treatment programs for those dealing with Post-Traumatic Stress Disorder (PTSD).
"I appreciate the Obama Administration for giving me a bigger voice to share how together we can make a better future for our returning and senior veterans from all wars," said Sherman. For more than 12 years, Sherman has tirelessly worked in the veteran community to prevent homelessness, bridge the gap for access to quality medical treatment, and eradicate hunger in the veteran community. His daily mantra is "leave no soldier behind."
"Today's Vietnam Veteran Champions of Change represent some of the best of their generation – those who served with dedication and courage. These American patriots continue to serve in their communities today, improving the lives of their fellow veterans and military families," said Rosye Cloud, the White House Director of Veterans, Wounded Warrior and Military Family Policy.
The Champions of Change program was created as a part of President Obama's Winning the Future initiative. To learn more about the Champions of Change, visit www.whitehouse.gov/champions.
Sherman is one of the few surviving African American veterans of World War II, having served with honor in both the European and Pacific theatres of war. In 2011, members of Congress confirmed that Sherman is the last living WWII veteran who knew Dorie Miller. Thus, the Foundation is named in honor of Dorie Miller, who became a hero to the Black Service Men and Women when he picked up a machine gun performing above and beyond his duty, as a cook, to protect all servicemen at Pearl Harbor, Hawaii on December 7, 1941.
Sherman never forgot Dorie Miller. In his honor, Sherman established the Dorie Miller Memorial Foundation, which works to connect veterans with evidence-based healthcare, telemedicine, wellness and family consultation, employment programs, and more.
He has worked tirelessly to locate and help homeless, disabled, and mentally ill veterans living on the streets of America. "I have a goal to get every homeless veteran into a home in two years," he says with a big smile. "At 91 years old, I cannot wait until 5 to 10 years from now." Join Sherman in his quest to "leave no soldier behind." He can be contacted at info@doriemillermemorialfoundation.org.
Marie Y. Lemelle