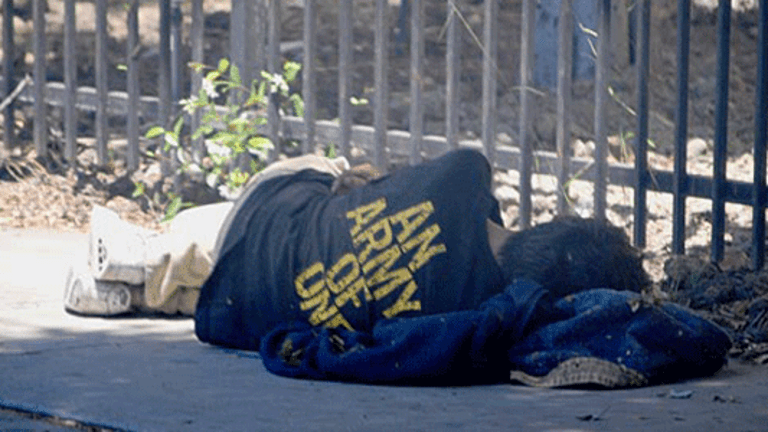 Veterans Deserve Better
Hector Villagra: The VA's failure to meet Valentini and other veterans' most basic need for housing should cause us to question how much our government values the sacrifices they make.
[dc]"V[/dc]eterans don't deserve special care, benefits or assistance." How many Americans hold this view? How many would vote for a politician who supported it? And yet this is the message that veterans like Greg Valentini hear every day.
Valentini served in Operation Enduring Freedom and Operation Iraqi Freedom. As a private in the Army's 101st Airborne Division, he participated in the invasion of Afghanistan in 2001 and the assault on Tora Bora that sought Osama bin Laden and other Al Qaeda leaders, as well as the invasion of Iraq in 2003 and the attack on Karbala to destroy Saddam Hussein's elite Fedayeen forces. He took part in intense ground fighting, under nearly constant sniper fire and mortar bombardment, and saw numerous comrades and civilians gruesomely maimed and killed. For his service, he received six decorations.
After risking his life abroad, he suffers from severe Post-Traumatic Stress Disorder, lacks a safe, stable place to call home and struggles to survive on the streets.
Like Valentini, approximately 62,000 veterans are homeless on any given night, with about twice that number experiencing homelessness at some point over the course of a year. Researchers have found that veterans make up a much larger percentage of the homeless population than the general population, meaning that veterans are more likely to be homeless than non-veterans. What makes this shameful is that there is a solution.
In 2009, the U.S. Department of Veterans Affairs (VA) committed itself to the goal of ending homelessness among veterans by 2015, operating on the principle that the solution to homelessness is permanent housing coupled with supportive services to address mental illness, substance addiction, and other challenges resulting from their service. The strategy is working, albeit slowly: the number of homeless veterans who have used VA programs to obtain permanent housing has risen dramatically - from 18,446 in 2009 to 35,905 in 2012 - and the number of homeless veterans has steadily decreased - from 76,000 in 2009 to 62,000 in 2012.
Research has demonstrated that permanent supportive housing works even for those who have been homeless for years. Indeed, it not only ends homelessness for them, but it also costs less than having them live on the streets or in shelters and cycle through emergency rooms and jails because their mental and physical disabilities have not been addressed.
Some might think that the recession or the slow recovery from it explains why so many veterans are homeless, but the truth is that we are not close to making the most effective use of available resources, much less doing everything possible to make permanent supportive housing available to them all.
Look no further than Los Angeles, the homeless veteran capital of the nation, with approximately 6,000 veterans living on our streets. The VA owns nearly 400 acres of property in West Los Angeles. The property was deeded to it by private individuals in 1888 to establish a permanent home for disabled soldiers, yet it has not provided any long-term housing for veterans there for decades. Some buildings previously used for housing inexplicably have been allowed to fall into disuse and disrepair. Nearly one-third of the property has been leased for uses unrelated to housing veterans, like a rental car parking lot, a hotel laundry, and a dog park, and no one can account for where the revenue from the leases has gone, much less tie it to expanding access to supportive housing.
The ACLU of Southern California and its partners filed a federal lawsuit against the VA on behalf of Valentini and other homeless veterans, challenging the legality of the leases and the failure to provide housing on the property. Federal Judge S. James Otero recently ruled the leases unlawful, and the VA has decided to appeal that decision. Instead of devoting limited resources to fight this ruling, it could have used them to ensure that the property operates as intended to house disabled veterans. The VA's decision to appeal speaks volumes about whether it intends to end homelessness among veterans or defend the status quo.
The VA's failure to meet Valentini and other veterans' most basic need for housing should cause us to question how much our government values the sacrifices they make. As we commemorate Veterans Day, we should refuse to be satisfied with platitudes and demand that our elected leaders make permanent supportive housing available to all our wounded warriors - starting with those who live under freeways or in dumpsters when they could be living at the VA's West L.A. campus - or be honest with ourselves and admit we as a nation honor only those veterans who don't need our help to keep from living and dying on our streets.
Hector Villagra
Executive Director, ACLU-SoCal