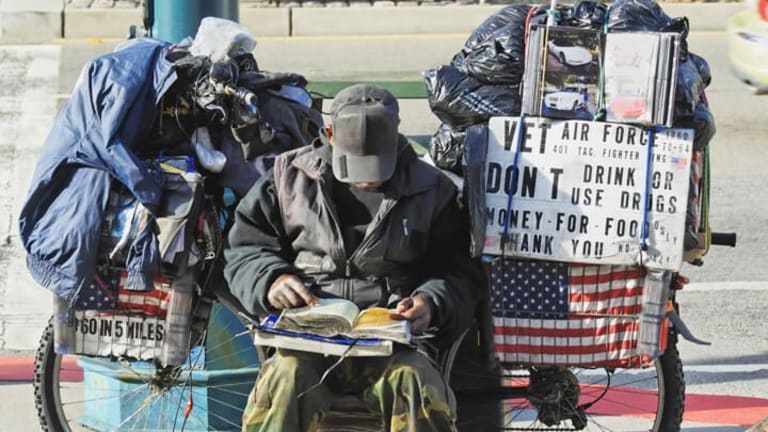 Could Bernie End Veteran Homelessness?
Ernest Canning: While huge gains have been made over the past six years, the fact that on any given night there are fifty thousand homeless veterans on the street is a national disgrace.

Bernie Sanders, the foremost champion of Veterans' rights in the United States Congress, is advancing a series of policies that could bring an end to what he describes as a "national disgrace" — food insecure veterans, whose needs have been so neglected that they are left to wander the streets, hungry and homeless.
Sen. Sanders strongly believes that we must end the travesty of veterans' homelessness. While huge gains have been made over the past six years, the fact that on any given night there are fifty thousand homeless veterans on the street is a national disgrace.
Troubling Statistics
The statistics furnished by the National Counsel for Homeless Veterans (NCHV) and other organizations are deeply troubling, especially since, for far too many, the homeless are faceless and nameless — out of sight, out of mind.
While huge gains have been made over the past six years, the fact that on any given night there are fifty thousand homeless veterans on the street is a national disgrace.
Veterans, both male and female, account for approximately 11% of the adult homeless population in the United States. While, on any given night, there are an estimated 47,725 homeless veterans, another 1.4 million veterans "are considered at risk of homelessness."
African-American and Hispanic veterans account for 45% of those who are homeless even though they make up only 10.4% and 3.4% of the veteran population, respectively.
The good news for young veterans (ages 18-30) is that they account for only 9% of homeless veterans. The bad news, as revealed by the American Psychological Association, is post-traumatic stress disorder. Around 2/3 of the Iraq and Afghanistan veterans who are now homeless suffer from PTSD.
We should be concerned with the long-term impact of trauma on the young veterans of today. Where non-veterans who are over 51 account for only 19% of America's homeless population, 50% of homeless veterans are age 51 or older. "Nearly half of homeless veterans," the NCHV reports, "served during the Vietnam war." Fifty-one percent of homeless veterans are disabled; 50% suffer from mental illness while 70% suffer from the ravages of substance abuse.
Neither homelessness nor food insecurity are confined to veterans. Indeed, in the United States, the richest nation ever on Earth, "50 million Americans — one in five children," according to the National Coalition for the Homeless, "go to bed and awaken hungry." It is, the organization reports, a problem that "has remained constant or been growing for many years."
Veterans-Specific Remedies
The VA assists homeless veterans with healthcare and other services. NCHV acknowledges, however, that government monies and VA assistance, even in collaboration with community-based, non-profit organizations, falls short.
Like most who seek to address the issue, NCHV focuses on specific needs:"housing, nutritional meals, basic physical health care, substance abuse care and aftercare, mental health counseling, personal development and empowerment." But these do not get to the root of homelessness — extreme wealth disparity, corporate and billionaire class tax avoidance and a callous oligarchy that tosses aside the more unfortunate of our brother and sister veterans like so many old, worn out shoes.
At his website, Bernie has outlined a series of veteran-specific legislative actions, which would be beneficial. These include bills designed to "increase accountability at the VA," ensure that the VA address the specific healthcare needs of women veterans and to "restore all cuts to military pensions."
But, when it comes to ending veterans' homelessness, perhaps his most effective policies are the ones that focus on broader issues.
Public Works
Like veterans, our infrastructure — roads, bridges, air and seaports — have been neglected as part of GOP austerity polices. Republicans, of course, somehow always find money to subsidize their Wall Street and oil cartel billionaire benefactors. Partisan gridlock continues even though one in every nine of the nation's 70,000 bridges "is now considered to be structurally deficient." Thus, nothing is being done even though lives are at risk.
Bernie's proposed Rebuild America Jobs Act is a five-year, $1 trillion public works project that is designed to simultaneously restore and rebuild a crumbling infrastructure and create 13 million decent paying jobs. It is patterned after similar public works projects that President Franklin D. Roosevelt used to simultaneously build this nation's infrastructure while providing the jobs needed to escape the Great Depression. During the 1950s, the Eisenhower administration repeated the process, creating what economists described as a road to prosperity via a massive public works effort that laid down much of our interstate highway system.
While there are multiple approaches to ending homeless, none exceeds the economic security and self esteem that come with a decent job. And, although homeless veterans are only a fraction of those in need of employment, given their past service it does seem appropriate that they be moved to the front of the line, also receiving, if necessary, training and placement assistance.
Single-Payer
In Single-Payer: A Moral and Economic Imperative, I explained how our current healthcare system places a higher value on the obscene profits of the health insurance and pharmaceutical industries than on the health and lives of our citizenry. It is corrupt, dysfunctional and deadly.
While every American will benefit from a morally sound and economically efficient healthcare delivery system that treats access to healthcare as a fundamental right, single-payer offers benefits that are specific to veterans. Single-payer would serve to relieve overcrowding and wait times at VA medical facilities. Veterans, like all other citizens, would have access to quality, taxpayer-funded healthcare "free-of-charge" at any medical facility in the country. Yet, VA medical care would remain especially relevant because of its focus on service-related conditions.
This when coupled with Bernie's plan to legalize marijuana would remove whatever unscientific obstacles for VA physicians who wish to prescribe medical marijuana in the treatment of PTSD.
Veterans' homelessness is a national disgrace. While there's a need for veteran-specific legislation, such as dealing with PTSD, there will be no real end to that disgrace unless we deal with the broader issues of extreme wealth disparity.
Bernie Sanders is the only presidential candidate who advocates broader policies — the massive RAJA public works project and single-payer — that are needed if we are to end the scourge of veterans' homelessness and therefore the only candidate who deserves our support.
Ernest A. Canning
Veterans for Bernie