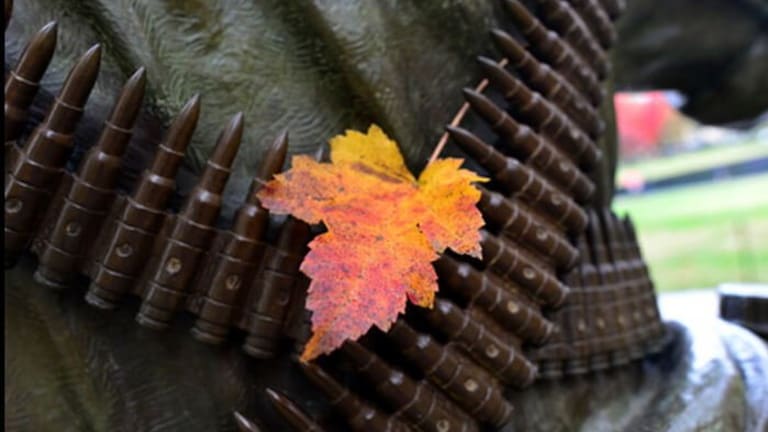 What Veterans Really Get
James Rhodes: From the inception of this great nation, deceased veterans have been revered as fallen heroes while, on the other hand, living veterans, in many cases, have been shortchanged and discounted.
Memorial Day is a national holiday set aside for our nation to honor our military dead—emphasis on deceased. In reality, this particular date merely marks the beginning of summer vacation and concludes with another meaningless holiday, Labor Day—emphasis on management and outsourcing.
From the inception of this great nation, deceased veterans have been revered as fallen heroes while, on the other hand, living veterans, in many cases, have been shortchanged and discounted, beginning in 1783 when the government stiffed the Continental Army out of pay and benefits they were promised to fight the British.
In 1924, President Calvin Coolidge refused to pay veterans what they were owed and instead issued vouchers that would mature in 20 years. Coolidge also inferred the veterans were "freeloaders" and in a statement meant to sway public opinion from the cause of living veterans, Coolidge stated: "…patriotism that has to be bought and paid for is not patriotism…"
Because of the Great Depression, many veterans could not wait the entire 20 years for their payment vouchers to
mature. In 1932, they marched on Washington in protest of their rights. President Herbert Hoover inferred this type of action was "Communist-inspired" and ordered Army Chief of Staff Douglas MacArthur to remove them from the Capital area. During the military attack against the veterans, two leaders were killed. After the fallen veteran bodies had been removed, the protesters' belongings and possessions were gathered, stacked in a large pile, and burned.
In 1933, in order to save money and defraud veterans, Congress passed the Economy Act, which stripped veterans of all judicial review rights and the right to a day in court regarding legitimate injuries sustained in the service of the country.
In 1935, that law was ruled unconstitutional.
In 1940, Congress rewrote these same unconstitutional provisions into the 1940 Veterans Benefit Act with the approval of the Veterans of Foreign Wars, Disabled American Veterans, American Legion, AMVETS—the tradeoff being these so-called national veterans service organizations (NVSOs), which most U.S. veterans do not join, would be considered as the only authorized representatives of individual veterans with claims against the Veterans Administration.
These NVSOs would be given free office space and amenities at VA hospitals and other federal buildings and additionally would be free to recruit membership from the veterans of which they filed claims. Until recently, due to legislation passed during the Civil War, veterans were not able to be represented by attorneys as there was a legal limit a lawyer could take for representing a veteran during the entire process. That ceiling was $10.00 no matter how long the case and appeals took.
In 1988, at the 7th Circuit Court of Appeals (Marozsan v the United States and Veterans Administration), Steve Marozsan with representatives Sid Cooper and Phil Cushman presented evidence that indicated that for every 100 veterans who filed a claim for benefits, fewer than 12% were initially approved. Are there that many dishonest veterans filing fraudulent claims—or is something else going on?
Additionally, the Marozsan case advocated for judicial review for veterans and found stiff opposition from the national veterans service organizations. Think about it. US veterans fought for the Constitution yet are denied the coverage it provides to everyone else including convicted felons, child molesters, ad illegal aliens. Where is the ACLU on this? The Marozsan case forced the creation of the COVA (Court of Veterans Affairs) court system but it is not a real Article III federal court nor does it have enforcement power against the V.A. The Veterans Administration employs thousands of attorneys, yet none of them are veteran advocates; they all actively work to prevent veterans from receiving benefits. There is something drastically wrong with this picture.
When decorated Persian Gulf war hero Timothy McVeigh was forced to accept a discharge on 31 December 1991, military records indicated he was suffering from post traumatic stress disorder and should have been eligible for at least outpatient treatment regarding this already identified condition. After McVeigh blew up the federal building in Oklahoma City, one national news source reported that McVeigh had sought V.A. counseling in the Minneapolis-St. Paul area; but, due to budget constraints, he was denied treatment.
Paul Watson reported in his vets@infowars.com column of 21 May 2014 of a Veterans Administration Hospital staff meeting in North Carolina. Apparently, one ranking administrator proposed a solution to the V.A. budget crisis, which the bureaucrat viewed aging, ill veterans as being a primary cause (never mind actually giving veterans what they were promised at the time of enlistment or induction). This senior manager stated "sick, old veterans should be taken outside and shot in the head…"
We support our troops?
After my brother—David Ronald Rhodes—was discharged from the Army, he developed several painful medical symptoms. He called me one day to complain that he had been diagnosed as a "hypercondriac" and was offered psychological counseling.
As the condition got worse, he was informed he possibly had "kidney stones." When the pain was too great for him to function, he finally went to see a non-V.A. doctor whose prognosis was unfortunately accurate—he had less than three months to live. In death, unlike in his short-lived retirement life, he became a celebrated "hero."
For well over a yea,r I have had some 'jungle rot' looking condition on my feet. It started out as a mass of red dots, which have since been identified as busted blood vessels; open sores; large areas of dead skin. This condition began to migrate up my legs and spread to my hands and chest. I could not get a medical appointment before I departed for Vietnam, as the specialty clinic told me, although I had previously secured three medical consults for evaluation, "by your own admission there is nothing wrong with you, so we can't see you until you get another doctor referral." The Twilight Zone?
After the journalist war conference convention, here in Hanoi, was concluded I journeyed to Long Bien to assist in the teaching of English to GARCO 10 garment factory supervisors.
When students asked how I was doing, I mildly complained that I had foot pain. I was immediately taken to the company medical facility. After I removed my socks, medical staff got on the phone and the next thing I knew a company car arrived to take me to a bigger hospital.
There, within an hour, I saw a specialist and was administered a battery of blood, urine, skin tests and x-rays. I was then taken to Hanoi Medical University for additional consultation with teaching staff and department heads. Among all these doctors, a written treatment plan was devised for me. Dr. Viet Anh (HMU) personally delivered it to Dr. Nguyen Thi Huong at GARCO 10's medical facility.
Minh Nguyen at the Ministry of Foreign Affairs, and assistant Vu Nguyen, heard of my condition and came to GARCO 10 to see me. They examined my feet and telephoned Dr. Viet Anh for his assessment. Minh Nguyen told me "You may have arrived in Vietnam ill, but we are going to send you home well." Actually I doubted this but was flattered at the concern.
I was taken off my feet for two weeks bed rest. During this time period GARCO 10 medical staff, Ngyuen Thi Huong and Hoang Ngoc Phi, visited me three times a day, seven days a week bathing my feet, removing dead skin, and applying several medicines internally and externally.
GARCO 10 has a company policy that "all workers" should engage in five random acts of kindness a day, especially to strangers. I was an easy, immobile target. This became embarrassing.
Minh Nguyen's prophecy became true. I can now walk and the condition is nearly gone. I now ask myself how it is that my former enemy has demonstrated a care and concern for me that does not exist for a majority of us in our own country. Perhaps this is because the Vietnamese value, not only their own veterans, but all life as well.
Finally, as many veterans continue to be abandoned and betrayed by the country they served, it is only proper that we also remember those that greatly benefited and profited from the ultimate sacrifice of others. These would be war hawks that through their political influence and position in society insured that they would never serve in the military, and if they had to do so, would never see a combat mission. Ironically, once their own political powers were cemented, these individuals never heard of a war which they were opposed. They include, but certainly are not limited to:
President George W. Bush, avoided Vietnam duty by taking up a spot in the Alabama National Guard, although he was not a state resident
Vice President Dick Cheney, whose affiliated companies made billions off the misery and suffering of others as a direct result of armed conflicts
Vice President Dan Quayle
Mitt Romney was deferred for "religious reasons," his draft board should have heard the case of Muhammad Ali
Rick Santorum who equated "political service" as being "the same" as "military service"
Newt Gingrich
Mitch McConnell
Eric Cantor
Saxby Chambliss
Tom Tancredo, who as a young Republican, supported the war in Vietnam; upon university graduation developed a "nervous" condition and was deferred from military service
John Ashcroft
Rudy Giuliani
Trent Lott
Bill Frist
Dennis Hastert
Tom DeLay
John Boehner
Karl Rove
Roy Blunt
William Cohen
Jon Kyl
Phil Gramm
Elliott Abrams
Joe Lieberman
Rush Limbaugh
Paul Wolfowitz
During this Memorial Day let us take a page from the Vietnamese play book and remember the living and act, as a positive advocate, for their needs. They deserve no less.
James Rhodes