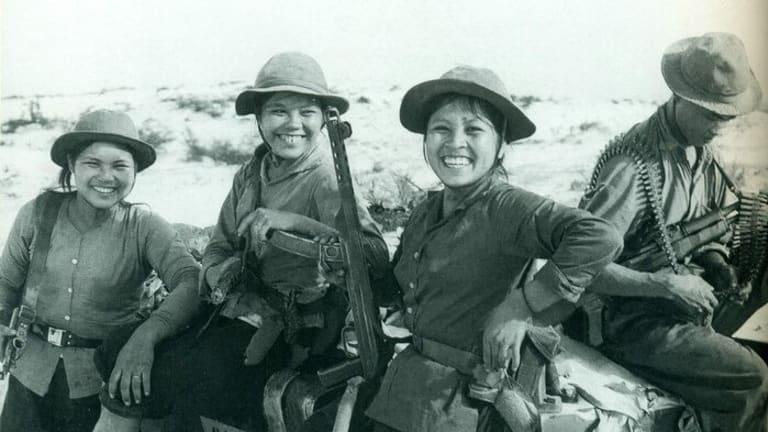 Vietnam 40 Years On
James Rhodes: To celebrate the 40th anniversary of Vietnam's reunification, the Academy of Journalism and Communication in Hanoi hosted an international war journalist conference.
To celebrate the 40th anniversary of Vietnam's reunification, the Academy of Journalism and Communication in Hanoi hosted an international war journalist conference. Speakers included a variety of historians, writers, and journalists including Austrians Thomas Bauer, Jurgen Grimm, Andreas Enzminger, Nguyen Thuy Loan; Kosovo representative, and war victim, Remzie Shahinihoxhaj; South Korean international development consultants Uhm Seung Yong, Jin Ho Hur; European correspondent Bich Yen; LA Progressive writer and war veteran James Rhodes; Lt. General Le Phuc Nguyen, Major General Phan Khac Hai, and a host of noted war correspondents including Colonel Tran Hong and the international award winning photo journalist Doan Cong Tinh.
George Burchett was also present. George is the son of famous Australian war correspondent Wilfred Graham Burchett. Burchett was the only Western reporter to sneak into Hiroshima less than a month after the atomic bomb was dropped on the city. Burchett would later write this experience made him a "peace activist." His writings were not well received in Australia. Burchett was the only "allied" journalist to interview Ho Chi Minh and report on the war from Hanoi and in the field. The Australian government labeled him a "Communist" and refused him entry back into his own country. A documentary film would later be written about him, appropriately named "Public Enemy #1."
After the papers and speeches were presented, the conference moved south to Quang Binh, General Vo Nguyen Giap's personal selection as his final resting place in a remote mountainous region peacefully overlooking the intersection of the Gulf of Tonkin and Eastern Sea in harmonious Feng Shui manner. Although the province is relatively poor, it is home to Phong Nha Cave and Ke Bang National Park. Now that General Giap has permanently returned to his boyhood home, financial prospects for the province have greatly improved.
At the grave site, the conference was greeted by General Giap's son, Vo Hoang Nam, a soft spoken, highly educated, well travelled soldier who provided more insights into the general's life.
From the center north of Vietnam, the conference moved south to the DMZ, or 17th Parallel, an arbitrary line drawn by Western powers to divide Vietnam into two separate sections. North of the line was considered to be "Communist," while south of the line was considered to be part of the U.S. installed government of South Vietnam. A major problem was the region is linked agriculturally with related family units on both sides of the imaginary line separated only by the Hien Luong Bridge over the Ben Hai River.
In an attempt to force the villagers north of the 17th Parallel to relocate (never was it asked where they would relocate to as this was their ancestral homeland), B-52 carpet bombing was commonplace destroying crops, livestock, and killing many non-combatants throughout the village areas. As opposed to "winning the hearts and minds" of the locals, their collective resolve to resist until the last breath became the patriotic duty of every living being at the DMZ.
Determination to stay became a source of national pride. Construction began on the Vinh Moc Tunnels-a multi-tiered tunnel network 30 meters deep and miles long hosting a hospital; school; and individual rooms for 60 families. During the war 17 children were born and educated in the tunnels. Amazingly no one was killed by airstrikes while they were inside the tunnel network.
Outside the villagers constructed a large flag pole that was the source of consistent U.S. bombings. Repair work on the Hien Luong Bridge, linking north to south, was under constant attack and actually not finally completed until the war ended. During this period the south became connected to the north by small boats that launched under cover of darkness or with the assistance of soldiers stationed on nearby Con Co Island.
At nearby Quang Tri Citadel, we received first-hand briefings and accounts of the fighting that took place there from 28 June 1972 – 16 September 1972. Award-winning photo journalist Doan Cong Tinh showed us hundreds of photographs he shot during the 81 days of battle. During this engagement, the United States dropped 80,000 tons of ordinance at Quang Tri Citadel. Although the conclusion was repelling of U.S. and South Vietnamese forces, Western sources recall this struggle as "a great victory for the Army of the Republic of (South) Vietnam" − even though recorded photo journalism indicated just the opposite result.
The conference was concluded at Truong Son Martyrs Cemetery in Quang Tri. This is a somber and mystical resting place containing five zones and including remains from 63 provinces. At the center of the cemetery is a giant "Buddha" (Bodhi) tree that serves as an umbrella to a central monument. No one planted the Bodhi tree, sources indicate it took root after construction of the memorial was completed and shelters it from the hot sun of summer and monsoon rains.
Ironically in these same areas just a week prior to our arrival, the Hoa Binh Vietnam Chapter 160 of the Veterans for Peace conducted their annual spring tour. American veterans Chuck Searcy, Chuck Palazzo, Suel Jones, Deryle Perryman are advocates for Vietnamese victims of herbicidal poisons and landmines. Searcy maintains an office in Hanoi and all are part of an international network that exchanges research and information regarding issues left over from the war.
Because of Ted Cruz, I added one more issue. On 23 March 2015 Cruz announced his candidacy for president. Although critical of the Hawaii- born Barry Obama as not being a "real American;" there is no doubt Cruz was born in a foreign country by only one parent who was a citizen. As such, some have questioned his legal ability to run for president and his response was "the Constitution guarantees American citizenship to any child born anywhere in the world as long as one parent is a U.S. citizen…"
Four decades ago, American servicemen departed this area leaving behind many off-springs that, according to Ted Cruz, are "real" Americans -- just like him; except they are not. Unlike Cruz, these, now adults, are not wealthy, do not have special interest lobbies representing them, and cannot buy the ear of any American politician that should have already helped them.
The Constitutional provision granting American citizenship to children born abroad to at least one American parent was affirmed by the Naturalization Act of 1790 and then again on 3 April 2009 by Congressional Research Services.
We must not maintain a system that acknowledges wealthy politicians on one hand while ignoring war babies under similar circumstances. These "Amer-Asians" are, according to the Constitution, as American as Ted Cruz and he should be the one to champion their cause as he is best suited to understand their situation. The tragedy is no Democrat has stepped to the plate to demand Constitutional justice for these abandoned souls.
Just as with our national policy of ignoring other war related issues as herbicidal poisons and landmines, perhaps we should really examine who we tell the world we are-a "Christian" nation? The war is over, the Vietnamese have moved on-why can't we?
Organizers included Dr. Thomas Bauer of the University of Vienna (Austria); AJC Rector, Dr. Truong Ngoc Nam; Vice Rectors, Dr. Nguyen Vu Tien, Dr. Pham Huy Ky, Dr. Luu Van An; Dr. Hoang Anh; Director of the International Office, Vu Van; and Lt.General Le Phuc Nguyen. Photo journalist Doan Cong Tinh gave the LA Progressive permission to reproduce and reprint his works (doancongtinh43@yahoo.com).
James Rhodes