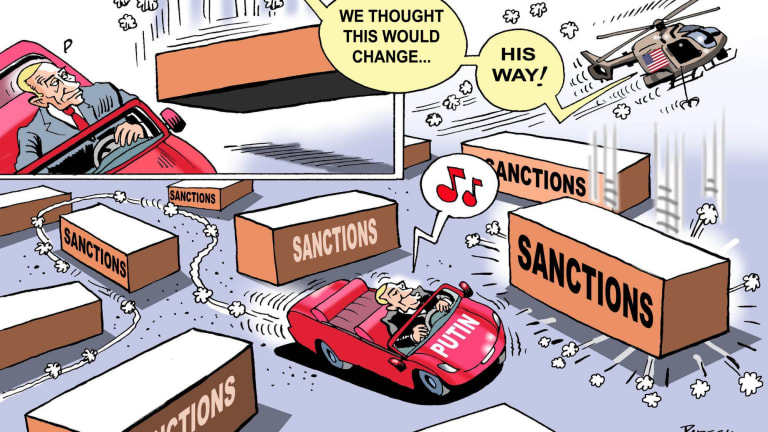 Bankrolling Putin's War: Ukrainian Blood on the Bank's Hands
I call on all who stands for peace and justice to challenge the global banks that finance Putin's war. Without big banks behind him, Putin's power will shrivel.
My cousins last night spent Ukraine's independence day sleeping in a bomb shelter. Citibank, this is what you are enabling. The blood of innocent Ukrainians, it's on your hands."
These are the words of an American-Ukrainian activist last week, standing alongside dozens of people calling for Citi to completely pull out of Russian fossil fuel companies. With Citi's support, those companies, which are the engine of the Russian economy, have directly funded Putin's genocidal war on Ukraine.
Citi is not alone. Together with JPMorgan Chase, HSBC, and Crédit Agricole, it collectively provided more than 12 billion dollars of loans for Russian oil and gas companies in the run up to Russia's full scale military invasion. After six months of war crimes and the slaughter of civilians, those banks have continued providing financial services to them, and, by proxy, Vladimir Putin and his military.
In July Oleh Ustenko, chief economic adviser of president Volodymyr Zelensky, wrote a letter to the four banks urging them to cut all ties with Russian oil and gas and stop doing business with Russia. They are major lenders of Russian oil and gas companies and still hold billions in their bonds.
Ustenko made it clear that these institutions will not be allowed to participate in the post-war reconstruction of Ukraine. Also, Ukrainian special services are collecting information about the cooperation of top managers of these banks with Russia. After the end of the war, the Ministry of Justice of Ukraine is going to refer this matter to the International Criminal Court.
Citi provides loans, bond issuance, and revolving credit to Russian oil and gas giants Lukoil and Gazprom and the trading company Vitol. HSBC holds shares in Lukoil, Tatneft, Novatek, Gazprom and Rosneft. JPMorgan invested billions in Putin's oil and gas and holds high stakes in Gazprom, Lukoil, Sberbank and Rosneft.
By maintaining ties with Russian oil and gas, banks are prolonging a genocidal war in Ukraine. Propped up by record revenues from fossil fuel trade, the Kremlin has turned the country into a crime scene, with the International Criminal Court dispatching the largest team of detectives ever to aid in investigations, including examinations of mass graves in Mariupol', Bucha, Borodyanka, and other towns and settlements. The ethical implications of complicity in Putin's war crimes should place the social license of these institutions into question.
Exports of oil and gas are responsible for over 40% of Russia's federal budget income. Over the last six months, big banks have been profiteering on Putin's war and helping him to fund it, as they provide financial services to Russian fossil fuel producers and companies that are involved in export supplies.
Last month, together with more than twenty Ukrainian civil society organizations, we reiterated the demand to cut ties with the Russian oil and gas industry in letters to senior managers of these four banks. We demand they immediately stop extending loans for Russian fossil fuel companies and companies trading Russian oil and gas.
Activists showed up at Citi headquarters in New York and made these demands very clear. The following day, they disrupted one of Citi's flagship sponsorship events, the Taste of Tennis, and made sure attendees, customers, and clients understood Citi's complicity in war crimes.
Less than 24 hours after the protest outside Citi's offices, the bank put out a press release announcing that it would wind down some operations in Russia. Although this is progress, it is only a start. The bank has said it will take over two years to wind down these businesses, and the bank has stayed silent on its plans for the rest of its fossil fuel business.
The amazing work that Ukrainians and New Yorkers did together pushed Citi into a partial exit from Russia that will cost the bank $170 million. But Citi must immediately end its financing of Russian fossil fuels.
Today I call on everyone who stands for peace and justice to challenge the boards of the global banks that are financing Putin's war. We must force them to stop extending loans and other financial services to Russian fossil fuel producers and traders. Without big banks standing behind him, Putin's power will shrivel. Without fossil fuel income he would no longer be able to plow billions of dollars into the destruction of Ukraine and Ukrainians. An end to the support of these banks will be the beginning of the end for Putin's bloody war—and a return of peace to Europe.
This article was originally published on Common Dreams.