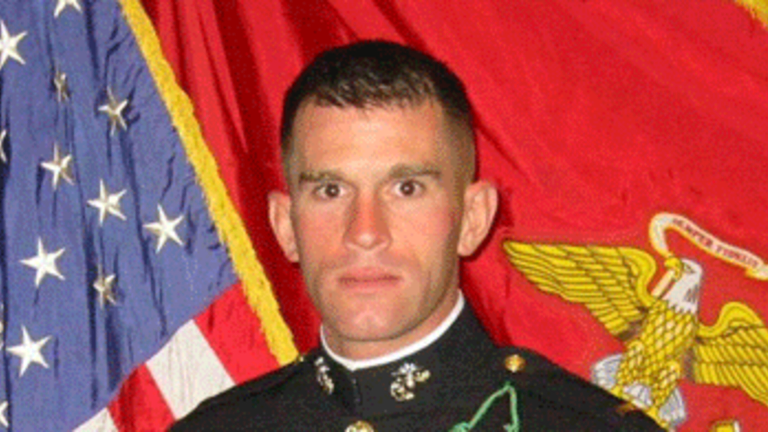 Iraq: Just Another War Without an End
Walter Brasch: We know Second Lieutenant Therrel Shane Childers was the first American soldier killed by hostile fire in Operation Iraqi Freedom.
We know the names of every one of the 4,479 Americans who were killed and the 32,200 who were wounded, both civilian and military, between March 20, 2003 and October 21, 2011, the day President Barack Obama, fulfilling a campaign promise, declared the last American soldier would leave Iraq before the end of the year.
We know Second Lieutenant Therrel Shane Childers was the first American soldier killed by hostile fire in Operation Iraqi Freedom.
On March 21, 2003, less than a day after the U.S.-led invasion, Childers was shot in the stomach by hostile forces while leading a Marine platoon to secure an oil field in southern Iraq. His father, Joseph, told NPR that it was his dream to lead Marines into combat.
Childers, from Gulfport, Mississippi, had enlisted in the Marines 12 years earlier, was a security guard at the Geneva consulate and the Nairobi embassy, fought in the Persian Gulf War, and then attended the Citadel on a special program that allows enlisted personnel to be commissioned upon graduation. He was a French major and on the Dean's List. Childers, who had wanted to be a horse trainer when he retired from the Marines, was 30 years old when he died. The Marines promoted him to first lieutenant posthumously.
On the day Childers was killed, 12 men—seven from the United Kingdom, one from South Africa, and four from the U.S.—were killed in a helicopter crash near Umm Qasr, a port city in southern Iraq. At the time, the Marine Corps called the crash of the CH-46E Sea Knight accidental, but didn't elaborate.
About the time the helicopter crashed, Lance Corporal José Antonio Gutierrez, a 22-year-old Marine, was killed by what is euphemistically known as "friendly fire." He was an orphan from Guatemala who had illegally crossed into the United States from Mexico, lived on the streets of San Diego and Los Angeles, was granted a temporary visa, lived with a series of foster families, graduated from high school, and began attending college, hoping to become an architect. The U.S. granted him citizenship posthumously.
On the second day of the war, three more Americans and six from England were killed. On the third day, 30 more Americans and four British were killed. By the end of March, 92 were killed.
One month before the invasion, Defense Secretary Donald Rumsfeld had declared the upcoming war, which he warned would be a "shock and awe" strategy, might last "six days, maybe six weeks; I doubt six months."
On May 1, 2003, aboard the U.S.S. Abraham Lincoln off the coast of San Diego, President George W. Bush, decorated in flight gear, declared "Mission Accomplished." Official military records show that when President Bush made his announcement, 172 Coalition troops had been killed. More than 4,600 American and allied soldiers would die in Iraq after that declaration; more than 31,500 Americans would be wounded, many permanently disabled, after that bravado proclamation.
We know the oldest American soldier to die in combat was 60; the youngest was 18, of which there were 34. We know that 476 of those killed were from California; Pennsylvania and Florida each had 176 deaths by the time the President announced full withdrawal from Iraq.
There are names we don't know. We don't know the names and life stories of the 4.7 million refugees, nor the two million Iraqis who fled the violence caused by the Coalition invasion. We don't know the names of the orphaned children, one-third of all of Iraq's youth. We don't know the names of the 100,000–150,000 civilians killed. We don't have accurate records of more than a million who were wounded. It no longer matters who killed or wounded them, who destroyed their lives and property—American, allied, Shia, Sunni, insurgent, criminal, or al-Qaeda. It doesn't matter if they died from IEDs, suicide bombers, gunshots, artillery, bombs, or missiles. In war, they're simply known as "collateral damage."
In Afghanistan, 2,769 Coalition troops have been killed, 1,815 of them American, by the day that President Obama announced the withdrawal from Iraq. There are already 14,343 wounded among the Coalition forces. Between 36,000 and 75,000 Afghani civilians have been killed by insurgents and Coalition troops during the past decade, according to the United Nations. President Obama told the world that the war in Afghanistan would continue at least two more years.
You can try to sanitize the wars by giving them patriotic names—Operation Iraqi Freedom; Operation Enduring Freedom. But that doesn't change the reality that millions of every demographic have been affected. War doesn't discriminate. The dead on all sides are physicians and religious leaders; trades people, farmers, clerks, merchants, teachers, and mothers. And they are babies and students. We don't know what they might have become had they been allowed to grow up and live a life of peace, one without war.
We also don't yet know who will be the last American soldier to be killed in Iraq. As important, we don't know how Post-Traumatic Syndrome Disorder (PTSD) will affect the one million soldiers who were called for as many as seven tours of duty, nor when the last Iraq War veteran will die from permanent injuries. And we will never know the extent of the terror that will plague the families, children, and grandchildren of those who served.
But there is one more thing we do know. A year before José Antonio Gutierrez was killed, he had written a "Letter to God" in Spanish. Translated, it read: "Thank you for permitting me to live another year, thank you for what I have, for the type of person I am, for my dreams that don't die. . . . May the firearms be silent and the teachings of love flourish."
Walter Brasch
Wanderings