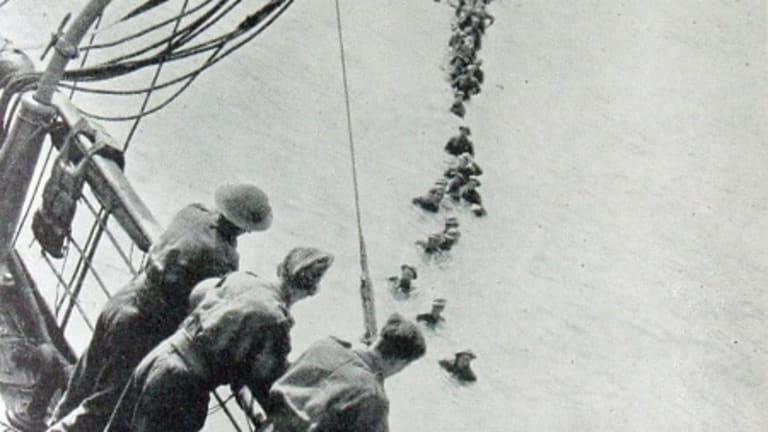 What Can America Learn From 'The Miracle of Deliverance'?
Frank Fear: "Our men carried on with little or no rest, for days and nights on end, making trip after trip across the dangerous waters, bringing with them always the men whom they had rescued"
In times of crisis, leaders need to act truthfully, decisively, and rapidly. While there is no alternative, responding that way has challenged America in the face of COVID-19. For example, researchers at Columbia University estimate that between U.S. 35,000-50,000 lives could have been saved nationally had national and state officials acted with firmness a week or two earlier.
But what happened 80 years ago this week represents a different story. Called The Miracle of Deliverance, hundreds of thousands of lives were saved by decisive action. What happened back then is more than historically significant: it represents a lesson for America about political will and public leadership. Here's what happened.
As the Nazi war machine was steamrolling across Europe, The British Expeditionary Force (the British Army in Western Europe) fought Germany on the Western Front, joined by allied forces from several other countries. When Germany invaded France, the French, BEF, and Allies fought desperately to repel the German advance. But by early spring, it became clear that they were incapable of resisting the German assault. Troops were ordered to withdraw from the French front.
The plan? Troops would be evacuated from the French coast to Britain. Dunkirk was chosen because it was the closest port town with a harbor and long, sandy beach. To enable the execution of the plan, British Prime Minister Winston Churchill launched a sea evacuation by code name, 'Operation Dynamo.' Operation Dynamo wasn't a military operation only. British civilian participation was necessary because the number of troops to be evacuated exceeded Britain's naval capacity.
Because of wartime censorship, Britons didn't know about the operation, but they were aware of the dire situation in France. So it didn't surprise the public when authorities designated Sunday, May 26, as a National Day of Prayer. Only Churchill and those involved in the operation knew why the nation's prayers were very much needed that day. On Sunday, May 26, 1940—80 years ago this Tuesday—HMS ships and an array of private vessels, large and small, began their journey across the English Chanel to Dunkirk—22 miles away.
Day after day, troops climbed aboard vessels to be ferried across the Channel. By Tuesday, June 4, roughly 200,000 British and 140,000 allied forces—a third of a million of men in all—had been rescued. That incredible outcome came to be known as The Miracle of Deliverance.
"Our men carried on with little or no rest, for days and nights on end, making trip after trip across the dangerous waters, bringing with them always the men whom they had rescued"
As Operation Dynamo wound down, it was time for Churchill to brief Parliament and the British people. He did so on June 4 in a speech to the House of Commons. Churchill didn't sugarcoat why such action was necessary, calling the circumstance in France the result of "a colossal military disaster." He told Britons that "the core of Britain's army was stranded at Dunkirk, facing death or capture." But Churchill didn't blame the military for defeat or for retreating. Instead, Churchill talked of bravery, courage, and British resolve to save lives.
"Our men carried on with little or no rest, for days and nights on end, making trip after trip across the dangerous waters, bringing with them always the men whom they had rescued," Churchill told his country. Then, at the end of a long speech, Churchill uttered words that have lived through time: "We shall go on to the end! We shall fight!"
What can we learn from what happened in 1940?
Eighty years ago, an existential crisis faced Britain, and Churchill responded firmly, decisively, and audaciously. In contrast, America's slow, scattered, and chaotic response to COVID-19 is both un-Churchill-like and utterly unacceptable for the presumed 'greatest country in the world.'
Eighty years ago, the British people rallied behind Churchill. A national crisis should have a galvanizing effect like that, but it's not happening in America today. In both political leadership and its body politic, issues that divided Americans before the pandemic describe how Americans have responded to the pandemic. It's abundantly apparent, both here and abroad, that there isn't a strong sense of 'commonwealth' in America today. We are NOT 'in this (or anything) together.'
Might that change? What's happening today in Australia offers hope.
Australia has had to deal with not one, but two, crises recently—raging bushfires and the virus pandemic. But Australia did not respond to the two crises the same way. Richard Flanagan describes the difference well in his sanguine piece, published recently in The New York Times. Entitled Did the Coronavirus Kill Ideology in Australia? Flanagan chronicles a metamorphosis in political leadership from profoundly Trump-style (the wildfire response) to a connective, supportive, if not inspirational response (to COVID-19).
Flanagan writes: "Australia unexpectedly, if only briefly, returned to its best traditions of communality and fairness." And it has produced results, too. As of May 22, Australia, a country of approximately 25 million people, recorded 7,095 cases of COVID-19, and 101 deaths (Johns Hopkins University, CSSE).
Public disdain for Australia's generally unresponsive approach to the wildfire emergency may have been the primary reason why Australia's political leadership made a substantial pivot. But no matter what the reason(s), Flanagan writes that Australians' trust in government has gone from record lows just a few months ago to a very different settling place. Over 9 of 10 Australian's surveyed believe that the government has handled the pandemic either 'very or fairly well.'
Might that shift be America's future? Political leadership changes could make a difference, but what about the American people? Pew Research reported last week that over 40% of the U.S. adults it surveyed thought Trump was doing an 'excellent or good job' responding to the Coronavirus pandemic. Pew reports support is higher (between 50-65%) among certain faith-based groups—Protestants and Catholics, specifically. And in April, Gallup reported that Trump's approach garnered around 90% support among the self-identified Republicans it polled. The percentage was 11% among Democrats.
In an environment where a significant slice of Americans is screaming, "We must do better!" it's clear that many others have concluded, 'We're doing fine." So what, if anything, might prompt America to bridge a seemingly intractable divide?
As a nation, it has been a very long time since America has rallied around a national goal—something aspirational, spirit-lifting, and that most Americans can support, irrespective of political stripe. America experienced that circumstance and feeling in the 1960s. An inspirational leader, President John F. Kennedy, captured it well in his famous 'Moon Speech' of 1962. He said: "We choose to go to the Moon in this decade…not because it is easy, but because it is hard; because that goal will serve to organize and measure the best of our energies and skills, because that challenge is one that we are willing to accept, one we are unwilling to postpone, and one we intend to win."
The Miracle of Deliverance in Europe. But here we are in America, 80 years later, needing the very same thing—in our case, deliverance from division.
Frank Fear
You can listen to a shorter version of this article at Frank's podcast, Under the Radar, at Anchor.FM.Frank's podcast is also available on these podcast platforms: Apple, Spotify, Google Podcasts, Breaker, RadioPublic, Pocket Casts, and Overcast.