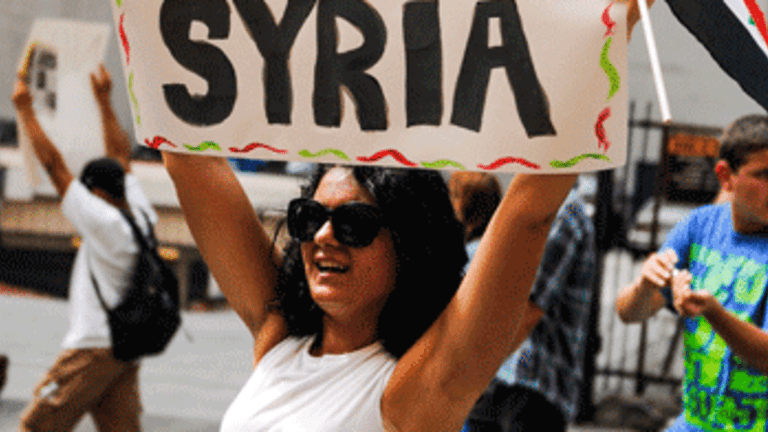 Angelenos Say "No War On Syria"
Ed Rampell: Despite their diverse opinions, all of the demonstrators seemed to agree that hitting a hornet's next with a stick woud not only not bring about peace, but will only worsen the situation.
Although you may not have read about it in the Los Angeles Times, on Saturday, September 7, an antiwar demonstration actually did take place in front of the Federal Building followed by a march through Westwood, as part of an ongoing nationwide mobilization against the Obama regime's proposed attack on Syria for allegedly gassing 1,000-plus civilians. Hundreds of people of different political persuasions united to oppose the possible military strike. Demonstrators began gathering before the announced 3 p.m. start time of the peace rally, lining Wilshire Blvd. with picket signs and Syrian flags, chanting slogans at times.
The demonstration called by ANSWERLA and a broad coalition of groups included a disparate variety of protesters, including supporters of Syrian President Basar al-Assad, who is depicted in Western media reports as a brutal dictator who suppresses his own people and even uses saran gas against them, and advocates of nonviolence and civil liberties. Among the rally-goers were Arabs, Iranians, other Middle Easterners, Ron Paul supporters, libertarians, pacifists, feminists, activists, a man in a Guy Fawkes mask and a variety of Marxist groups. The latter included the Party for Socialism and Liberation, Workers World Party, International Communist Workers Party and the Revolutionary Communist Party. A number of demonstrators wore or held signs bearing the image of über-revolutionary Che Guevara, the Left's knight in shining armor and foremost international icon of militant resistance. While participants had different ideologies they joined forces for a common purpose: To oppose U.S. military intervention in Syria.
After around an hour or so of sign waving, near the corner of Wilshire and Veteran a number of speakers with microphones made a series of brief speeches. Wearing a "We Are Trayvon" T-shirt with a photo of the slain teenager, John Parker of the International Action Center -- an "anti-imperialist organization" founded by former U.S. Attorney General Ramsey Clark -- spoke. Parker, who has been a fixture at dissident demos going at least as far back as the Iraq War, noted that the AFL-CIO was meeting this week in L.A. and declared that the labor federation "can shut the system down."
A troupe of colorfully clad dancers wearing costumes of indigenous people of the Americas performed a number of spirited traditional dances. Some wore headdresses with brightly hued plumage; one man's headdress appeared attached to the skull of an eagle. The hoofers chanted antiwar slogans in Spanish and English.
An Iranian activist named Reza spoke, followed by an Arab man standing beneath a fluttering Syrian flag, warning against the unforeseen consequences of a possible military assault: "If you think Afghanistan is a problem, Syria will be 100 times worse… This war is not ours and we are not the policeman of the world." When the orator called Obama a "Nobel Peace Prize winner" many in the crowd booed the reference. However, the demonstrators appeared to agree with the president on at least one point that he recently admitted during a Stockholm press conference to a Swedish journalist: "that compared to previous recipients I was certainly unworthy" of the peace award. Indeed.
Another speaker holding a Syrian flag contended the charges that the Assad regime used "chemical weapons were fabricated." A handful of Arabic children in the throng held small posters bearing Assad's image, and another speaker expressed a viewpoint sympathetic to the beleaguered Syrian head of state.
A Filipina speechmaker representing a contingent opposing U.S. militarization of the Philippines stated: "Freedom is not an invasion of a country… when the U.S. unilaterally decides to [attack] when the world is against war."
The dreadlocked Margaret Prescod, host of the KPFK "Sojourner Truth" radio program and another veteran speaker at antiwar gatherings, told the crowd: "Global women say 'no' to a military strike on Syria. We didn't raise our children to be cannon fodder for the 1%... They say a military strike in Syria is 'limited,' but it's a lie. No more drones, white phosphorous!" Prescod spoke about the British parliament's recent vote against authorizing U.K. participation in military intervention in Syria, and although she noted leftists' concern over participation vis-à-vis U.S. electoral politics, nevertheless urged people to "call their elected representatives. Now 95% are against [military action]. No to U.S. intervention!" Some of the assembled chanted "Hands off Syria!"
ANSWER's Doug Coffman went on to proclaim: "The U.S. makes disruption abroad instead of meeting needs at home. We'll continue to fight until we defeat U.S. imperialism. 700 military bases have to be shut down." After a call for civil disobedience the following day at another manifestation at Hollywood and Highland the Saturday demonstrators took to the streets to march east down a lane on Wilshire Blvd. and up through part of Westwood, which had been cordoned off by LAPD according to what seemed like a prearranged agreement between the police and protest organizers. Up to this point, there had been a heavy police presence in the area but few officers at the rally site per se. But as demonstrators peacefully and lawfully marched through Westwood, where they legally held up traffic and were accompanied by police, without any incident.
During the march underneath a large banner declaring "L.A. United to Say Hands Off Syria", which strode a few blocks up in Westwood south of the UCLA campus and lasted around half an hour or so, the demonstrators chanted a number of slogans: "No war in Syria!"; "What do we want? Peace! When do we want it? Now!"; "No justice, no peace! U.S. out of the Middle East!" "1, 2, 3, 4, We don't want your filthy war!"; "Exxon, Mobile, BP, Shell, Take your war and go to hell!" A number of Syrian flags blew in the breeze and a large yellow banner near the front of the march by about 200 or so was emblazoned with the words: "International League of Peoples Struggle."
Somebody held up a sign that read "Libertarians for peace" and in a reference to those anti-Vietnam War peace activists John Lennon and Yoko Ono, one woman wore a T-shirt reading "We are the Plastic Ono Band." However, unlike during the lead up to the Iraq War when the Hollywood Left helped lead far larger antiwar demos, celebrity activists seemed absent from the Saturday protest. One notable exception appears to be the Emmy Award winning actor David Clennon, who emailed a call to sign a petition, declaring:
"In my considered opinion, the most important, and effective, and easy SINGLE ACTION you can take is to go to Florida Congressman Alan Grayson's Don't Attack Syria webpage and sign his petition, which is addressed to his fellow Representatives."
Among the slogans some chanted during the march which looped through Westwood then returned to the Federal Building to continue the antiwar vigil, was: "Stop the lies, tell the facts, U.S.-backed rebels did the gas attacks." Not all of the estimated 300 or so people who participated in the demonstration necessarily agreed with this assessment of events. But even those who may have believed that Pres. Assad gave the order to gas his own people felt that firing missiles at Syria would not end the civil war raging there.
In fact, despite their diverse opinions, all of the demonstrators seemed to agree that hitting a hornet's next with a stick would not only not bring about peace, but will only worsen the situation -- and, perhaps, cause those wielding the big stick to get stung in the process. Maybe then, since "if it bleeds it leads," the L.A. Times will devote coverage to an article about Angelenos' response to the crisis.
On Sunday this reporter looked for a story about the Saturday demo per se at the L.A. Times website and in its print edition but could not find one. On Monday he called the L.A. Times and asked to speak to the daily's ombudsman but the operator did not know who, if anybody, he should be connected to. In lieu of that, this journalist asked to speak with Times City Editor Shelby Grad who did not answer the phone. A voice message inquiring whether or not the newspaper had sent a reporter and/or photographer to cover the demo and if it had published/ posted a story -- and if not, why not? -- has gone unanswered as of this writing. Meanwhile the L.A. Times ponders why its circulation has drastically dropped and its owners declared bankruptcy in 2008.
Ed Rampell
Monday, 9 September 2013