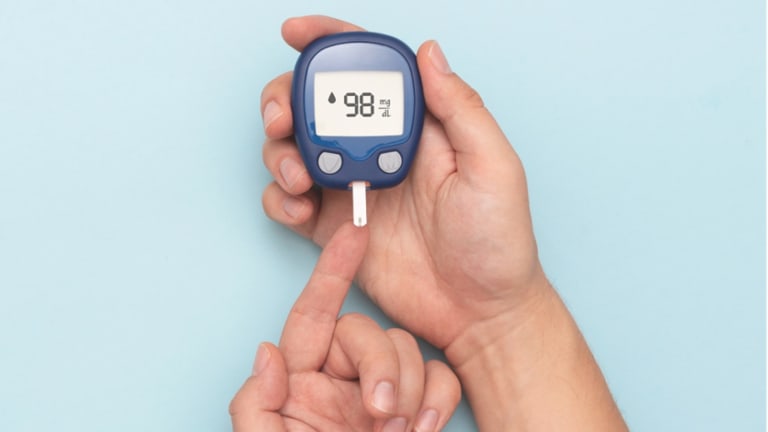 6 Benefits You Can Avail with Diabetics Health Insurance
As some health insurance policies do not cover diabetic patients, diabetes health cover is specially designed for diabetic patients to offer them financial cover.
Diabetes is one of the most pervasive diseases in India. As of 2019, the number of diabetic patients in India stood at 72.96 million, accounting for almost 11% of the total Indian population. The increasing number is a cause of concern as diabetes is more than just a spike in blood sugar levels. It can invite or aggravate many critical health problems such as heart disease, stroke, and kidney damage.
Therefore, we bring you all the reasons why you need diabetes health insurance if you anticipate rising blood sugar levels. Here is a list of all the benefits you can get with diabetes health insurance.
Before we go on to the benefits, let's quickly understand how a diabetes health policy works.
How Does Diabetes Health Insurance Work?
As some health insurance policies do not cover diabetic patients, diabetes health cover is specially designed for diabetic patients to offer them financial cover. Like any health insurance policy, diabetes health plans cover pre and post-hospitalization costs, ambulance cover, room rent, etc. However, with a health cover for diabetes, one can get coverage only against illnesses and issues related to high sugar levels.
6 Benefits You Can Get with Diabetes Health Insurance
Most importantly, health insurance for diabetic patients helps them manage their prolonged treatment and healthcare costs -- including paying cash for test strips. Let's understand other significant benefits of getting a diabetes health plan.
1. Offers Wide Coverage
Diabetics' health insurance offers comprehensive coverage against diabetes and the health issues or diseases caused by it. These health issues can include kidney damage, nerve damage, stroke, heart disease, Alzheimer's disease, etc.
The comprehensive cover generally includes pre and post-hospitalization, daycare treatment, annual health check-ups, ambulance cover, dialysis cover, domiciliary cover, daily allowance, etc.
2. Helps in Protecting Your Savings
Life savings are the pillar of a financially sound future. Savings fund our essential expenses such as children's education costs, debt payments, and overall living expenses. However, being dependent on life savings to treat illnesses and complications caused by diabetes is not a wise choice.
You can buy diabetes health cover to pay for all these expenses. This helps you preserve your savings for life's more significant events while investing in your health insurance.
3. Helps Save Additional Money
Some diabetic health insurance plans do not only cover hospitalization costs but other miscellaneous expenses such as health check-ups, ambulance charges, and daily allowance. One of the leading diabetes insurers, Care Health Insurance, provides for an array of expenses such as daycare treatment, annual health check-ups, ambulance cover, companion benefits, daily consumable allowances, and domiciliary hospitalization, to name a few.
Spending on these categories outside your policy can increase your expenditure. Thus, getting a diabetes health policy helps you save more on your budget.
4. Tax Benefits
Like other health insurance plans, the premium paid towards health plans for people with diabetes is subject to tax benefits under Section 80D of the Income Tax Act. Policyholders can enjoy a tax deduction of up to INR 1,50,000 while computing their taxable incomes.
For instance, if you have paid INR 80,000 as your premium in a financial year and your annual income is INR 8,00,000. Then your taxable income would be, INR 8,00,000 – 80,000 = 7,20,000. In other words, the system will compute your taxes based on INR 7,20,000, not INR 8,00,000.
5. Cashless Hospitalization
Most health insurance policies in India now offer a cashless hospitalization facility. Cashless hospitalization facilitates direct bill settlement between the insurer and the network hospital. However, you can only avail of this facility if your hospital is a part of the insurer's network.
6. Benefits of Additional Riders
Every health insurance policy, including diabetes health insurance, allows the policyholder to enjoy the benefits of add-ons. Add-ons or riders are the additional covers one can buy on top of their health insurance plan to enhance your coverage and benefits. You must note that one needs to pay an extra but an affordable premium to get the riders. These riders vary according to the insurance provider. Care Insurance, for instance, provides Home Care Riders, Care Sheild Riders, and Covid care to meet the specific needs of the policyholder. You should visit Care Health Insurance to get one of the best diabetes health insurance to meet your essential healthcare needs.