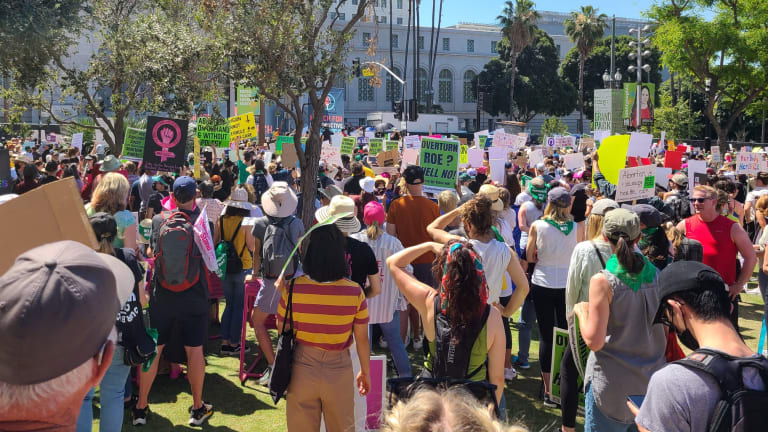 Angelenos March for Abortion Rights
Hundreds of participants were veterans of the 1973 battle that led to the Supreme Court decision of Roe v. Wade that opened the way for legal abortions.
More than 10,000 supporters of abortion rights for women rallied here as part of national actions May 14. Other California protests took place in San Diego, Sacramento, San Francisco, Long Beach, Pasadena, and a host of smaller cities. La Opinion reported protests in 430 cities, the largest demonstrations since the nationwide explosion of actions after the killing of George Floyd. The May 14 actions follows the defeat in the senate of the Women's Health Protection Act. The Washington, DC protest was 20,000 according to US News and World Report.
Sponsored by Planned Parenthood and Women's March, and endorsed by local groups, the overwhelmingly young and heavily Latinx crowd was loud and vocal. Hundreds of homemade signs said 
Get your hands off my uterus.
We shall not go back to illegal, unsafe abortions. 
My body, my choice."
Not the church, not the state women will control our fate.
Get your rosaries off my ovaries.
Young women carried coat hangers which said "never again" referring to their use in back-alley abortions before Roe V. Wade.
Hundreds of participants were veterans of the 1973 battle that led to the Supreme Court decision of Roe v. Wade that opened the way for legal abortions. In conversations they pointed to the onslaught of efforts to overturn legal abortions by both Democratic and Republican parties, but adding that they "will not give up the fight as we did 50 years ago."
The rally featured a parade of Democratic politicians including Mayor Garcetti and Mayoral candidate Karen Bass and others who told the crowd that if they wanted action "Vote blue, no matter who they are." There were no other initiatives proposed. There were no union speakers. Yet one called attention the fact that President Biden voted for the Hyde-Amendment, which cut federal funds from use for abortion services.
Celebrity women's rights attorney Gloria Allred told the crowd about her own "back-alley abortion" as a young woman when she became pregnant from a rape at gunpoint before Roe. "I almost died," she recounted. "I was left in a bathtub in a pool of my own blood, hemorrhaging."
"We take to the streets because women will be in danger if we are prohibited from having legal abortions, and we will not remain silent," the founder of the Women's March Foundation, Emiliana Guereca, told the LA crowd.
Los Angeles Hands Off Cuba Committee members, who had just returned from Cuba's May Day march and international solidarity conference, staffed a table with a giant banner reading "End the Blockade of Cuba." A thousand flyers were distributed calling for an end to the blockade and sanctions and building a May 21 report back meeting (write LA.US.handsoffcuba@gmail.com for exact information). Flyers documenting the gains of women under the Cuban revolution (where abortion has been free and legal for 60 years) were also distributed at multiple cities across the country by anti-blockade activists.
Diana Cervantes, who staffed the table, commented afterwards that "There were no proposals to go forward, except to vote which is not a strategy to protect women's rights. It is frustrating as a young Latina to keep hearing these politicians' promises and yet they do nothing to improve women's lives. Cuba was such a difference."